This post may contain affiliate links which may give us a commission at no additional cost to you. As an Amazon Associate we earn from qualifying purchases.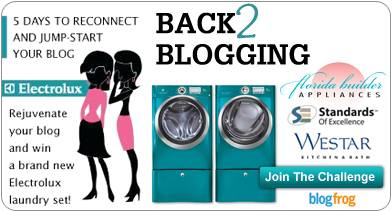 Welcome to the first day of our Back to Blogging event!  This week is all about getting you back into a posting and commenting routine now that summer is over.  And, as added incentive, one of our lucky participants will walk away with Thelma and Louise, our fabulous washer and dryer set.
To recap, here is how you can participate:
Play along! Write a post using the daily prompts we described here and then link your post on SITS each day this week.  All posts should mention and link to our sponsors, Standards of Excellence, Westar Kitchen and Bath, and Florida Builder Appliances, somewhere in the text.   
Discusss! Join the daily discussion happening in the SITS Girls Community in BlogFrog.
Like! Click the Like button on our sponsor's Facebook pages: Standards of Excellence, Westar Kitchen and Bath, and Florida Builder Appliances.
Follow! Follow Standards of Excellence on Twitter.
Tweet! Send out the following message on Twitter:
I'm getting #Back2Blogging w/ the @SITSGirls. And thanks to @SOESupply, maybe Thelma & Louise can come live w/ me! http://bit.ly/aad1L5
Our Back to Blogging event will remain open until this Sunday, September 19 at midnight PST.  This means that you have the next 7 days to tweet, Facebook, BlogFrog, and link up your posts.  Contest entries can be left on any of the daily posts this week.  Just be sure to leave a separate comment whenever you Like our sponsors on Facebook, follow them on Twitter, or tweet the giveaway.  Each of these qualifies as one entry into the sweepstakes.
So let's get started! Mama Kat is going to kick off today's task and re-publish the very first post she ever wrote:
The first post I ever wrote is called "Mother Hen" and was originally published on August 7th, 2007:
Maile has surprised me at how nurturing she is with Kainoa.
When we pack up to leave she double and triple checks to make sure he's coming with us and not staying home alone.
When scary old Uncle Bad Ass offered to adopt him, Maile was the only one who did NOT think it sounded like a good idea.
When Kainoa had his heel pricked to draw blood for his jaundice she nearly started cried.
She calls him "little guy" and can't keep her hands off him. Who knew she had it in her? Such a sweetheart!!
I love this post because:
The pictures are cute and OHMYGOODNESS my kids were so little!
It's short and sweet.
It tells a story.
It still sounds like me and it makes me happy to see I have not lost my voice.
What I would change about this post:
Today I would round the corners on the pictures and make them bigger, though I think they look fine without being overly edited with effects.
I would mix the text in between the photos instead of having all of the photos first and all of text last.
I wish it was an actual first post that talks about why I'm started blogging. It doesn't feel like a true beginning to me.
I would change the title to something a little more SEO friendly.
Altogether I absolutely treasure posts like these. I'm glad I started blogging so soon after Kainoa was born.  I only wish I'd had the foresight to begin blogging when I was pregnant with Maile.
Now it's your turn! Re-publish your very first post and share your thoughts on it.  Then, come back and link below for a chance to take Thelma & Louise home with you.
* * * * * * * * * * * * * * * * * * * * *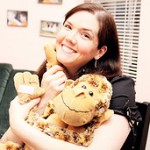 Sunday from Adventures in Extreme Parenthood is helping us to kick off Day 1 of the Back To Blogging Challenge in BlogFrog.  Join her and our entire community as we discuss the evolution of our blogs.
I began blogging in December of 2008 after talking with a number of friends from my church who had also began blogging.  They all encouraged me to make the leap into blogging after insisting that my humorous and touching stories I would often share with them would also be a help to other mothers like myself raising children with special needs.  As it turns out they could not have been more right…
To continue reading more of Sunday's discussion, click here.