This post may contain affiliate links which may give us a commission at no additional cost to you. As an Amazon Associate we earn from qualifying purchases.
Tis the season!
Tis the season for extra food, sugary drinks, and sweets, that is.
Because the holidays can be one of the most indulgent times of the year, we want to help you brainstorm ways to keep your kids' diets in check, retain your sanity, and maybe even think outside the box when it comes to stocking stuffers!
Oh, and did we mention give you the chance to win 1 of 3 amazing prizes?
Thanks to Brita, we've got a super fun night planned. It is all part of our effort to encourage families to swap out sugary beverages for water this time of year!
And what better way to blast out this message than with a Twitter Party this coming Wednesday, December 5 at 6:00 PM PST / 9:00 PM EST?
#Brita4Kids Twitter Party
We'd love for you to join us. Here are the details:
When: Wednesday, December 5 at 6:00 PM PST / 9:00 PM EST
Where: On Twitter, hashtag #Brita4Kids
TweetGrid
If you are relatively new to Twitter or if this will be your first Twitter Party, never fear! We've put together a quick and easy way for you to follow along with our #Brita4Kids Twitter conversation. Just use this Tweet Grid on Wednesday evening: http://bit.ly/VkwcJk
We've consolidated all of the streams you'll want to be watching in one place!
Prizes
As with any good Twitter Party, three lucky participants who sign up below AND participate during the Twitter Party will receive a gift prize pack from Brita. Each is valued at $150 and includes: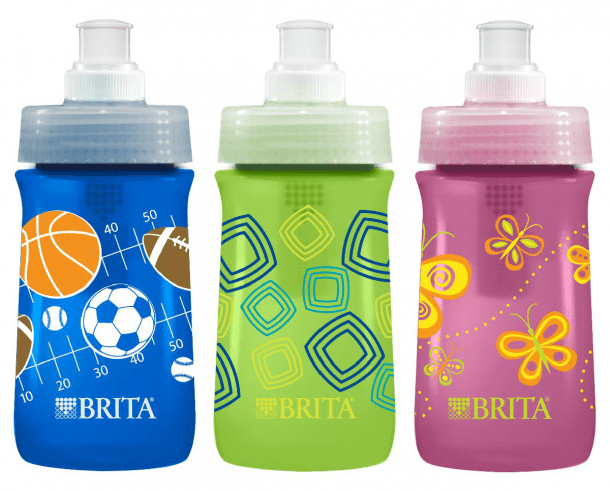 Sign Up HERE!
In order to enter to win one of our prizes, sign up below and join us on Twitter on Wednesday night.
Simply enter your Twitter ID using the below Linky.
More About Brita
The Brita Bottle for kids is a 13 oz. squeezable and reusable bottle with a built-in filter that provides an affordable, fun and convenient solution for kids to drink great-tasting water on the go.
Available in three bright colors and a kid-friendly size, the Brita Bottle for Kids is BPA free and dishwasher safe. The Brita Bottle for Kids makes drinking water fun for kids and is a convenient way to parents to keep their kids hydrated while on the go.
Brita Gives Back
Brita has teamed up with non-profit Alliance for a Healthier Generation to encourage kids to swap out sugary beverages and drink more water. As part of their partnership with the Alliance, Brita is donating more than $90,000 worth of Brita Bottles for Kids to schools across the country to encourage healthy habits in their students.
Brita is working together with the Alliance for a Healthier Generation to engage students, educators and families about the health benefits of drinking more water and provide tips for staying hydrated every day. Parents and kids can find healthy drinking tips and resources at www.brita.com/kids. For more information about the new Brita Bottle for Kids, please visit Brita.com or Brita FilterForGood on Facebook.
Disclosure:
This is a sponsored post written by The SITS Girls on behalf of Brita. Three winners will be randomly selected during the Twitter Party and announced during that time. Must be present online to win and have signed up on the Linky.