This post may contain affiliate links which may give us a commission at no additional cost to you. As an Amazon Associate we earn from qualifying purchases.
New to SITS? Welcome!! Go read this to get started.
Hi Ladies!
Before we get to the link up- we have a few housekeeping items.
1.  SITS Girls Twitter Party is coming up on Monday!  New to Twitter? This is a great chance to figure things out!
2.  We are accepting submissions for shops to spotlight during Merry SITSmas.  Info is here.
3.  When leaving comments on other SITS Girls blogs- its a great idea to leave something relevant to the post.  "Visiting from SITS!" isn't a full comment….and, is not going to encourage someone to comment back.
Let's say you visit a blog and read a post about Twilight.  A comment like:
"Loved your thoughts on Twilight.  I, too, devoured all four books and neglected
laundry for a week.  Looking forwarding to seeing "New Moon", hope it is better
than the Twlight movie.  Came by from SITS!"
would be more appropriate and appreciated.  Having said that, we are not now, nor do we have any interest in being the comment police.  If you are unhappy with a comment, delete it.  It's that easy.

Now, on to the Contest Link Up!
1.  Link the exact page of your contest, NOT just your blog.
2. Use the contest description, not your name.
3.  Go forth and spread comment love.
Want to subscribe to SITS and get an email each time we post? Just click here.
And, as always, when you see this: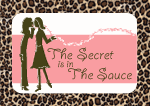 LEAVE A COMMENT.