This post may contain affiliate links which may give us a commission at no additional cost to you. As an Amazon Associate we earn from qualifying purchases.
New to SITS? Welcome!! Go read this to get started.
So, it's Friday, and my (
Tiffany
) turn to introduce you to a blog that I enjoy….
This choice is a bit odd, since she is already super famous, but there is a  post I think you will enjoy.  And, I'm hoping, if we leave lots of comments, we could get her (or her people) to come on by…
So, we are visiting
Martha
.  As in Stewart.
She is going to feature blogs.   Why not SITS?  How fun would that be.
Really, this blog belongs to all of us.  Sure,
Heather
and I run it, but every penny those blogher ads make go right back to you in prizes.  It's YOU who get featured and YOU who support one another every single day.
Go to
this link
 and leave a comment as a SITS Girl.
Where it says "Name" write "SITS Girl".
Where it says website, write "http://thesecretisinthesauce.blogspot.com"
Leave a comment about what SITS means to you.  (Include the website again in the comment.)
Then, if you want, leave a comment for your own blog to be featured.
We could really make this happen.  How cool would that be?
And, please go see
Elizabeth's sites
.  She was kind enough to offer a set of CUSTOM handmade cards and
today is the last day to enter.
And, as always, when you see this: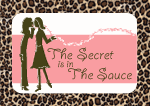 LEAVE A COMMENT.