This post may contain affiliate links which may give us a commission at no additional cost to you. As an Amazon Associate we earn from qualifying purchases.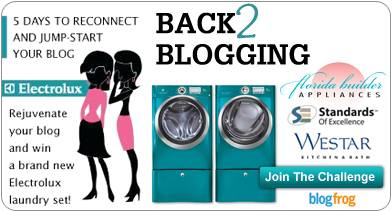 Welcome to Day 4 of our Back to Blogging event! Today we are writing about a woman who inspires us.
I bet you didn't know that September is Ovarian Cancer Awareness month.
And I bet you didn't know that our Electrolux contest sponsors are donating $200 to the Ovarian Cancer Research Fund for each Turquoise Sky Washer and Dryer pair purchased. They are working with Kelly Ripa to raise $500,000 for the OCRF  to support early detection and ultimately complete eradication of the disease.
In honor of the great things that Electrolux and Kelly Ripa are doing for Ovarian Cancer, I wanted to feature an ovarian cancer survivor who is also a blogger and who recently has inspired me to beware of my ovaries.
Sandhy is the author of Ovarian Cancer??…Pass The Wine Now!! where she writes her ongoing story as well as provides amazing information on early detection and additional avenues to support research.
Diagnosed with Ovarian Cancer, "stage 3b in February 2008 at age of 46" Sandhy says, "my sense of humour grew bigger with every single chemo. I laugh in your general direction! Beat that! :o)"
I applaud Sandhy for her amazing attitude and can only hope if I ever have to face a beast like cancer I can do it with a fierceness as positive as hers. Inspirational indeed.
*****************
For those who might be joining us for the first time today, here is a quick recap on how to enter to win Thelma & Louise, the Electrolux Washer/Dryer set we are giving away:
Play along! Write a post using the daily prompts we described here and then link your post on SITS each day this week. All posts should mention and link to our sponsors, Standards of Excellence, Westar Kitchen and Bath, and Florida Builder Appliances, somewhere in the text.
Like! Click the Like button on our sponsor's Facebook pages: Standards of Excellence, Westar Kitchen and Bath, and Florida Builder Appliances.
Follow! Follow Standards of Excellence on Twitter.
Tweet! Send out the following message on Twitter:
I'm getting #Back2Blogging w/ the @SITSGirls. And thanks to @SOESupply, maybe Thelma & Louise can come live w/ me! http://bit.ly/aad1L5
Discusss! Join me as we continue this discussion on today's topic in the SITS Girls Community in BlogFrog.
The contest will remain open until Sunday, September 19, which means you have through the weekend to participate. Good luck!
Link up if you wrote a post about somebody who inspires you!
* * * * * * * * * * * * * * * * * * * * *
Interested in becoming an official SITS Girl and being featured on our website? We'd love to showcase your blog! Read how to get involved here.
And, as always, when you see this button:
Be sure to support your fellow SITStah & leave a comment!