This post may contain affiliate links which may give us a commission at no additional cost to you. As an Amazon Associate we earn from qualifying purchases.
Updated: 1/19/13
Winners have been contacted by direct message on twitter from @SITSGirls.
Q.1 @nilimonicky
Q.2 @sleatham1
Q.3 @JFordBerry
Q.4 @DeLovely_M0MMa
Q.5 @marilola33
Congrats!
***
Did you catch the Miss America pageant over the weekend?
We'll be chatting with the newly crowned queen herself this Thursday, January 17 at 5:00 PM PST / 8:00 PM EST, and would love for you to join us!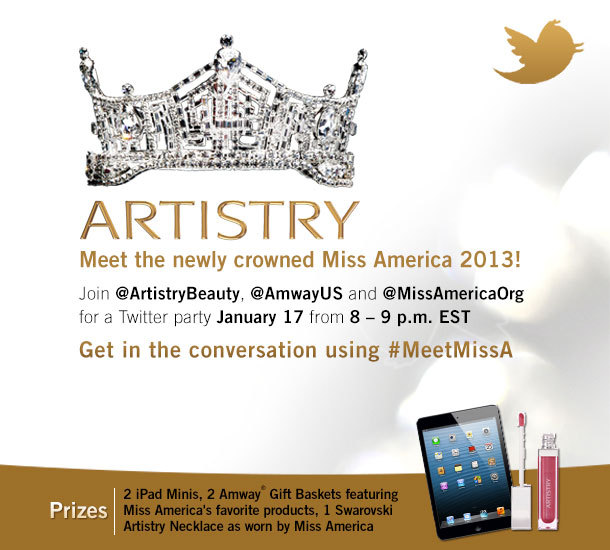 #MeetMissA Details
Where: On Twitter, using the hashtag #MeetMissA. For those interested, the Tweetgrid is here: http://bit.ly/W2tJnn
When: Thursday, January 17 at 5:00 PM PST / 8:00 PM EST
Prizes: But of course! See below for the goodies we'll be giving away.
Twitter Party Prizes
During the #MeetMissA Twitter Party, we'll be giving away a ton of fabulous prizes, including:
TWO iPad Minis, valued at $375 each.
TWO Amway gift baskets, one of which will feature Miss America's favorite Artistry Cosmetics. Total value for the gift baskets is $800.
1 Swarovsky Crystal "Artistry" necklace, worn by Miss America herself. This necklace is valued at $100.
That's over $1,600 in prizes in an hour!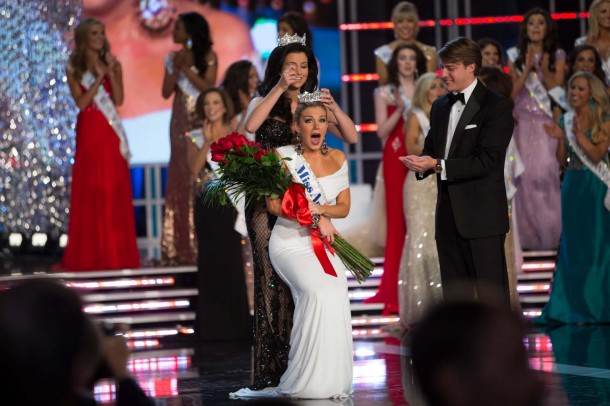 Enter to Win
To enter to win one of the five prizes up for grabs, simply RSVP using the below Linky and then join us Thursday on Twitter.
More on Amway
Did you catch the Miss America contest over the weekend? Amway provided $50,000 to the newly crowned winner.
Amway & Artistry Cosmetics help women pursue their dreams by enabling them to further their education. Amway also provided more than $300,000 in scholarships for all Miss America contestants!
This is a sponsored post on behalf of Amway. To read more about our giveaway guidelines, go here.