This post may contain affiliate links which may give us a commission at no additional cost to you. As an Amazon Associate we earn from qualifying purchases.
We're kicking off our 12 Days of More giveaway series, thanks to Cottonelle.
Between now and Friday, December 20, we'll be making it possible to win CASH (via American Express giftcards)…daily.
And all we want to know is:
What do you want 25% more of this holiday season?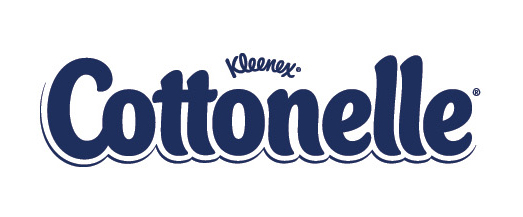 #MoreIsBetter Rafflecopter Giveaway
We love that 25% more Cottonelle Clean Care Toilet Paper double rolls means having little extra change in your pocket. That's why our friends at Cottonelle are taking gift giving to new heights this holiday season.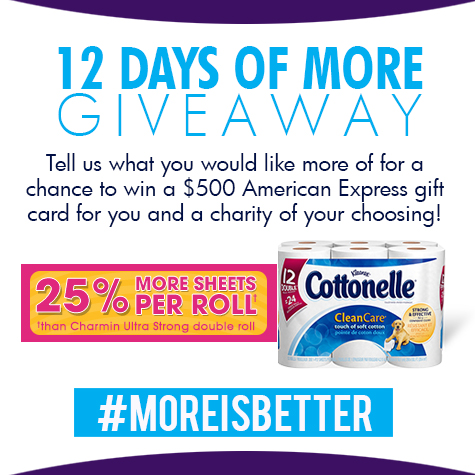 Simply tell us what you would like more of for a chance to win a $500 American Express gift card for you and a charity of your choosing!
One winner will be selected DAILY between now and Friday, December 20.
That's $1,000 dollars being given away each day. WOW!
#MoreIsBetter December 9 Twitter Party
Cottonelle Clean Care Toilet Paper Double Rolls have 25% more sheets than the leading competitor, which translates to big things this holiday season.
Our first round of giving starts TONIGHT, with a 30-minute Twitter Party.
Where: On Twitter, using the hashtag #MoreIsBetter.
When: Monday, December 9 at 6:00-6:30 PM PST / 9:00-9:30 PM EST
Prizes: See below for details!
Twitter Party Prizes
During the #MoreIsBetter Twitter Party, we'll be giving away a total of THREE American Express cards.
One lucky winner will snag a $300 gift card. While two more winners will each walk away with $100 American Express gift cards.
Enter to Win
To enter to win one of the items from our bucket of goodness, you must be present during the Twitter chat and participate with an original Tweet (no retweets) using the hashtag, #MoreIsBetter, in response to the Twitter party questions.
3 winners will be selected at random from those that reply to the questions.
OPTIONAL Entry
To increase your chance of winning, we're giving you an optional entry.
Simply tweet out the link to this post, making sure to use the hashtag, #MoreIsBetter, and leave a comment below with the URL to the tweet.
ANOTHER Way to Win
We can all use a little extra spending money this time of year. #MoreIsBetter after all, right? That's why we'll be randomly selecting one winner from the below Linky to receive a $25.00 Amazon gift card.
Easy peasy! Simply add your Twitter ID to the below Linky and you'll automatically be entered to win.
Live Twitter Chat HERE
At party time tonight at 6:00 PM PST/9:00 PM EST, be sure to head over to our #MoreIsBetter Twubs landing page here. You can watch and jump into the conversation using our live Twitter feed feature created just for #MoreIsBetter!
With so many ways to win, we wish each of you the best of luck and the happiest of holiday seasons!
This is a sponsored post on behalf of Cottonelle.
Giveaway is open only to U.S. residents. To read more about the giveaway policies for this promotion, please refer to the Terms & Conditions link in the Rafflecopter.