This post may contain affiliate links which may give us a commission at no additional cost to you. As an Amazon Associate we earn from qualifying purchases.
A big congratulations to the winner Lisa @ CookingwithCurls.com

You have won the $500 Blog Design by NW Designs!
It's our last and final giveaway of the week!
And we're going out with a BANG.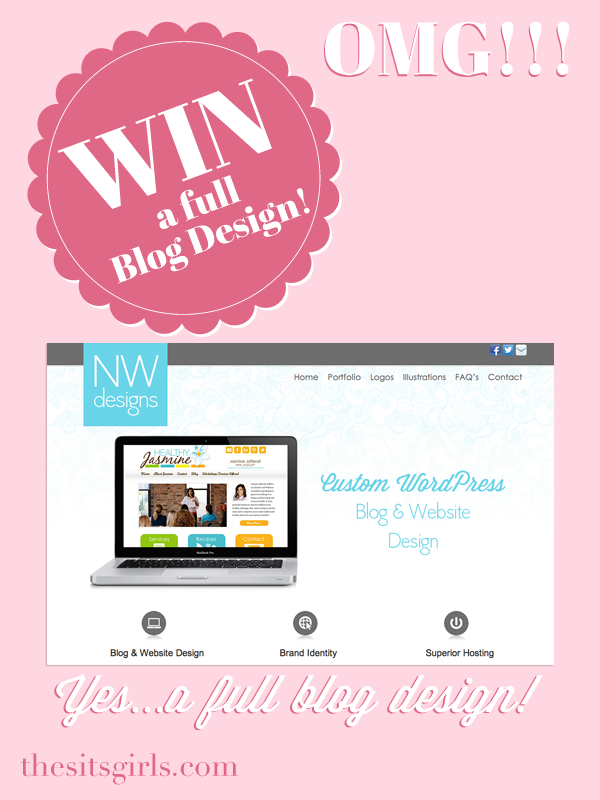 $500 Blog Design Giveaway
Our long-time graphic designer and friend, Cynthia from NW Designs, is teaming up with us to give one very lucky member of our community a $500.00 blog design!
If you're ready to spruce up your header, make-over that sidebar and just pamper your blog in general, then this is the giveaway for YOU!
Cynthia is responsible for almost all of the graphics you see round these parts, from The SITS Girls site in general, to our special post graphics (like our birthday image this week), to our social media channels and the Bloggy Boot Camp site.
With two design degrees, and an unhealthy obsession with all things Adobe, Cynthia started her one stop shop for everything from blog design to custom illustration and logo creation 3 years ago. Over 100 blog designs later, and many late night dates with her Macbook Pro, NW Designs has become her full time job. As if that wasn't enough, she also adds wife and mom of two to her list. You can find her chronicling the entire journey at her personal blog, Nap Warden.com.
Enter to Win
To enter to win, simply leave a comment on this blog post naming one design element you'd love to change on your blog.
Three Optional Entries:
Want more ways to win? Here are three optional entries:
Subscribe to our newsletter! See that big button entitled, Subscribe, on the home page of our site? Go and enter your email address! Our newsletter is the only way to stay up-to-date on all of our sponsored post opportunities and insider news. Once done, leave a comment saying that you subscribed below.
Tweet out this post and then leave a comment with the URL.Here's a sample tweet:


Make me pretty! I want to #win the $500 #blog design from @SITSGirls & @NapWarden. Comment to enter the #giveaway: http://shar.es/yhGYI

Share this post on Facebook and then leave a comment letting us know you passed it along.
This giveaway closes Tuesday, August 13, 2013 at midnight PST. One winner will be announced on this post on Wednesday, August 14. Giveaway is open to one and all. For more on our giveaway policies, go here.
Remember: TODAY is the last day to enter our giveaway for the $398 Coach handbag. Don't miss out on this loveliness!