This post may contain affiliate links which may give us a commission at no additional cost to you. As an Amazon Associate we earn from qualifying purchases.
What better way to get into the holiday spirit than by decorating your home and letting your creative side shine? Sharlene from Solar Cooking for Mainstream Cooks is helping us do just that today by giving us tips on how to decorate for Christmas on a very limited budget.

Be sure to stop by Sharlene's blog. Not only is she our featured blogger, but she is also offering all of our SITStahs her Happy Holidays eBook for FREE! Her book is filled with suggestions on how to decorate for Christmas on only $15. Wow! In my book, that is nothing short of a Christmas miracle!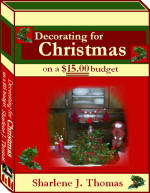 Now, how about another fun giveaway?
On the 8th day of SITSmas, my SITStahs gave to me…
…an amazing giveaway from Three Sisters Jewelry Design by Zoe!
Zoe is the maker of unique hand stamped jewelry and a believer in giving back, which is why a portion of proceeds from all hand stamped necklaces is donated to a charity aiding in the fight against cancer. Her designs add sentiment and meaning to jewelry that will last a lifetime and have even showed up in US Weekly!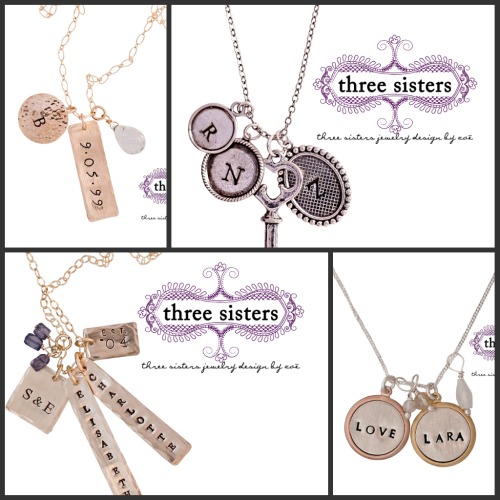 At Three Sisters Jewelry Design, you'll find hand stamped and unique custom mommy jewelry. Three Sisters uses hammered and hand-cut pieces of distressed metal, raw cut stones and a vintage-inspired antiquing process to create one-of-a-kind personalized jewelry. Zoe has always had an appreciation for natural, organic materials and has incorporated them in her individually-styled jewelry designs. Please stop by and take a look! And if you have a little extra time, grab a cup of coffee and check Zoe's blog – a fun journey filled with pretty images and life with her three daughters.
To enter to win the gift certificate, leave a comment on this post telling us whose name (or initials) you would put on a piece of jewelry.

For extra entries, you can:
Leave a comment on the Three Sisters Facebook page describing what you would spend $100 on if you won the gift certificate to their site.
Click over to Sharlene's featured blogger post and leave a comment after you check out her Christmas eBook.
Tweet this message: Merry SITSmas! I'm celebrating the season with 12 Days of giveaways from @SITSGirls: http://bit.ly/ib05gE.
This giveaway will be open for 24 hours and is available to everyone, everywhere. We will choose one winner at random and contact her via e-mail. All SITSmas winners are announced on our Facebook page daily.
Three Sisters Jewelry Design by Zoe is also offering our readers 15% off of anything in her shop for today only. Simply use the code blogit upon check-out.
* * * * * * * * * * * * * * * * * * * * *
Would you like to be featured on our website and get a nice bump in traffic and followers? Then let us showcase your blog! Read about how to get involved here.
And, as always, when you see this button:
Be sure to support your fellow SITStah & leave a comment!