This post may contain affiliate links which may give us a commission at no additional cost to you. As an Amazon Associate we earn from qualifying purchases.
Hello Saucy Ladies (and gentlemen!)
Our second week of the Six Weeks of Summer Contest has begun!  
Check it out
.
We would like to honor those SITS Girls' family members currently serving in the military for our Fourth of July post.  Please email us the name, rank, and where they are serving to sitsgirls@gmail.com
Before we choose the Featured Blogger, we check the past Roll Calls.  So, if you haven't been roll calling, make sure you do!
There has been some "spamming" going on among our roll call.  Please do not send emails or comments to SITS girls just to direct them to your site or promote yourself.  If someone is spamming, feel free to delete it. (Yesterday one such spammer promoting a product left me (Tiffany) the exact same comment twice….3 hours apart!  And, I know she hit many of you, as the SAME comment was on many of our blogs.)
Updated: If a "real" SITS girl (someone you see around here often) let's you know about a contest, or a post on their site, that's fine.  It's someone who is essentially leaving the same comment on a bunch of blogs directing you to their site to promote a product (often through a contest) or themselves, that's not what we are about.  With the success of SITS, there are bound to be new sites popping up that want to feature bloggers or build their  audience or promote their product.  That's expected.  We just feel that they shouldn't be using our roll call to do it. 
If you've got something to share, like a contest, email us.  If you are true SITS Girl and we feel it's appropriate, we will totally shout you out! 
Like this:
I'll also bring a big basket that everyone can put their phones, iPods and other handhelds in until it's time to leave!
And, if you have a sec,
this post
had us ROLLING….
And, as always, when you see this: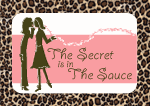 LEAVE A COMMENT