This post may contain affiliate links which may give us a commission at no additional cost to you. As an Amazon Associate we earn from qualifying purchases.
New to SITS? Welcome!! Go read this to get started.
We love this site!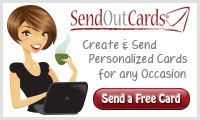 You can make personalized cards to send to friends and family- so personalized, they even have an option that will design a font based on your handwriting… so cool.
And, in a age with email and twitter, isn't it nice to send actual mail once in a while?  We love getting cards.
My favorite part?  The contact manage reminds me of upcoming birthdays so I can get a card out in time!
This company also offers an option for you to set up your own online card shop- pretty cool, eh?
So, go make your FREE card– yep, the first on is on them (if you want to bypass the video, just click on the #2 at the top).
And, if you have a giveaway, link it up here!