This post may contain affiliate links which may give us a commission at no additional cost to you. As an Amazon Associate we earn from qualifying purchases.
New to SITS? Welcome!! Go read this to get started.
SITSmas is just two short days away and we wanted you to have all the details in plenty of time.
Here they are:
On December 8th, we will all post "Merry SITSmas Cards" on our own blogs wishing our SITSta's Happy Holidays and Good Tidings. It's a great time to share a family photo and maybe a few words about your hopes for 2010. Of course, you may also shout out your favorite SITStas. We can't wait to see them all! We'll be sure to have Mr. Linky up and hopefully he'll behave this year.
Be sure to link back to SITSmas in your post…. a holiday lovefest with comments galore!
And, the prizes. A prize every hour for the entire day beginning at 9am Eastern time! We've got amazing stuff to give away!
So, if you are like us, and need to get that post done and scheduled for the 8th, you now have the info. Of course, you can email us with any questions.
Want to subscribe to SITS and get an email each time we post? Just click here.
And, as always, when you see this: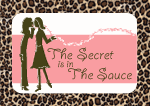 LEAVE A COMMENT.