This post may contain affiliate links which may give us a commission at no additional cost to you. As an Amazon Associate we earn from qualifying purchases.
Hour after hour on Wednesday, we diligently uploaded tons of prizes as part of our #SITSmas Holiday Celebration this year. Our SITStahs had exactly one hour to enter to win, and boy did you respond! It was like a snowstorm of tweets, photos on Facebook and comments.
Thank you!!
And now it's time for our favorite part of any giveaway…revealing the winners!
#SITSmas Giveaway Winners
Here are the lucky girls who are going to have a little something extra in their stocking this year from us.
#SITSmas Coupon Codes
In case you missed it, here is a quick recap of the coupon codes our #SITSmas partners generously extended to our community:
GreatCleaners.com: 20% off your next order when you sign up for their newsletter.
Freya: Free shipping on all handmade jewelry using the code, SITSGIRLS.
Hello Canvas: 25% off all sizes when you use the code, SITSGIRLS, at checkout.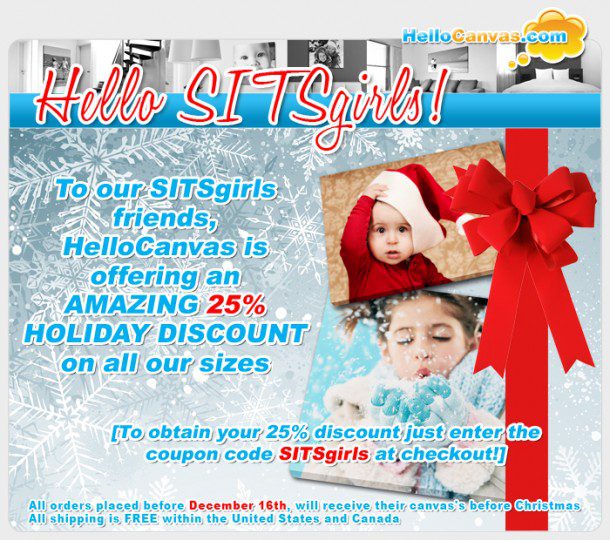 Super Secret Bonus Winners
Because of the fantastic response we received from #SITSmas this year, we wanted to give our community members something extra special. All of the participants were grouped together for one final giveaway!
The following five bloggers have won passes to our Online edition of Bloggy Boot Camp in 2012. What this means is that everyone listed below will be able to attend our conference series virtually and receive our packed education program all from the comfort of their home!
Congratulations to…
Paula from Pups The Traveling Labrador
Sarita from The Lone Tater
Jess from Shuggilippo
Maya from Musings of a Marfan Mom
AND, Kim from The Coffee Pot Chronicles
All winners announced in this post should contact us within the next 48 hours at sitsgirls@gmail.com to claim their prize.  Please include your full name, shipping information (if applicable) and blog URL in your email.  We'll then get moving on ensuring you receive your goodies!
And don't forget that you can still enter to win an Eureka Endeavor Vacuum and Kindle Fire from now until next Friday, December 16.  Head over to the Featured Blogger channel asap to learn more!