This post may contain affiliate links which may give us a commission at no additional cost to you. As an Amazon Associate we earn from qualifying purchases.
New to SITS? Welcome!! Go read this to get started.
Happy Saturday!  We've got a guest blogger over at
SITS Recipes
… go check her out!
New Saucy Blogs are up!
See that A.d.o.r.a.b.l.e "S" up in the browser (where our web address is)?  Fellow SITSta, Cara, did that.  She calls 'um "blogicons" and they are a great way to set your blog apart from the rest with a personal touch.
Tiffany
got a fleur de lis and Lula got a peach.    
Check her out!
And, what you really came for: The winner of the
camera
is:  
Random Integer Generator
Here are your random numbers:
49
Timestamp: 2008-07-26 05:29:36 UTC
(Yes, she also won last week… somebody take this chick to Vegas.  That is nuts.)
Go say congrats!
On to our last week of the Six Weeks of Summer Contest…..
This one is a final prize:  Apple 4G iPod Nano in Silver!
Plays up to 1,000 songs, 4 hours of video or 3,500 pictures!
To Enter:
1.  Comment here.  
2. Post about the contest on your site linking back to us.
3. Make sure your SITS button is posted!                    
And, as always, when you see this: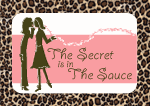 LEAVE A COMMENT!