This post may contain affiliate links which may give us a commission at no additional cost to you. As an Amazon Associate we earn from qualifying purchases.
It's time for another of our fabulous Twitter conversations…
AND for you to enter to win some prizes!
We'll be chatting TONIGHT, Wednesday, February 13 at 6:00 PM PST / 9:00 PM EST, and would love for you to join us!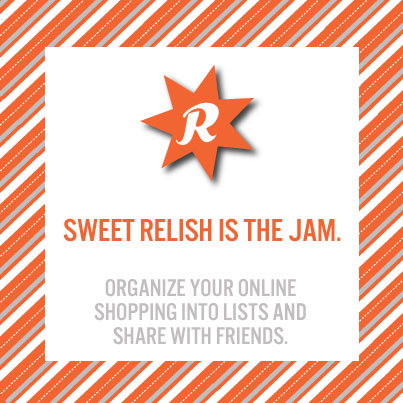 #SweetRelish Details
Where: On Twitter, using the hashtag #SweetRelish. For those interested, the Tweetgrid is here: http://bit.ly/Y9qPgA
When: Wednesday, February 13 at 6:00 PM PST / 9:00 PM EST
Prizes: But of course! See below for the goodies we'll be giving away.
Twitter Party Prizes
During the #SweetRelish Twitter Party, we'll be giving away CASH, including:
FOUR $ 50.00 VISA gift cards
ONE grand prize VISA gift card valued at $ 250.00
That's $ 450.00 in prizes!
Enter to Win
To enter to win one of the five prizes up for grabs, simply RSVP using the below Linky and then join us tonight on Twitter.
More on Sweet Relish
We'll be talking a ton about gift giving (and receiving!) tonight, as well all of the great products and vendors Sweet Relish has in their arsenal to help you find that perfect gift. Here are just a few examples:
@Kor_Water
Be sure to hydrate before and after you work out. This water bottle is great because it's easy to clip on to a backpack during a hike and fits perfectly into the bottle holder on my bike. The sleek design is pretty cool and the mouthpiece is the perfect size to slip in a few ice cubes.
@Mixiebottle
Believe it or not, a Dad who had no experience in the baby product industry created the Mixie bottle. After becoming frustrated while trying to prepare a bottle in the car, this Dad had an idea for a baby bottle that could be ready before you needed it. The Mixie bottle allows parents to plan ahead by filling the bottle with water and an airtight compartment for formula.
@OogaaBaby
When Sam she was a little girl she started a club in school called Oogaa. She and her friends drew characters with googly eyes and big smiles on sticky notes and sold them for 25 cents each. When she had her first child, she set out to create spoons shaped like trains and airplanes that would make eating fun for kids. The silicone feeding sets are soft, safe, and non-toxic.
This is a sponsored post on behalf of Sweet Relish. To read our giveaway guidelines, go here.