This post may contain affiliate links which may give us a commission at no additional cost to you. As an Amazon Associate we earn from qualifying purchases.
Whether you are throwing a party or staying up to trick or treat, you are never too old to enjoy Halloween. We love to go all out for Halloween at our house, with spooky decorations inside and out, a fun Halloween playlist we listen to all October, amazing Halloween costumes (yes, we even dress up our dogs!), and a whole lot of candy. All of the candy, really. Because Halloween is basically the national day of candy.
Get your Halloween party rocking with this Halloween playlist!
Don't forget to pin this graphic, so you can save this great list of Halloween songs!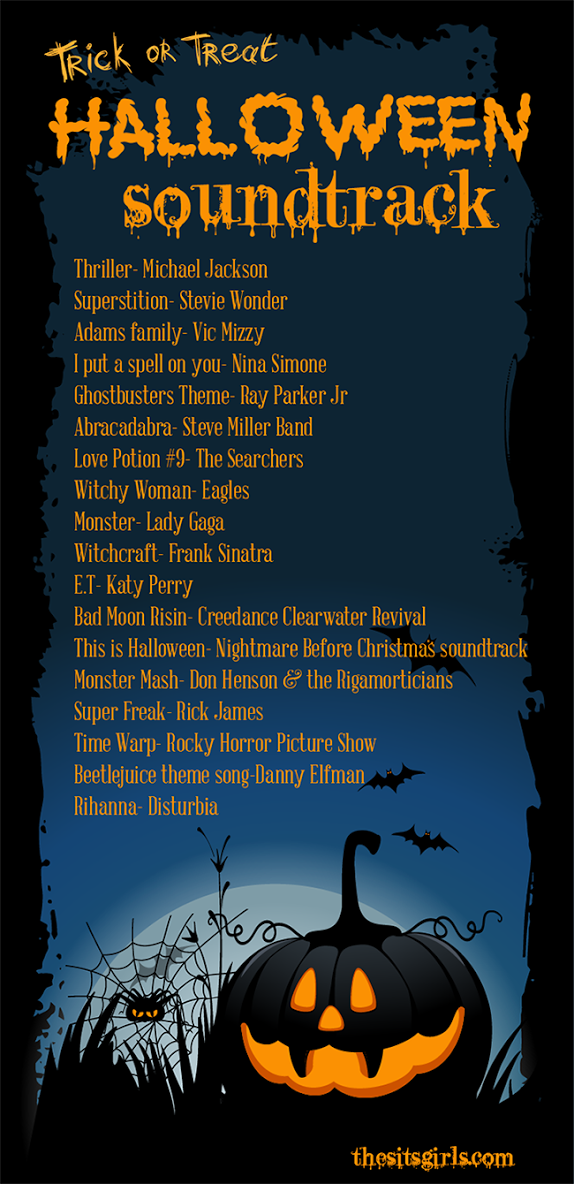 Halloween Playlist
Thriller – Michael Jackson
Superstition – Stevie Wonder
Adams Family – Vic Mizzy
I Put A Spell On You – Nina Simone
Ghostbusters Theme – Ray Parker Jr.
Abracadabra – Steve Miller Band
Love Potion No. 9 – The Searchers
Witchy Woman – Eagles
Monster – Lady Gaga
Witchcraft – Frank Sinatra
E.T. – Katy Perry
Bad Moon Rising – Creedence Clearwater Revival
This Is Halloween – Danny Elfman
Monster Mash – Don Hinson and the Rigamorticians
Super Freak – Rick James
Time Warp – Cast of Rocky Horror Picture Show
Bettlejuice Theme – Danny Elfman
Disturbia – Rihanna
Like our song choices? You can find our Halloween playlist here.
If you need more Halloween inspiration, we have you covered!
Want to decorate your house for Halloween but don't know where to start? Look at these posts for DIY inspiration:
Want Halloween costume inspiration? Check out some of these DIY costume ideas: