This post may contain affiliate links which may give us a commission at no additional cost to you. As an Amazon Associate we earn from qualifying purchases.
Your office space should inspire and motivate you.  It should not be a dull, boring space that you seek opportunities to escape. You will have a better work experience if your office is calming and beautiful, making you want to spend time there.
I am fortunate to have a dedicated office space in my home. Before envy rises to the surface let me also say my home office is in my laundry room. Yes, I can multi-task doing volumes of laundry while writing, blogging, and fulfilling my accounting duties for my IT company.
Despite its location in the house, my office space is personalized and so lovely – I want to work at my desk every day. The space inspires me to create jewelry for my shop, write for my blog, and even complete mundane tasks like balancing the business bank account. It is a space that I find solace and comfort from the hectic and distracting duties of home care.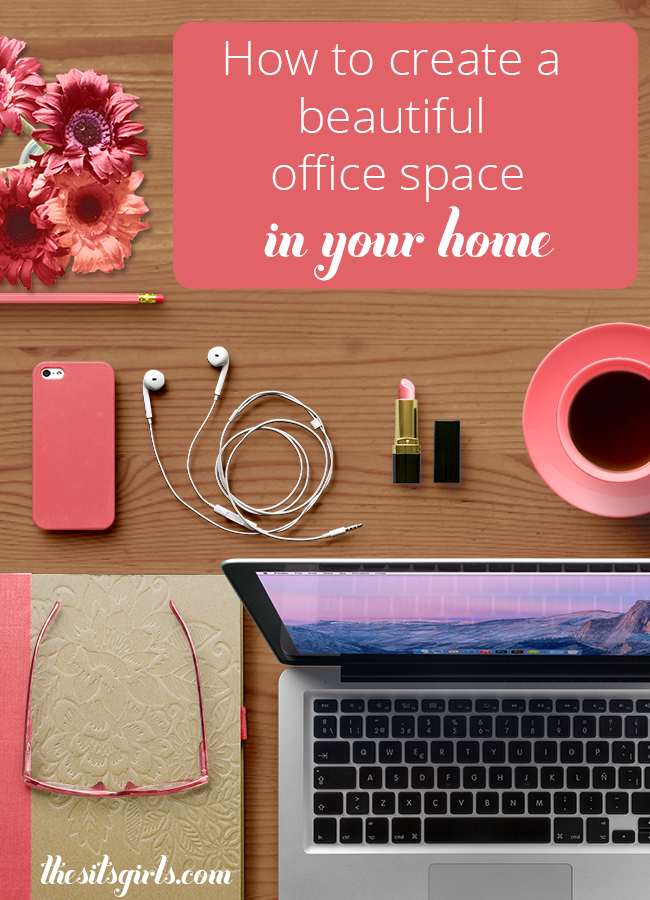 How To Create A Beautiful Home Office Space
The most unusual, small, or unconventional office spaces can become areas of beauty and loveliness with simple and easy decorating ideas. Here are my tips to help you create a beautiful home office:
1. Attractive Calendars.
Hang an attractive calendar with images that you love, make you laugh, or smile. Look for something that is both functional and lovely.
2. Beautiful Organizational Tools.
Update plain acrylic organizers (I found some at Target for $1 each) with mod podge and pretty wrapping paper. It is an easy, quick, and inexpensive project that adds style to the desktop.
3. Think Small.
Easily create stylish thumbtacks and magnets for bulletin and memo boards. Dab E6000 glue (found at most craft stores) onto the magnet or thumbtack and top with a 3-D scrapbook element (I used faux pearls and crystals on my thumbtacks and flowers for my magnets). Don't forget the mouse and mouse pad. A quick search online will yield many different options for a pretty and functional mouse pad.
4. Stylish Command Center.  
Invest in an attractive command center. Many systems allow custom configurations for filing, bulletin, magnet, and chalkboard elements.
5. Photos and Frames.
Add family photos in nice frames to your desk. I love looking at my kids while I'm writing, because I adore them!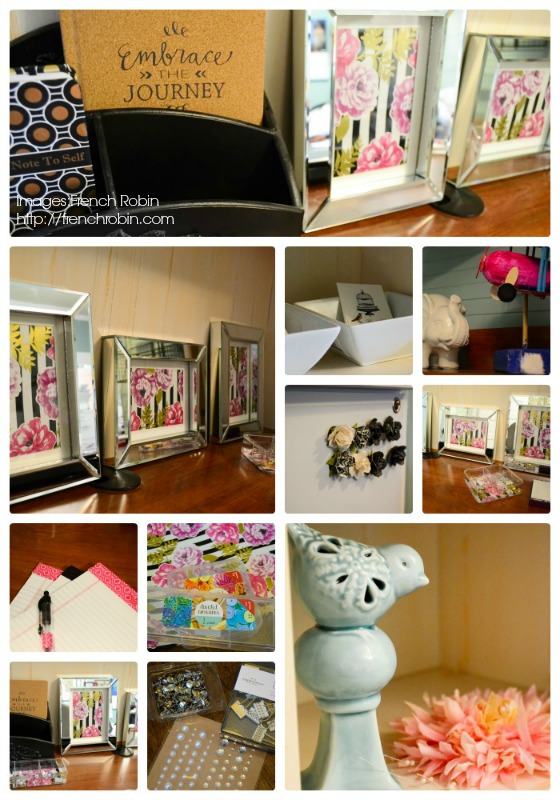 6. Art.
Don't forget to add artistic images to your space. Art makes the mind think differently than looking at bare walls. Find something that inspires. For something different, I put pretty wrapping paper in mirrored frames I found at a discount retailer.
7. Pretty Supplies.  
Pass on the yellow no. 2 pencil and splurge on a lovely floral or decorative pencil instead. Use pretty binder clips (I found gold and white), add washi tape to file folders, and other necessities to take them from bland to pretty. Make your notebooks fun with this tutorial that uses your favorite Instagram photos.
8. Lighting.
Lighting is often ugly and utilitarian. Take time to source a lovely lamp. Search online retailers, discount stores, and thrift shops for a lamp that fits your budget and adds style to your space.
9. Outside the Box.
Think out of the box when searching for organization and storage. Pretty tea cups, saucers, and unique bowls work great for business cards, paper clips, pencils, and the like. I found lovely square bowls to hold business cards on my desk and jewelry organization for my desk drawers.
10. Accessorize.
Just like your wardrobe, accessorize your desk. Add figurines that you love (I have an incredible white elephant sculpture, because I love elephants) or fresh flowers to brighten your space. Accessories are jewelry for your desk!
Your office area is a place for you to work and create. It should be a place you love to spend time, and the best way to do that is to add lovely, beautiful elements that inspire you to create your best work.
Cheers!
Check out these four great ways to make money from home, and put your beautiful, new office space to work!