This post may contain affiliate links which may give us a commission at no additional cost to you. As an Amazon Associate we earn from qualifying purchases.
It's a well-known fact that a tidy office makes for a much more efficient workplace… right?
So why is yours such a tip?!
Coffee rings – check
Old candy wrappers – yup
5 zillion scraps of paper – hmmmm
Pens that don't write properly – most definitely
Oh, and I bet your bin is overflowing too…..
Your whole mood can be affected by what's going on within your office, so it's well worth taking a little time to get some organization in place, and create yourself a little work haven that doesn't have you wanting to tear your hair out as soon as you open the door!
It's time to sort our your space. So with that in mind, here are my tips for a tidy office.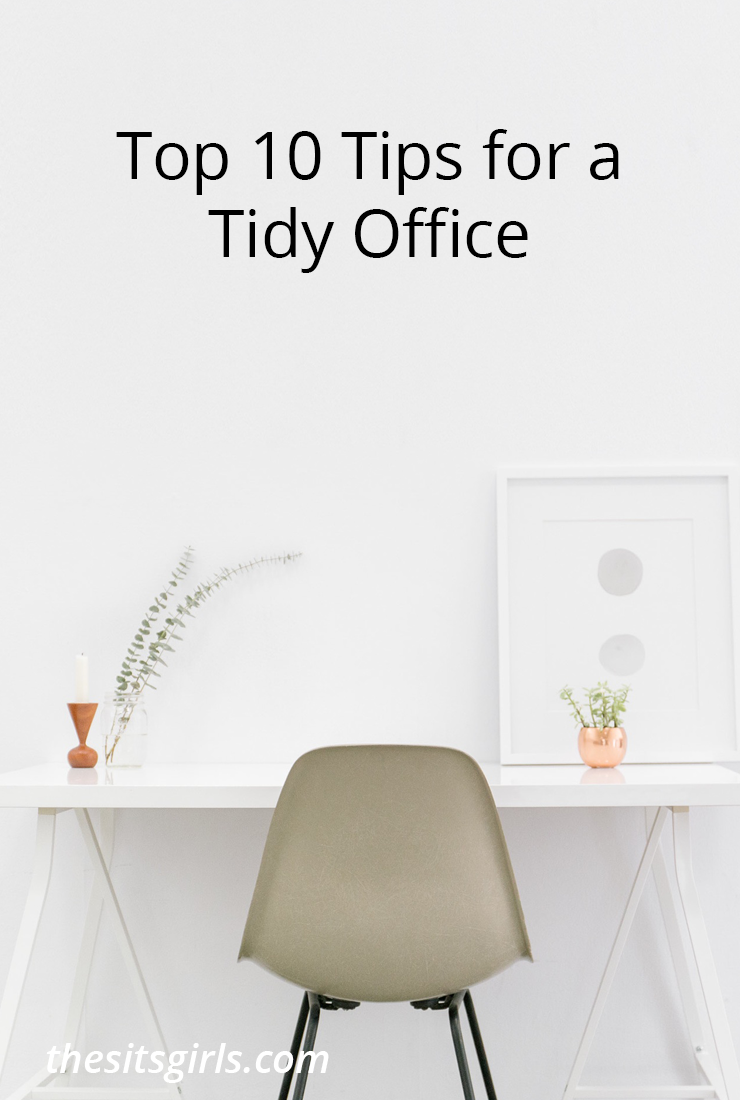 Top 10 Tips For A Tidy Office
1. Divide your workspace into zones. These could include a space for your computer, a library or research area, and a place for filing and storage. Oh, and of course, a space big enough for your favorite coffee mug. Get a pretty/motivational/fun coaster to put it on!
2. Keep only what you need at arm's length. You can't possibly need all those pretty pens and fancy notebooks at once? Right now on my desk I have my laptop, a notepad, and the essential cup of coffee (probably a bit cold as usual). Anything else I might need is easily accessible, but not cluttering up my desk or my mind.
3. Create a system for paperwork that works for you. It's daunting to see a huge pile of documents on your desk, so sorting through paperwork as you receive it really does make life so much more efficient. I use a small plastic drawer system, labelled as follows:
To Do;
To Read; and
To File.
One day a week I set aside the time to clear the drawers and it feels soooo good!
4. Establish limits. You can only store so much stuff. Do you really need all those books cluttering up the shelves?  The pile of papers waiting to be shredded? If you need to keep old papers, but will never look at them again, box them up and store them somewhere else. Donate books, shred your papers, and empty your bin.
5. Sort your junk drawer. Everyone has one, usually crammed full of bits and bobs that have no home. We also use this drawer to kid ourselves that we have tidied up… out of sight out of mind, right? If you're anything like me, you fear opening this drawer – that's if you can even wrench it open. Let's take the first step together. Okay, take a deep breath, open it, and release!
Now have a quick glance and anything you see that you haven't used or missed in the last month, drop it in the bin! Do this once a week when you have time, and you will soon feel cleansed!
6. Clear out your inbox. Digital clutter is just as stressful as actual clutter on your desk! Create a zero inbox policy. Delete old emails and create folders for everything! Flag the ones that need attention and unsubscribe from all the junk. You can use email software such as Unroll Me which speeds this up massively. Then whenever new email comes in it goes straight into a folder or is deleted. Zero inbox. It's surprising how much better this can make you feel!
7. Streamline desktop icons. I personally hate to see a computer full of icons – even when it's not mine. It makes me instantly stressed out, and I can't believe you regularly use them all! I keep the few that I have, lined up to the left of my screen, and the most used ones pinned to the task bar along the bottom.  Neat and tidy, and I can also see the gorgeous wallpaper background I so lovingly selected (sometimes a lovely, relaxing image, sometimes my child pulling faces).
8. Put up hooks. Keeping personal items such as bags and coats out of the way makes for a visually tidy office. Hanging things neatly on hooks means visitors or colleagues won't trip over your expensive handbag or sit on your latest coat.
9. Short term storage. Keep a storage box nearby for any extra workload or research you wouldn't normally have such as newspapers and magazines. Even things like a gym bag or change of clothes could live here temporarily. The emphasis here is on short term! This is not a new storage area – it's a temporary hideaway.
10. Disinfect regularly. Your keyboard can be one of the yuckiest things you touch! Even if you're neat, dust, food crumbs, and dirt will still build up on your keyboard. Keep a pack of disinfectant wipes in your (newly tidy) junk drawer and give the keyboard and monitor a wipe over once a week. You never know, this may also encourage you to tidy the rest of your office while you're at it.
I block out an hour once a week to just do the bits of clearing out. This ensures the clutter never mounts up, and my desk and tidy office can be an enjoyable place to spend my time.
Author Bio: Roxy Rhodes
Roxy is an entrepreneur and fully qualified therapist with professional qualifications in clinical hypnotherapy, psychotherapy, NLP, nutritional therapy and stress management. After a successful career in the care and medical industry, she built an award-winning private therapy practice, helping clients to overcome mental, physical and emotional issues. Today she runs The High Heels Society, an online hub of inspiration and advice for busy business women.