This post may contain affiliate links which may give us a commission at no additional cost to you. As an Amazon Associate we earn from qualifying purchases.
Two months ago we welcomed our third child into the world. We were over the moon when we found out I was pregnant, and I instantly started to plan the nursery. I have always been a huge fan of mixing prints and patterns, and wanted to carry that into his nursery. A week before Levi arrived, I was able to put the finishing touches on our Woodland Nursery.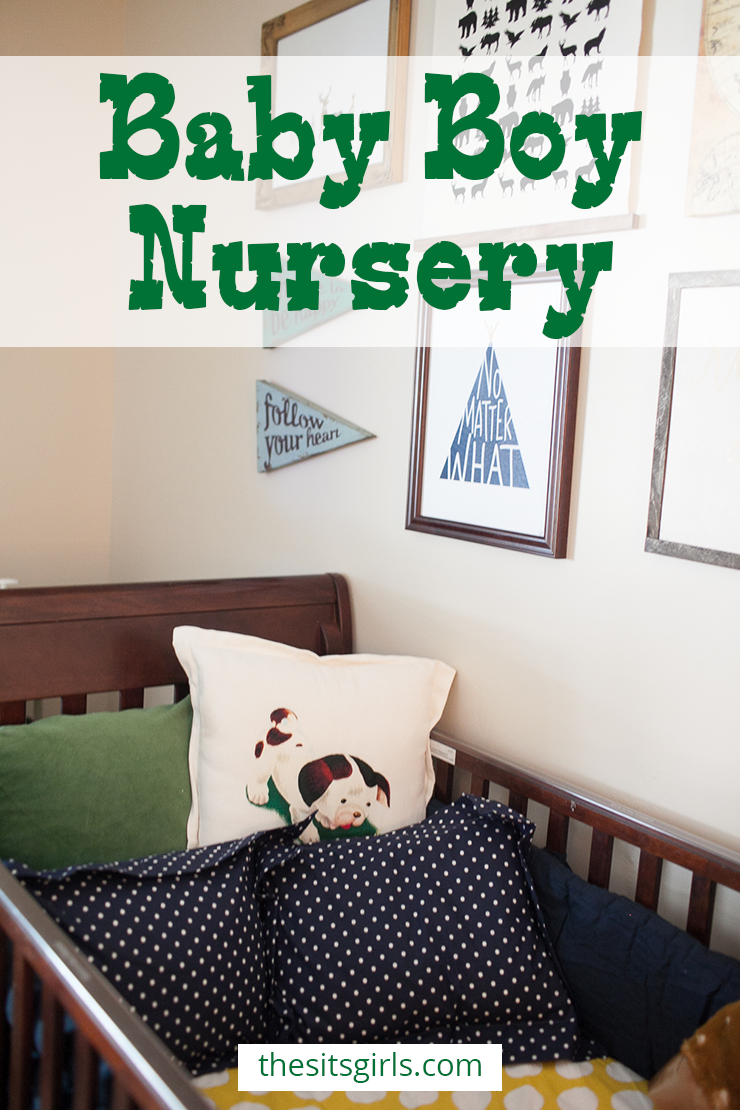 Woodland Nursery
It's so much fun to decorate a baby's room. The anticipation of meeting the baby also helps add to the excitement. My Woodland Nursery was originally designed to be gender neutral. We decided not to find out the sex, so I had to make sure I could spin the nursery to fit a boy or girl. I was inspired by an outdoor prep school theme for the backbone of the room.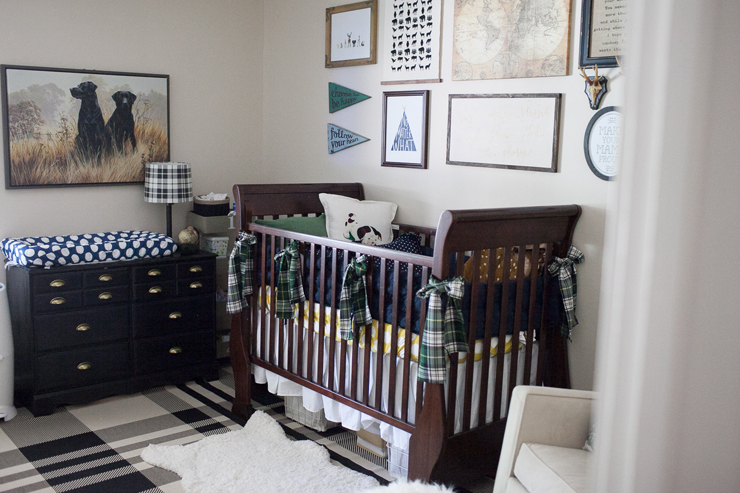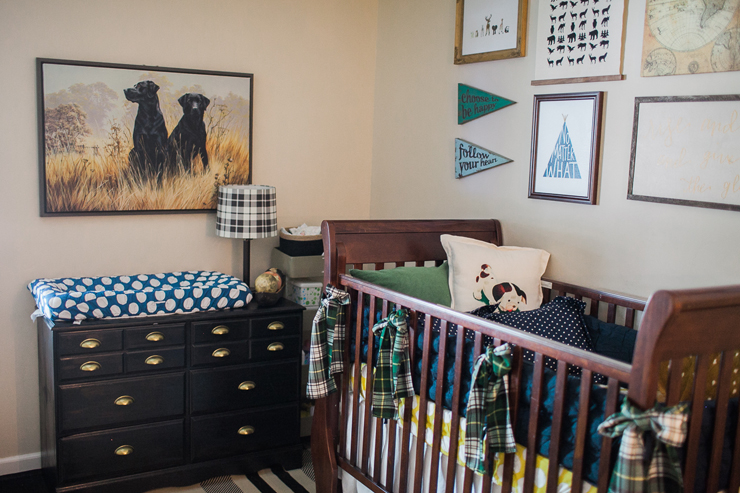 When I first start decorating a room I find my staple pieces and then build around them. My staples for this room were the plaid rug, the black dresser, and my beautiful dog painting.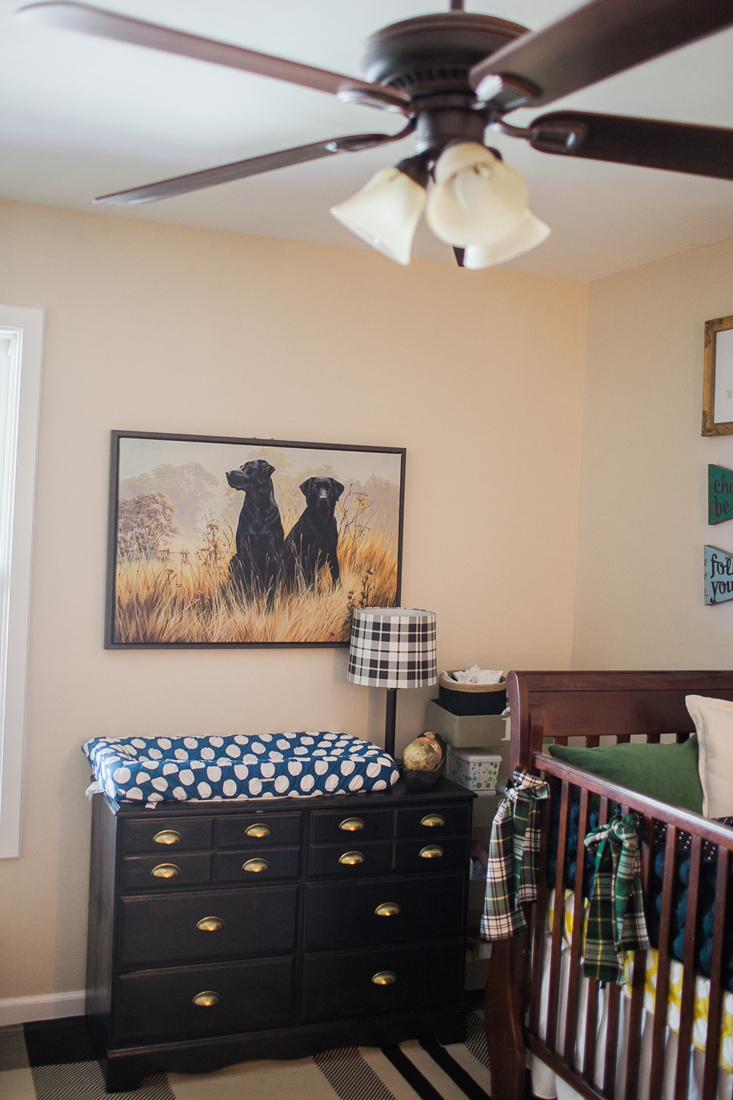 The dresser was a labor of love for me. I found a cheap dresser at the thrift store and transformed it to meet my vision. I painted the dresser in a black chalk paint and added some library inspired drawer pulls. Next to the dresser I found a tiered metal storage system that I stocked with diapers and all other baby essentials!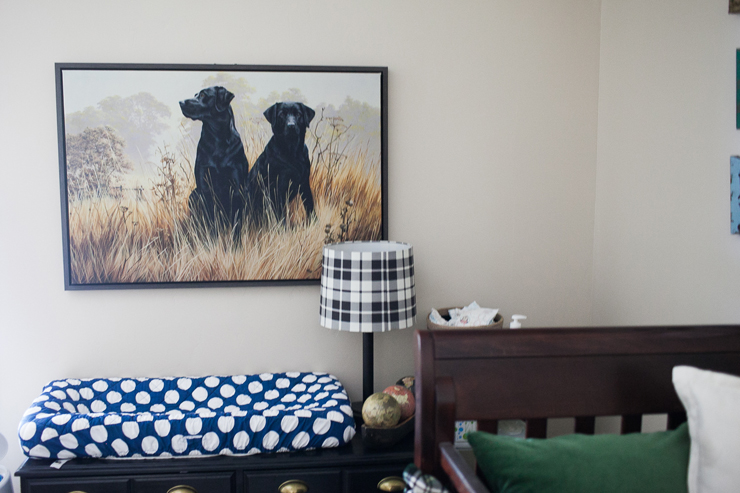 Woodland Nursery Gallery Wall
My second project was to create a gallery wall. Gallery walls are something that can either be amazing or ruin a room. My personal opinion is that the best gallery walls are always curated and put together over time. I think it is best to collect pieces naturally as you find them, as opposed to going out and collecting everything at once.
I love mixing inspiration quotes, shapes, prints, and pictures to help the wall feel organic and eclectic.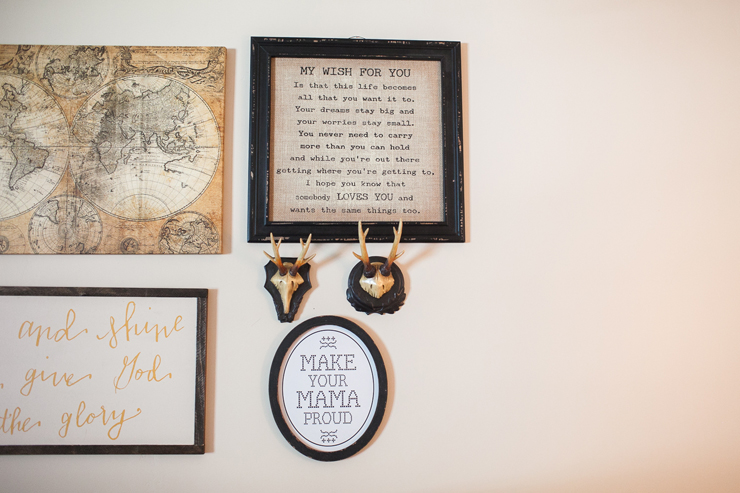 When arranging a gallery wall, I first arrange all of my pieces on the ground, and then take a picture of it on my phone for reference. After I have my reference picture, I hang my center piece, and build outward.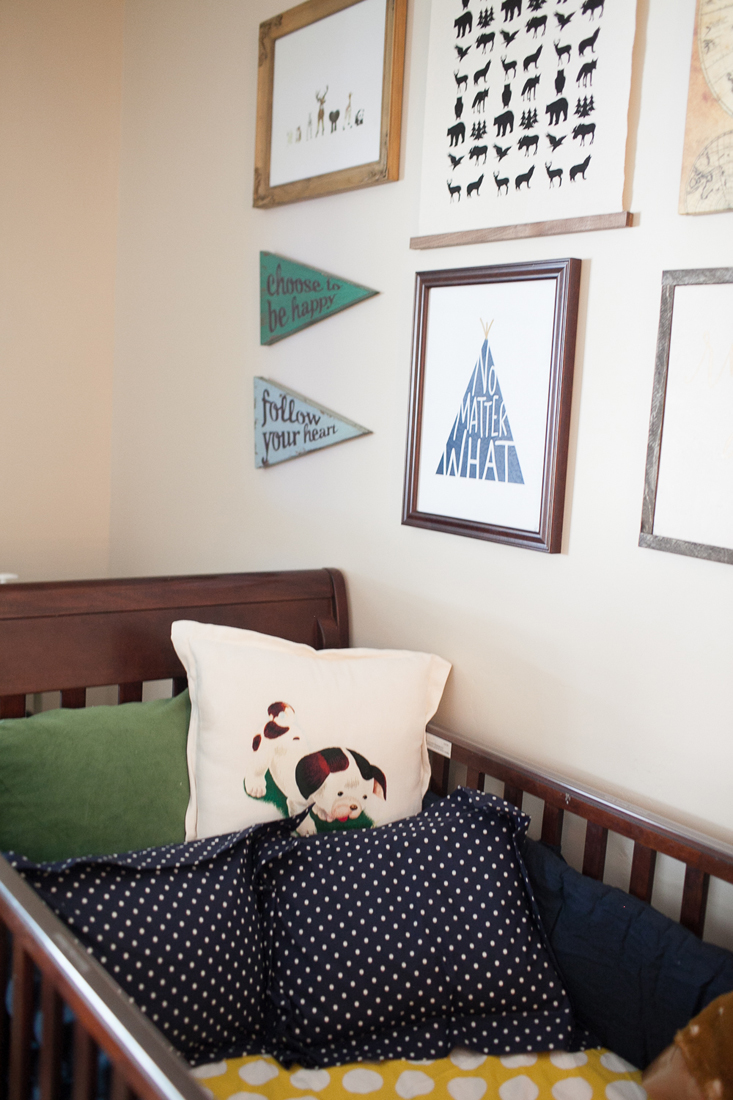 Do not go crazy measuring everything to make sure it is perfectly aligned.  A gallery wall looks best when you eyeball it.
Woodland Nursery Bedding
For the bedding I mixed various plaid, polka dots, and colors to help give it a homey feel. It is ok to mix patterns and colors as long as they stay in the same theme and color wheel. Just make sure you choose a main pattern and then collect other patterns to accent the main one.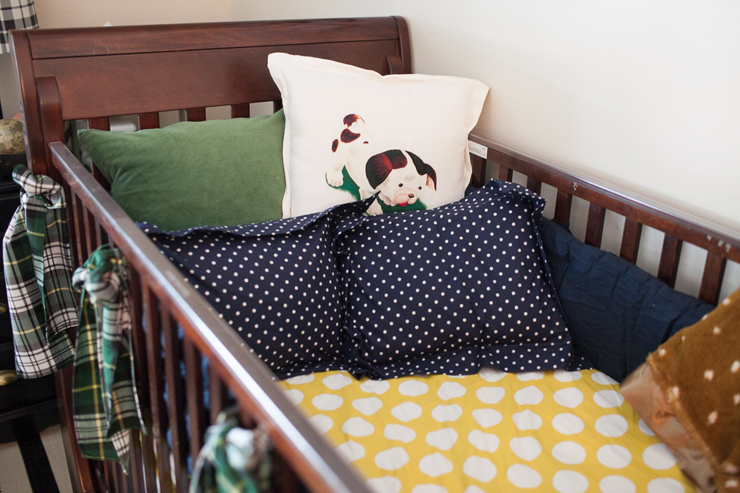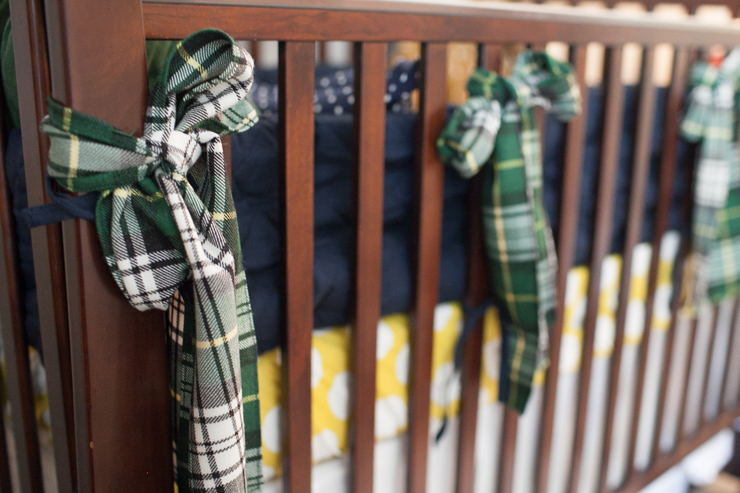 Obviously, Levi can not sleep with the pillows, but I think that they are the perfect accent for the room when the bed is "made." Another favorite purchase was the rocker. I searched high and low to find the perfect chair. It is super comfortable and also fits the vibe of the room with it's tufted back.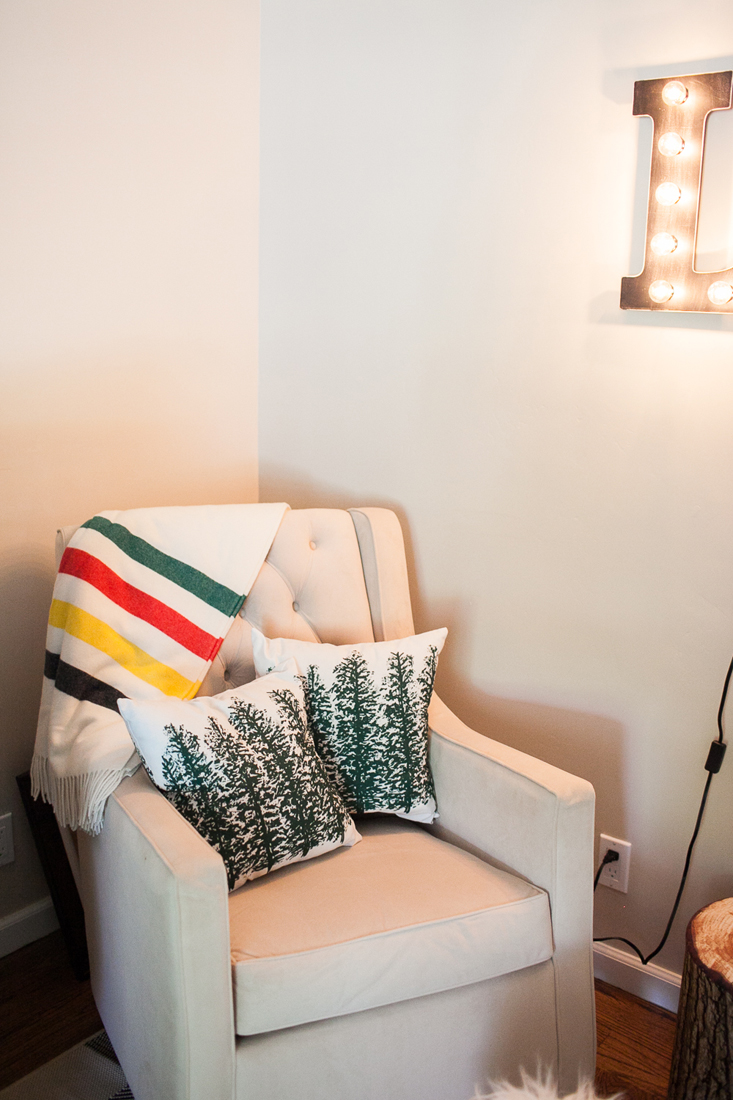 My final touch was the whimsical marquee light.  It is the perfect night light!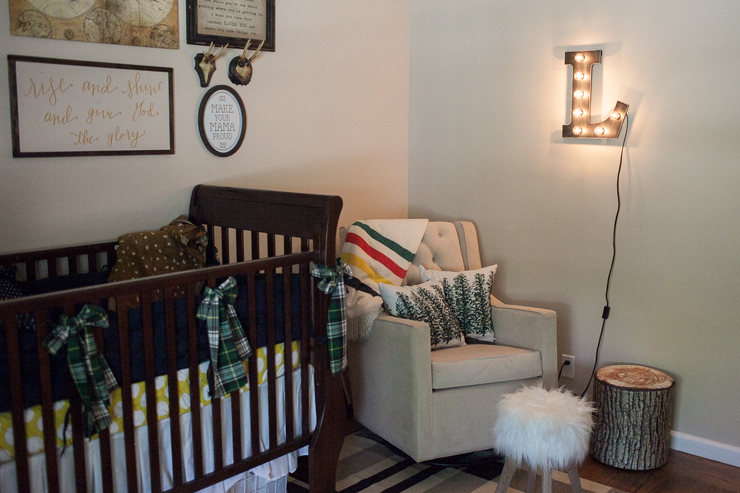 For the final touches I added a fury foot stool, furry rug, and a faux log stool. I found some cute baskets and added those under the crib for some extra storage!
Don't be afraid to try stuff out when decorating! It is such a great idea to buy things to test out and return if they end up not working. You need the room to work with your life and create the perfect mood. I love quiet moments spent in this room rocking Levi to sleep at night.