This post may contain affiliate links which may give us a commission at no additional cost to you. As an Amazon Associate we earn from qualifying purchases.
If you were like me when you were young, you had a dream – a dream of what you were going to be when you grew up.
I was going to be a rock star. Not just a singer, but a full fledged, capital letters ROCK STAR. Just like Steven Tyler or Robert Plant – never mind that I was a girl!
Flash forward a couple of decades, and my idea of a dream job has changed quite a bit. I floated around from job to job, never really satisfied – until I found blogging. I love being a blogger, and for me, blogging is totally the most awesome job in the world. Sometimes you need blogging tips and tutorials, but sometimes you just need a little inspiration and reminder why you got started in this crazy business in the first place. Check out these reasons why I think blogging is the most awesome job, and see if you don't agree!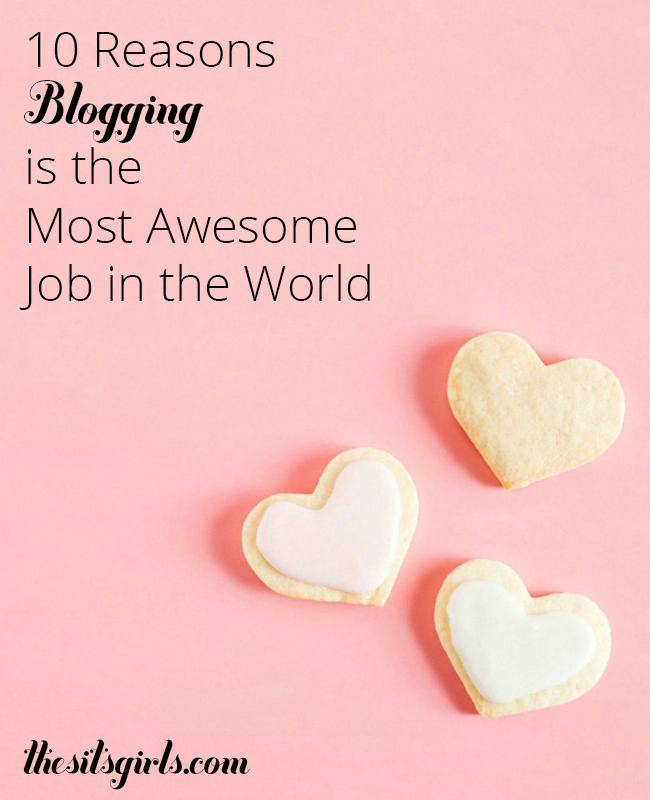 10 Reasons Blogging Is The Most Awesome Job In The World
1. Working in Yoga Pants
Ok, y'all – getting up at 5am to shower, get the kids ready, fix my hair, put on makeup, and then fight traffic all just to get to work on time is NOT my idea of fun! While it might seem a little cliche, there is definitely something to be said for a job that let's me sleep in a little later. And look at all the money I'm saving on a work wardrobe!
2. It's Educational
When you first start blogging, there's a pretty steep learning curve. Learning your platform, SEO, Social Media, HTML, and CSS… Blogging really is a never ending education. And as frustrating as it can be, there is nothing like the thrill that comes when you finally make something on your blog work the way you want it to – all by yourself!
3. You'll Make Amazing Friends
When I started my first blog, I didn't know any other bloggers. But as I started getting more involved – commenting on other blogs, learning from other bloggers and joining blogger support groups, I met some AMAZING bloggers! From mentors who turned into full-fledged BFFs to groups like SITS Girls where everyone is so supportive and helpful, I love the relationships I've built through blogging.
4. It Changes Your Way of Looking at Things
Blogging has opened my eyes in a way I never expected it to. I find myself paying more attention to things, taking everything in more fully. I want to experience everything – and then write about it on my blog.
5. It Makes You a Better Writer
Was your childhood dream to be a writer? Do you still dream of writing the Great American Novel? There's no better way to improve your writing than to sit and write, and no better place to do it than on a blog you share with the world. And once you've written your first blog post, and made a commitment to yourself to write more, guess what? You're a freaking writer. Dream achieved!
6. It Teaches You To Accept Criticism
There was a time when one critical comment on my blog would send me into a tailspin, thinking I was a terrible writer who didn't know what she was talking about. Never mind that for every critical remark I had dozens of positive comments. But I've learned over time, most of those critical remarks say a lot more about person who wrote them than they do about me. If someone disagrees with me and has a valid argument, awesome! If they're just trying to score points by looking smart on the internet, meh, who cares what they think?
7. You Don't Have to Miss Anything
I grew up in a household where both parents worked, and I was determined my kids would never have to come home from school to an empty house. It's a promise to them – and to myself – that I've been able to keep, thanks to blogging. I also think that giving my kids the opportunity to see me as an entrepreneur working from home has been a great lesson for them.
8. Did I Mention the Money?
Yes, making money with blogging is awesome. If you're blogging for fun, that's great! But if you want to help create income for your family, blogging totally allows you to do that. And there are so many different ways to do it. You get to choose what works for you.
9. Your Life is Immortalized
If you incorporate your life and your family into your blog, it becomes a journal of your family's history. I love going back and looking at my posts from years ago when the boys were little and remembering funny things they did or said – things we might not have remembered if I hadn't written about it.
10. You Are Free
When blogging is your job, you are your own boss. You make the rules. Need a day off? You get to decide. Want to sleep in, or spend the afternoon in a blanket fort with the kids watching Netflix? No one can tell you not to! Have a client, a customer, or a sponsor that's making your life miserable? You can fire them. Not only do you get to decide how you make money, you get to decide how much time to spend at it and determine how much you'll earn.
When I was a kid, I wanted to be a rock star. With my blog, I feel like I kind of am one. And that's why for me, blogging is the most awesome job in the world.
Keep Reading
Looking For More Blogging Inspiration? Check out these posts!