This post may contain affiliate links which may give us a commission at no additional cost to you. As an Amazon Associate we earn from qualifying purchases.
Are you looking for activities for kids this summer? If you are anything like me, you like to limit the amount of screen time your kids have during summer. I don't like to watch their eyes glaze over while they piddle the whole day away playing a video game or watching TV. Of course, by doing this, I could set myself up for a complete and utter summer disaster — especially during the last month before school when the kids have exhausted all of my ideas.
But, I know better. I've planned ahead this year, and saved 10 fun summer activities for August.
This week we are helping to stock your activities for kids list with some fresh from the oven ideas! If you missed part one of our Summer Survival Guide, be sure to check out our list of top 10 food for kids ideas that are sure to be a huge success in your house.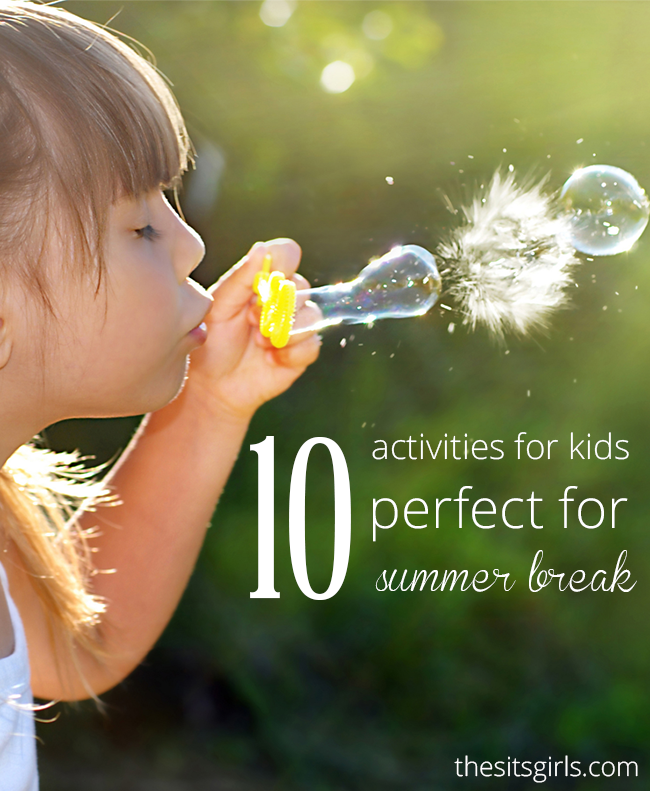 10 Activities For Kids To Help Parents Survive Summer Break
I've made a list and gathered supplies. I'm ready to tackle the boredom blues. I've prepared myself with a Summer Survival Guide chock full of activities for kids that can be whipped out at a moments notice.
Today, you will get ideas for arts and activities for your kids to help you stay sane this summer.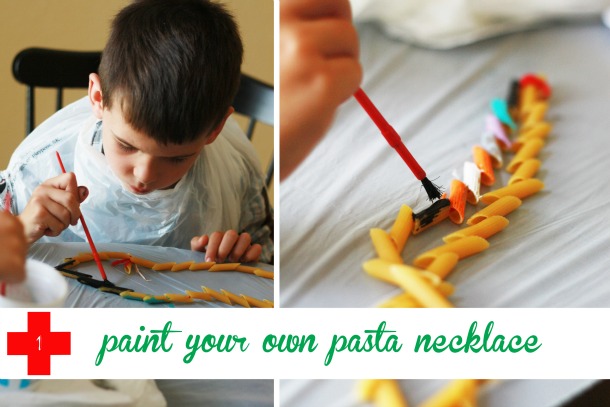 Make Your Own Pasta Necklace
I have not met a child yet who hasn't been excited by the possibility of making some wearable art. A pasta necklace utilizes supplies that you probably already have in your home. All you need for this project is some leftover pasta, a bit of yarn, paint, and a brush. Wrap a piece of tape around the edge of your yarn to stiffen it up so it will easily lace through the pasta. You can paint or wear as is! So easy!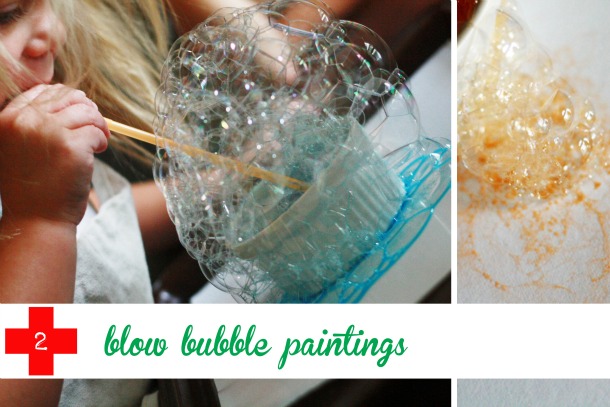 Bubble Paintings
Bubble paintings only require a few household supplies as well. Just by making a solution of water and liquid soap, you are halfway done! Add a few drops of food coloring, and mix. Set your solution on top of a large piece of paper and add a straw. Invite your child to make art by encouraging them to blow bubbles in the water! Allow the art to dry.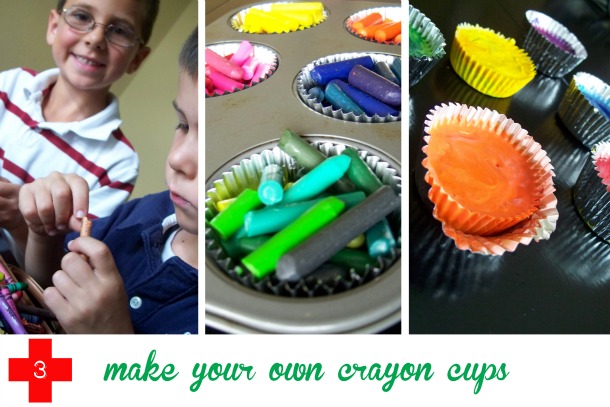 Crayon Cups
Breathe new life into the stubby crayon bits that sit on the bottom of the crayon box. All you will need for this activity are crayons, muffin cups, and a muffin pan. Invite your child to unwrap the colors and sort them into groups. Drop your crayons into a lined muffin pan, and bake at 250 until they are melted (about 10 minutes). Remove from oven and allow to cool. Remove from muffin liners and create some art!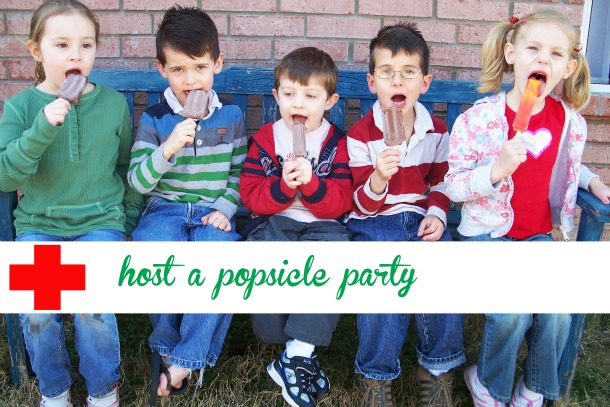 Popsicle Party
Spring break would not be the same without some fun time with friends! Invite the neighborhood gang over to your house for a backyard popsicle party! You can fancy it up and have a few group games prepared, or you can keep it simple. All that is required are popsicles! Fun!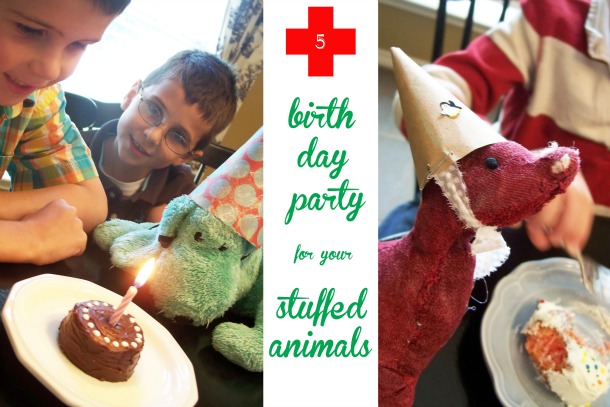 Stuffed Animal Birthday Party
I will use any excuse to eat cake! Why not throw a birthday party for your most special stuffed friends?! Put your child in charge of party planner and watch the afternoon melt away. Hats and decorations can be crafted out of old scrap paper. And, are you worried about making a tiny birthday cake? Don't be! It's easy. Simply cut the top off of a cupcake, turn it upside down. Use a tiny bit of frosting, a few sprinkles, and of course, a candle! Sing Happy Birthday! Take photos! Bring a small gift or card. What a memory!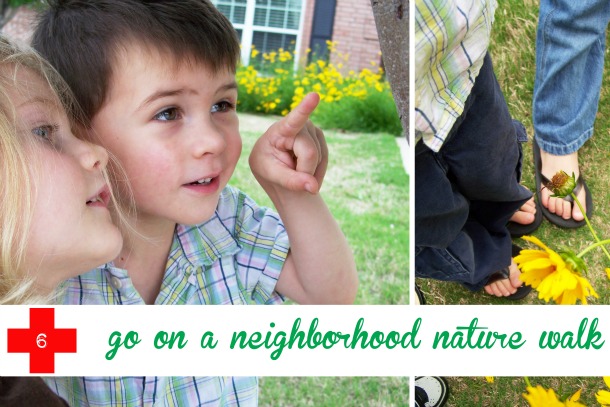 Nature Walk
Take your child exploring around the nature overlooked in their own neighborhood. Bring a small paper bag or box to collect treasures along the way. Try to find different types of birds, bugs, and flowers. Lay in the grass, look at the clouds, and enjoy spring. Bring your treasures home and create a book, or color a picture about what you saw on your walk.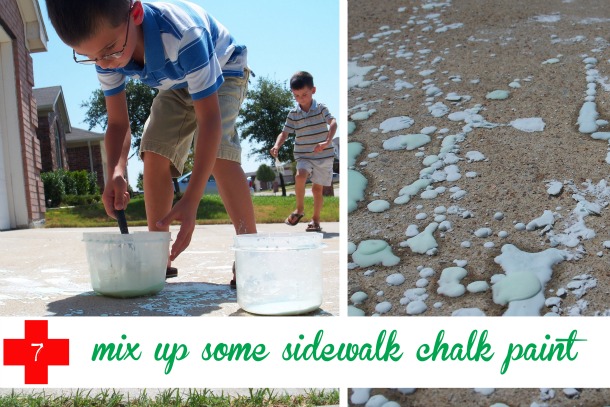 Sidewalk Chalk Paint
Have your kids channel their inner artist and surprise them with a fresh batch of sidewalk chalk paint straight from your kitchen. It's easier than it sounds! Just mix equal parts cornstarch to water and add a few drops of food coloring! Find a few thick paint brushes and you are in business!
Worried about clean up? Don't be! Just rinse your driveway or side walk with the garden hose and it will all wash away!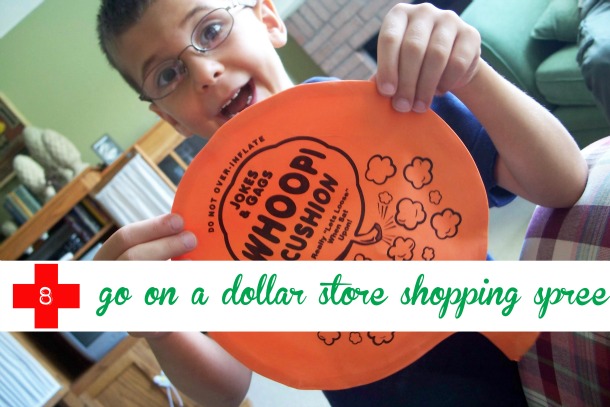 Dollar Store Shopping Spree
Giving your child two or three dollars and turning them loose in your local dollar store can provide hours of fun! It's always a hoot to see the treasures your child ends up selecting. I keep everyone happy by limiting the "edibles" (aka: candy) to only one selection. Great for building math skills. The fun continues even after you get home!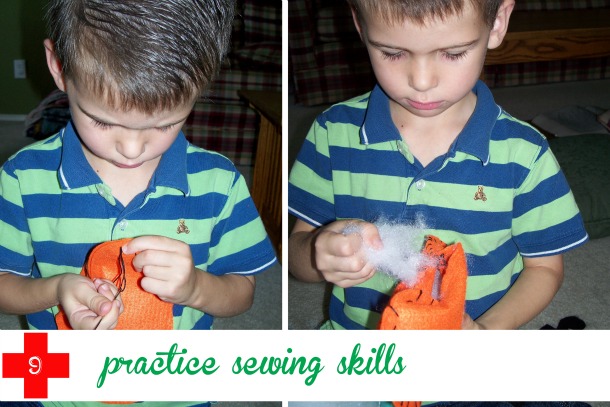 Sewing Skills
When I had boys, I thought that I would never be able to teach sewing skills to my kids. How silly to think that! Boys need sewing skills just as much as girls do. My boys were more than willing to try it out, and one of them continues to hand sew creations on his own at least once a month! This activity works great with fabric scraps, felt, or even paper. You can purchase blunt needles at the craft store if you feel so inclined. Be patient, but watch as your kids skills and self esteem develop. A favorite project, small stuffed pillows!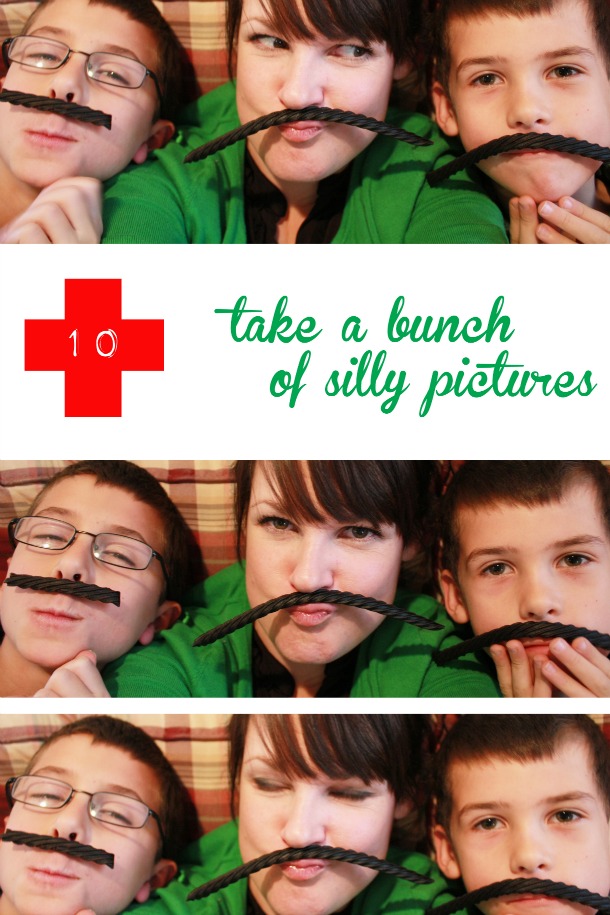 Be Your Own Photo Booth
I never regret taking pictures! In fact, even though I feel like I am constantly pushing that shutter button, I need to take more photos! Life is too short to be serious all of the time. Be silly with your kids & bring the camera along to document. It might feel awkward at first, but just point and shoot. For this photo session, I used black licorice vines. I encouraged my boys to use them as moustaches and we took about 100 photos with our sugary moustache swagger. I love looking at these photos because I can vividly remember the day clearly, and I realize how quickly that my boys are growing up!
Hopefully your idea reserves are packed full of activities for the last days of summer vacation. Helping kids have summer fun does not require any expensive supplies or over the top creativity! Keep it simple while you keep it at home. The most important part of summer break is spending time with your kids!
More Inspiration And Activities For Kids
If you're in need of more activities for kids, check out these posts: