This post may contain affiliate links which may give us a commission at no additional cost to you. As an Amazon Associate we earn from qualifying purchases.
Let's be honest – blogging is stressful! Do you find yourself in a constant circle of writing blog posts, promoting your blog posts, commenting on other blogs just to do it all again the next day? Or are you carrying around more blogging stress than you should be? If so, 2014 needs to be the year you let go of that stress!
Blogging should not be a burden, it should be something you do because you have a passion for it.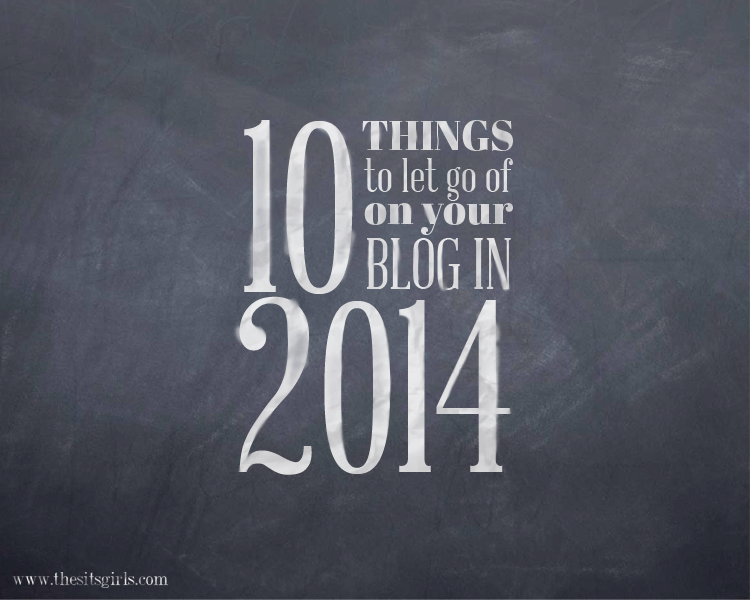 10 Things to Let Go Of In 2014
If you are feeling overly stressed or worn out, it might be time to rethink things and possibly let go of some of those burdens.
1. Let go of the "I'm not good enough" thought process. Are you holding yourself back from being the best you possible? If so you're not alone. A lot of people don't push themselves hard enough because they simply think they are not good enough! Everything day remind yourself that you are good enough to achieve success. Remember not to determine success based off what someone else considers success.
2. Stop writing for sponsors. We all want to land sponsored posts opportunities since they are a vital way of earning money in this space. However, if you solely write for sponsors you will end up losing opportunities. Remember why you started blogging in the first place and rekindle that passion you once had for blogging. Your passion for what you blog about will show, and that is what will bring in awesome sponsored posts opportunities.
3. Stop feeling guilty. Do you find yourself feeling guilty you didn't comment on X number of blogs today, didn't read all of your friends posts or retweet enough stuff? Don't feel guilty, simply aim to do your best everyday.
4. Let go of the jealousy. It's very easy to get jealous when you see another blogger getting paid trips or awesome sponsored posts opportunities. Let go of the jealousy and let in happiness. If a blogger is getting paid trips or really great sponsored posts opportunities they are working very hard to achieve that. Be happy for that blogger and start paying attention to what he or she does. Watch how they engage their readers on social media, how they write sponsored posts and anything else you can pick up on. Try learning from them instead of being jealous of them.
5. Stop watching your analytics. Whether you are getting 50 visitors a day on your blog or thousands, we all want more traffic! But, watching our analytics daily is not going to bring in more traffic. Not only will it not bring in more traffic, it will frustrate you when you're not getting the results you want. Assign one day a month that you spend time going over your analytics in depth. This will allow you to get a clearer picture of what's working and what isn't. Tracking your analytics on a monthly basis instead of a daily basis will also feel a lot more rewarding.
6. Stop trying to do it all. We simply can not do it all! We are moms, wives, grandma's, business women and much more. There is only so much time in the day and you will drive yourself crazy trying to do it all. Most people that appear to do it all either have help or less visual part of their life is lacking. Set small goals everyday and strive to get those goals done.
7. Stop talking and start doing! We often talk a lot about goals and things we want to accomplish in life. Maybe you've talked about starting a new website or creating a series on your blog. Now is the time to stop talking about it and just make it happen! You will never accomplish your goals if you only talk about them.
8. Let go of making it to the top. Lets face it, only a handful of bloggers end up with a book deal, a TV show or making tons of money. Don't beat yourself up trying to make it to the top. Be grateful for the victories you do accomplish. Maybe you increased your Facebook following by 1k or had a post go viral on Pinterest. Celebrate these accomplishments! Write blog posts for your readers and not for the sake of becoming famous, in the end you will win.
9. Let go of huge goals. It's easy to start off the New Year saying you want to have 50k Facebook fans by the end of the year. But how are you going to make that happen? Instead of setting huge goals, start setting monthly more obtainable goals. Breaking those large goals up into bite size pieces will give small victories to celebrate as you reach them. It also gives you a chance to strategize and determine what's working and what isn't.
10. Stop fearing the unknown. If you don't jump in with both feet, you will never know what could have been. Attend a blog conference this year, try new social media strategies or open up your niche to other topics. Don't be afraid of trying something new! The reward is often worth the risk.
YOUR TURN
Let's hear from you!
What do you want to let go of this year?
LOOKING FOR MORE POSTS SIMILAR TO THIS ONE?
Looking for more posts similar to our 10 Things to Let Go Of On Your Blog In 2014? Then be sure to click through the below links or head over to our Facebook fan page to continue the discussion!