This post may contain affiliate links which may give us a commission at no additional cost to you. As an Amazon Associate we earn from qualifying purchases.
There are so many distractions in this fast paced, technology driven world we live in. We're overloaded with information through the web, television, and media. Many times that information can bring us down, steal our focus, and invade our hearts. That's why finding joy has become more important than ever.
Our culture is a non-stop moving group that doesn't seem like it has any intention of ever slowing down. In fact, I think we're all trying to figure out how to move faster. When life is whizzing by, it's easy to miss the things that bring us joy.
How can we slow down long enough so that we are finding joy in the everyday?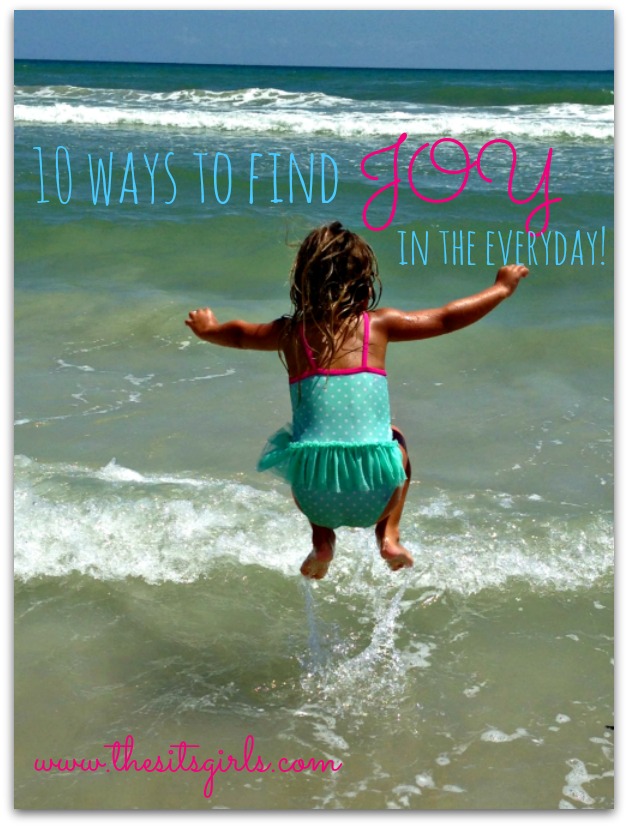 10 Ways to Finding Joy in the Everyday!
1. Serve Others
I can't think of a better way of finding joy than bringing joy to someone else. Step outside of yourself, your life, and your needs. There's a big world out there and remembering that there is always someone in greater need than you really put things into perspective. Giving our time or resources to brighten someone else's day will certainly fill our joy tank!
2. Be Inspired
What inspires you? Is it an amazing biography? A famous speech? An awesome blog post? Perhaps it's a piece of art or a special person in your life? Whatever breathes life into your soul, go get some more of that! It's so important to know what inspires you then you can surround yourself with as much inspiration as possible.
3. Take a Walk
Being cramped in an office, at your desk, or indoors all week long isn't good for anybody. We all need to give ourselves time to soak up a little vitamin D and fresh air. Be intentional about taking a walk each day. Load up the kids or even better? Go alone! Take in the beauty and life of nature around you.
4. Make a List
Take a minute right now and make a list of the things you have to be thankful for. Go ahead. Do it now…
Isn't that a great looking list of reasons to smile? Carry it with you each day. When you're feeling defeated, take out your list, finding joy with the simple reminder of the many blessings in your life.
5. Take Care of Yourself
I'm no nutritionist, but I know that when I take care of my body I feel better mentally. Eating right and exercising helps me stay sane. I'm not in the best shape of my life, but I try. I think that's all that matters. Cut back on the crap and go for that walk we talked about. We have to take care of our bodies if we want our minds to work.
6. Create Something Beautiful
Each of us can create something beautiful. I think we all tend to focus on what we can't do. We get bogged down by negative thinking and give up.
DIY isn't my thing.
I don't know how to sew.
I'm not good at __________.
Sound familiar?
Create something you can be proud of. Bake a cake, write something worth reading, get the paint out and create a memory with your kids. What can you create today that will help you in finding joy?
7. Treat Yourself
I have a confession. I buy myself flowers. I do. When I go the grocery store and pass all those beautiful flowers, I just can't help it! Even if I did buy them for myself. In fact, I think that's what helps me in finding joy. I treat myself and it feels good!
8. Be Selective
Start saying "yes' to the things in life that lift you up and "no" to the things that drag you down. We all have those extras in life that just aren't necessary, but we do them anyway because we feel obligated. What's one thing in your life you can do without? It might be a thing or a commitment. Sometimes our relationships needs sifting. It's easier said than done, but make a choice to start being selective on who or what you commit to. Even good things can bog us down and prevent us from finding joy when we let them.
9. Cultivate a Life of Prayer
I believe in the power of prayer. When we release our worries to the only One who can help us, we find peace. When we're at peace, we can encounter joy.
10. Make the Choice for Finding Joy
If we want to live a joy-filled life, we must be intentional. Get out that list and choose joy today, SITStahs!
Your Turn
What inspires you on this list? Leave a comment below or chat on our Facebook fan page and tell us which suggestions you follow to finding joy in your life.
 Feeling Inspired? Keep Reading!
If you enjoyed this post, we have more for you!