This post may contain affiliate links which may give us a commission at no additional cost to you. As an Amazon Associate we earn from qualifying purchases.
Can ya'll believe that summer is half way over? I don't know about you but it feels like this summer has just flown by! Back in May we featured a post on how to make a Summer Bucket List and it inspired me to make my own summer bucket list.
Let me tell you, I had an amazing list! Amusement parks, trips to the beach, a camping trip and even simple things like running through the sprinklers with the kids. Not one single item on my summer bucket list has been checked off!
I've come to the realization that summer is not over yet and I'm determined to have the best summer yet. So if you are still sitting there staring at your summer bucket list with nothing checked off, don't worry!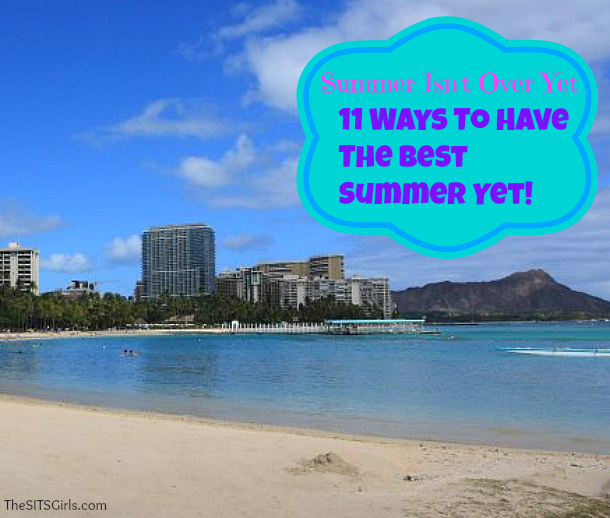 11 Ways to Have the Best Summer Yet!
#1 Have a Backyard Campout
You might not have time to do a full on camping trip but you still have time to do a backyard campout! Camping in the backyard is the perfect way to unplug and get in some quality time with the family. Set up a tent, get the sleeping bags out and of course your favorite camping snacks. This is an activity the whole family will enjoy.
#2 Visit an Aquarium
With summer coming to an end soon the kids will be back in school. This is the perfect opportunity to have some fun and incorporate some education. Plan a trip to a local aquarium and enjoy learning all about the different types of fish and plant life. The kids will have so much fun they won't even realize this is a learning experience!
#3 Attend a Baseball Game
Summer and baseball just go hand in hand so why not go enjoy the game in person. Even if you're not a huge baseball fan you can still enjoy a good ballpark dog. Not to mention being at a live game is so much more exciting than watching it on television.
#4 Have a Smoothie Day
Even if you don't have time to go on lots of outings, there are still fun things you can do at home. Set-up a smoothie day and let the kids invite their friends over for some tasty fun. Set out lots of ingredients and let the kids get creative making their own smoothie creations.
#5 Have a Park Day
When we stay cooped up in the house for to long our mood tends to change. It gets harder to concentrate on work, the kids get irritable and it just isn't an overall good day. Grab your laptop, get the kids in the car and head over to the local park. Let the kids enjoy a day at the park while you get some blogging done. Remember during the summer is all about finding your summer blog balance.
#6 Have an Instagram Day
The best part about summer is capturing so many amazing pictures of the kids. Dedicate one day during the summer to taking fabulous pictures of the kids. Once you have all your pictures, spend some time making Instagram collages! Such a great way to capture some great moments of the kids during summer.
#7 Enjoy a Staycation
Don't have time to take a big family vacation? Not to worry! Look up some local places that your family hasn't been to yet and enjoy your own area. You could visit a museum, spend the day in your town's old town district, find a local watering hole or maybe take a drive on a scenic route.
#8 Have a Water Fight
What's more fun than chasing your kids around the yard with water balloons? Fill up as many water balloons as you can possibly stand and enjoy some good old fashion fun with the kids. The kids will be smiling ear to ear while throwing water balloons at you.
#9 Enjoy Quality Time With Your Spouse
Summer is usually about having fun with the kids but don't forget about your spouse. Send the kids to Grandma, hire a babysitter or maybe swap services with another parent. Do what you can do get an evening away with your significant other. Getting even an hour or two of quality time with your spouse can brighten up your whole summer.
#10 Do a Craft
Kids love to use their imagination and create new things. Find a craft that is age appropriate for your children and enjoy a craft day. Creating a summertime craft is a great way to make some wonderful summertime memories! Make sure to take lots of pictures doing the crafts, it could end up being a great blog post!
#11 Visit a Drive-In
Do you remember going to the drive-in a child? If you have a drive-in close by take the kids to see a movie. There are some great family movies out this summer and the kids will love watching a movie in the car. If you don't have a drive-in close by see your city does movie in the park nights.
Are You Ready to Have the Best Summer Yet?
Need some more ideas to make this the best summer yet? Keep reading!