This post may contain affiliate links which may give us a commission at no additional cost to you. As an Amazon Associate we earn from qualifying purchases.
Once upon a time ago, I wasn't a blogger, but just your average normal 30-something woman that occasionally checked Facebook for family and friends updates.
Then something inside of me shifted, and I got the blogging bug as some would call it. That was almost 3 years ago and most who know me in my life are aware that I work from home blogging (or at least writing) and designing, too. Those closest to me have learned to accept this part of me for better or worse, but still don't always get or understand my blogging life by any means.
If you are a blogger, I guarantee, you will not only get what I am throwing down here, but will relate, too. From first thing in the morning, until I go to bed at night (and even sometimes in my dreams), the blogger inside me lives to get out.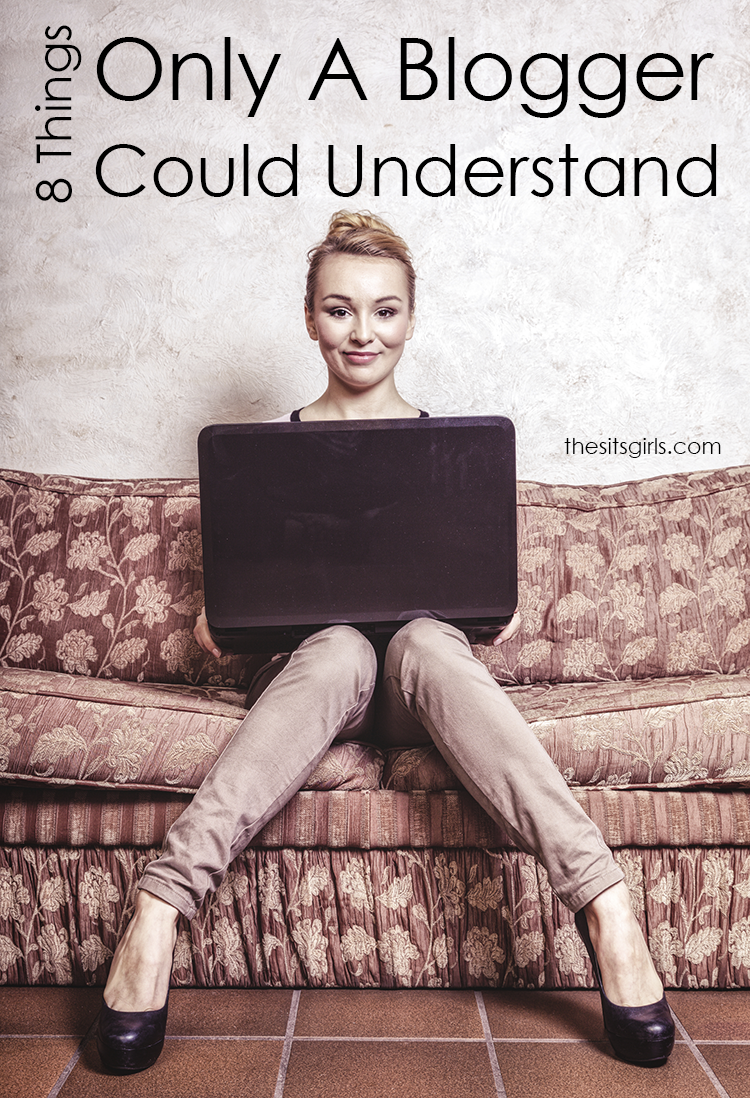 8 Things Only A Blogger Could Understand
What is it that makes bloggers unique? What is it that only us bloggers can understand, while the non-bloggers on the outside looking in couldn't even begin to fathom?
1. Mornings mean getting a jump start on all things blogging.
Early on it was my laptop that would get turned on even before I would set foot out of my bedroom to get breakfast or that morning cup of Joe. Now that I have an iPhone 6 Plus, it gets a lovely workout reading blogs at all times (BlogLovin is the blogger's best friend!) of the day and especially first thing in the morning. Every day.
2. Mornings aren't the only time to think about blogging. Blogging is addicting!
My wheels are constantly spinning with blogging ideas. Whether I am thinking about a possible new article idea or just checking my BlogLovin feed again, blogging is truly never far from my mind. I try very hard to unwind and walk away, but still the blogger that lives inside of me, truly has a mind of her own on this. Many days, I find myself hours into all things blogging.
3. Nothing is truly off limits when blogging.
My husband has been quoted as saying to our kids, "Watch out girls, mommy will probably blog about this!" Don't get me wrong, I try my best to keep life in its proper perspective and do respect family and friends when I do write blog posts, but still so much of my real life does give me inspiration for my writing. I mean, I did start blogging to share about my family life in my blog's inception. Sometimes I can't resist and just have to blog about it.
4. Pictures speak a thousand words for bloggers.
Not only do I hear how I pretty much blog about anything in our lives, but then I also will hear from my husband, "Seriously are you taking a photo of what you are eating?!!" And the unequivocal answer here is: "YES!!" The blogger persona just cannot help herself and will take photos of everything and anything, because you never know when this photo could be used for either the next blog post or even a social media share, like Instagram or Twitter.
5. Social Media is addicting for bloggers, too!
How many times, have I said I will just be on here for a minute to check one thing on my Facebook feed, to turn around over an hour later and realize I'm still surfing Facebook and now also on Twitter and even my Instagram feed, too. Yup, social media is truly addicting and can be a time suck, but it is oh so much fun, too. And as a blogger you just can't help, but lose all sense of time when checking out social media feeds even when you have a deadline and supposed to be writing an article (yes I have done this more than I should admit).
6. E-mail is never far away when you are a blogger.
I wish I could say that I don't check my e-mail constantly all day, but sadly I check my e-mail pretty much daily. As often as you could blink, or as often as the Kardashians' are on TMZ! SmartPhones have made this as easy as pie. I'm never far away from those email notifications. Things move fast in the blogging world, and you don't want to get left behind.
7. Bloggers usually have a handful of friends that they have never actually met face-to-face.
When you blog, you form what is known as a blogging tribe, usually becoming friends and/or fairly close with others who may blog about similar interests. Many of these people, you most likely have never laid eyes on in real-life (some you may have actually had the pleasure to meet), but still you consider them fairly close friends and have probably shared a lot of your life with them even if you haven't met personally. People don't blog, don't get this, and even think it's strange. However, if you are a blogger, this is just a normal thing.
8. Blogging conferences are king!
Blogging conferences are truly like the holy grail of blogging. If you are fortunate to attend one, you know what I mean, but if you aren't you also know how depressing it can be to see other bloggers and friends attending while you can't. These are the venues where, not only can you finally meet up face-to-face in real life with all those bloggers that you adore and are friends with, but also a place where you can make amazing connections with companies for sponsorships and just overall great networking opportunities. Non-bloggers could never imagine the enormity of blog conferences or how they bring it all together for the blogger.
So there you have it, if you are a blogger, I can pretty much guarantee, you were shaking your head with a resounding yes to many of the above. And if you are a non-blogger, who knows a blogger, you probably have heard much of the above, even if it is totally different from your life.
What do you think the non-bloggers in your life don't get?