This post may contain affiliate links which may give us a commission at no additional cost to you. As an Amazon Associate we earn from qualifying purchases.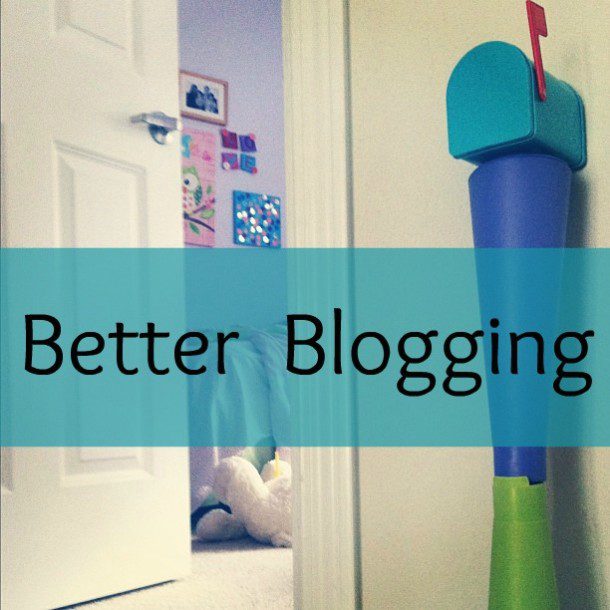 Blogging has changed. I don't know when you started, but when I started blogging I started because I thought it was a neat way to share pictures and stories.
Okay maybe a TINY part of me thought it would be cool to get famous and meet Ellen DeGeneres, but back then I spent hours commenting on other people's websites and as the years have progressed and new social media platforms have emerged, I've found myself missing some of those fundamentals that were so important when I began blogging in the first place.
This year I challenge you to join me in a year of better blogging and incorporate some of the basics BACK into what it is we do everyday:
Goal #1: Be Responsive
When we started blogging it was ALL about the commenting. There was no Twitter or Facebook or "insert new up and coming social media platform here"…it was just you and me and our keyboards. As social media has changed, so has our time online. We spread ourselves thin, but the people you need to make a priority are the people who are taking time out of their day to comment on YOUR site. We can't reply to everyone, everyday…but we CAN take five minutes and reply to just a few people. It's important not to get so caught up in driving numbers that we lose sight of the people who read regularly. Fostering those friendships should be first on our list.
Goal #2: What Lists?
There are all kinds of lists released by all kinds of websites all year long. You might not ever make it on a list. Accept that and move on. You did not start blogging to make a list. Your husband and kids do not care if you are on a list. The people visiting your blog don't care if you are on a list. Maybe the list just isn't in your life plan…at the end of the day…does it really matter? Let go of the lists and continue making your own magic happen.
Goal #3 Stay focused
Every once in awhile remember why you started blogging in the first place. It is so easy to get caught up in the blog conferences and the stat trackers and the opportunities to work with brands. I challenge you to take some time and look through your archives. What do you enjoy about your old posts? Revive that.
Goal #4 Be Productive
There are a million things I can do on the computer, but all too often I find myself in the endless Email–>Twitter–>Facebook–>Pinterest cycle. Who emailed me? No one? Any tweets? How about Facebook? Any fun pins? Did I get an email now?? What about Twitter?…you see where I'm going with this. While I think managing all of my social media accounts is important and necessary, it can also be VERY unproductive. My goal now is to think of a task to complete before I even approach the computer. The messages in those other accounts aren't going anywhere and I know I feel best when I can walk away from the computer feeling like I completed something important to me…even if it's simply an email to my daughter's teacher. Besides, Twitter is much more enjoyable when you don't have other responsibilities looming over your shoulder.
Goal #5 Share Often
I can't speak for everyone, but personally as years of blogging passed I felt myself becoming more and more prudish with the 'like' button. At blog conferences we learn about branding ourselves and 'My God if I like this, does it mean I endorse it? Does it fit with who I am? Does it fit the BRAND?'. I've even gotten caught in the catty "Why would I share her post with the world when she has never given me the time of day?" on occasion. My goal here is to stop that. If I like it…I want to share it. If it made me smile? I want to share it. I don't care if it 'fits' or if the person who wrote it doesn't like me, if they created something that made me smile or think or REACT than they deserve a pat on the back. I'm sharing.
Goal #6 Blogging is FUN!:
There are so many hilarious, thoughtful, outgoing, WONDERFUL people out there. Isn't it fun playing this game together and following everyone on their different journeys while we create our own? Let's stop over thinking what's happening with our sites at every minute of the day and just enjoy the luxury of technology shall we? Enjoy each other!
Who's with me!?! 🙂