This post may contain affiliate links which may give us a commission at no additional cost to you. As an Amazon Associate we earn from qualifying purchases.
Let's face it. We all have those days, weeks or months where blogging is difficult. Call it writer's block or lack of motivation – it happens to the best of us and can be a struggle to get through. There are a few blogging tips and tutorials that I tend to turn to when I'm looking to be inspired, but sometimes you just need a little blogging advice – hopefully a few of these ideas will help to inspire you!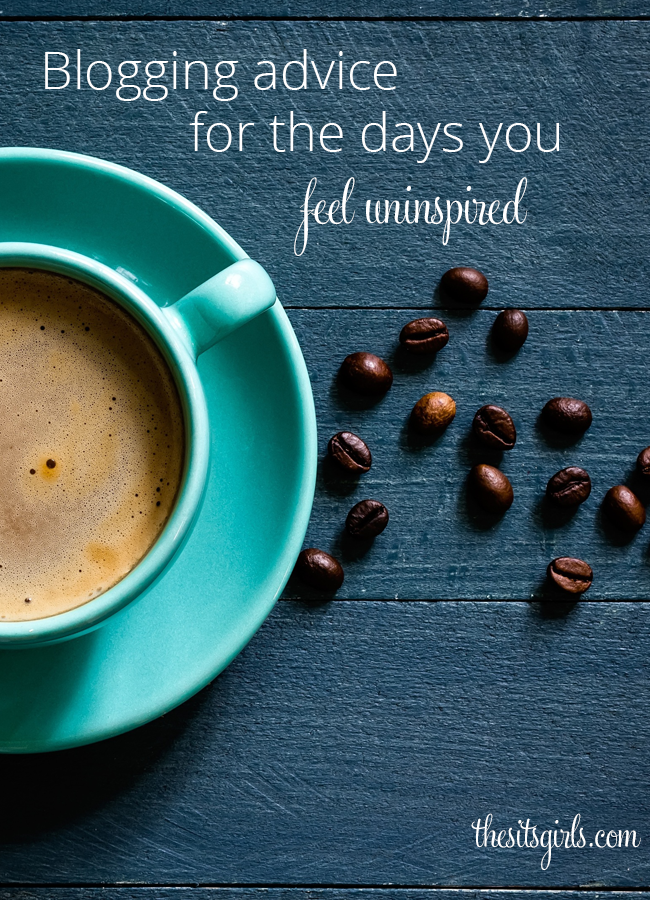 Blogging Advice For The Days You're Lacking Inspiration
1. Get away from your desk. Try a new space to write. If you have a laptop, this is a simpler task. If you have a desktop, get away from your desk and write things down on paper. (Old school, yes, but totally worth it.) Change of scenery is so nice, which leads me to the next point…
2. Go outside. If you live in a weather-friendly part of the world, getting outside is such a great way to be inspired this time of year. The new flowers and sunshine can help your overall mood and thus lead to something fantastic to blog about.
3. Keep a journal or use a note app on your phone. Whenever something comes to mind, I jot it down (usually in my phone). Later I transfer it to WordPress and work on the details as more comes to me.
4. Check out daily themes that you could participate in – Menu Planning Monday, Wordless Wednesday, Throwback Thursday, Five on Friday. Many of these themes are link-ups on various blogs, and you can see what other bloggers are writing about. Something they blog may trigger inspiration in you.
5. Keep a running list of draft posts. If you have several blog posts in draft, go ahead and finish one. I tend to keep about 30 blog posts in draft mode, and when I'm feeling unmotivated, I sit down and complete one or two. I'm constantly adding to my list of draft posts. (See the above tip about keeping a journal!)
6. Check out the SITS monthly writing prompts! You don't have to stick with the current month. If a prompt this month doesn't strike you, check the previous month. You are bound to find something! I actually enjoy looking at the writing prompts as I'm planning out my month of blog posts.
It's ok to take a break. We all need one sometimes. These will hopefully help you out when you're stuck or coming back from that break.
What are your tips for finding inspiration to blog when you're in a rut?
Looking for more writing inspiration? Check out our tips for writing a blog.