This post may contain affiliate links which may give us a commission at no additional cost to you. As an Amazon Associate we earn from qualifying purchases.
I started blogging back in 2009. My daughter was just two years old.
Blogging was a way for me to connect with the world outside my four walls, so to speak. It was especially critical to me as a new mom. My blog brought me closer to women experiencing things similar to those I experienced during the early days of motherhood. It helped me connect with women across the globe who were practically expert moms compared to me at that point!
If you look back to the early posts I shared, almost all of them were about my daughter, or my life as a stay-at-home-mom. Connecting with other moms who were also at home with their little ones had a tremendous impact on me. Connecting with moms who had survived a few years at home with their little ones? Even MORE impactful. I knew I'd make it, too.
My voice was being heard, and I was receiving responses, encouragement, words of wisdom and experience and so much more.
This outlet? This space I used to pour my heart onto the page? Turned out to be way more than a simple journaling experience ever could.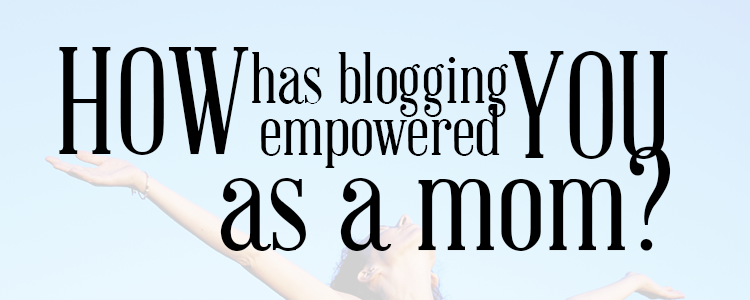 Blogging Has Helped Me To Be An Empowered Mom
Over the years I have written posts about my journey through motherhood. I've shared the first day of Kindergarten with hundreds of blogging friends. I've opened up about the anxiety that I experience when the sounds of a child playing recklessly throughout the house are just too much to deal with. I've even gone so far as to give a play-by-play of my mornings before my daughter leaves for school (those are interesting, in that we all survive!).
I've been THAT mom who made the adorable cookie-cutter looking lunches. I've been the mom whose daughter threw away an actual spoon from the family's silverware set and definitely overreacted. I am the mom who has battled and often still does battle their child during homework time. I've gone to birthday parties, playdates, the park, Girl Scouts. We've sold cookies. Ran a color run – well, fine – we walked. I've explained death, love and loss to my daughter. All while everyone else has been watching.
So while I've been that mom, and so much more, I've learned that with the army of people who virtually stand beside me as I write – whether it's every day or once in a while – I've learned that that mom? That mom is amazing.
She's emotional, but strong. She's easily agitated, but caring. She's got so much love to give, even on the days she wants to curl up under the covers and stay there.
She's you. She's me. She's all of us.
Blogging has given me that. The reminder that I'm never alone. The reminder that out there are the moms, like me, different, all moms. The moms who have had c-sections. Unmedicated deliveries. Home-births. The moms who scheduled their due dates. The moms whose babies came early. Moms of preemies. Moms of babies who didn't make it home. Moms who breastfed. Formula fed. Started solids early. Didn't start them until 1 year.
Moms who work, part-time, full-time, from home, at the office. The children in daycare, nursery school, Pre-K. Those watched by friends. Those home with moms. Dads. Grandparents. The moms of children in private schools. Public. Homeschooling moms.
Moms who read trashy novels. Those addicted to reality TV. The ones who watch soap operas. Listen to music and dance around their living rooms.
These moms and so many more? They're out there. They're listening. They're sharing, too.
The experience of finding these moms and connecting with them has strengthened me. Has reminded me we're all not cut from the exact same cloth, but we're all out there with one goal in mind. To be an amazing mom.
Keep Reading
Are you looking for more inspiration in your blogging journey? Here are a few posts you'll find helpful: