This post may contain affiliate links which may give us a commission at no additional cost to you. As an Amazon Associate we earn from qualifying purchases.
For many of us, blogging started out as a hobby, a fun way to chronicle the milestones in our children's lives or to collect and share the recipes and crafts we make. But then something happens. You start getting comments and new readers and followers on social media, and your blog becomes more than a hobby. This is when you start focusing on growing your blog, and to do that, you need to set blogging goals and stick to them. As part of our blogging tips and tutorials series, we have 5 simple steps to help you achieve your blogging goals.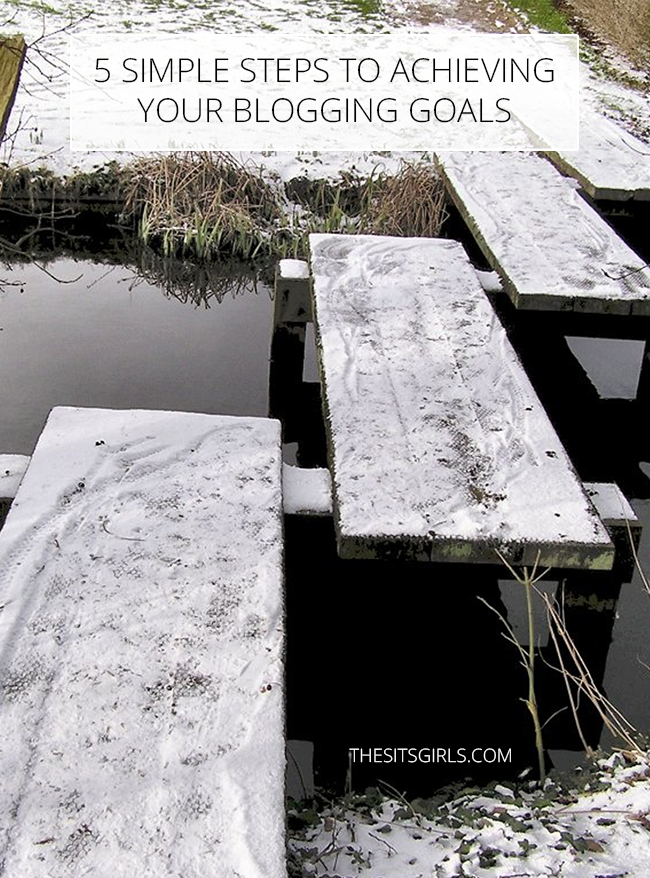 5 Steps To Achieving Your Blogging Goals
1) Learn How To Use Google Analytics
Google Analytics will help you to track not only how many people are visiting your blog, but also which posts are the most popular, and what search terms are bringing people to them time and again. As you see which posts are getting the best response, you can better plan what to write in the future. It is easier to feel motivated about the growth in your blog when you can see the numbers growing.
Bonus Tip: check out this simple tutorial for the seven numbers you need to check in your Google Analytics report. 
2) Create An Editorial Calendar
There are times when you will be inspired to write and publish a post right now, but that kind of inspiration probably won't come every day. For days when you aren't sure what to write, you need an editorial calendar. This handy tool will help you to plan ahead, so you can have topic ideas right there waiting for you. It is also helpful for setting up a blog post series or making sure you are varying your content and not putting too many sponsored posts together in one clump.
An editorial calendar can work a little bit like a to-do list. Once you have it set up, you will feel more motivated to publish a post on a day you might otherwise slack off, because it is already written down and waiting for a check mark. You are always going to be more likely to accomplish a task when you have a plan in place.
Bonus Tip: check out these great ideas to use your most popular content to build your editorial calendar.
3) Build Numbers By Building Relationships
Numbers are important in blogging. Visitor counts, social media followers, pageviews – we track all of these and more. When it comes to building these numbers, the best way to see them grow is to build relationships. Set aside time to focus on social media. Following other people in your niche is a great way to start. It is a good idea to follow ten to twenty new people each day. But you can't just sit quietly in the corner after you follow them. You have to put yourself out there, join in conversations, and connect with your readers and other bloggers.
Social media interactions and blog post comments are the place where blogging friendships and tribes are built. If you continue to put time and effort into building a community around your blog, you will see it grow. These relationships will pull you through on days when the words don't flow well or all the work that goes into blogging begins to overwhelm you.
4) Be Consistent And Set Boundaries
Consistency is good for your readers, and it is good for you. Learn what time of the day works best for writing, for leaving comments, for responding to emails, and for social media, and then set aside those times to do just that. You will build trust with your readers who will know when to expect a new post from you. You will also find that setting aside a specific time to write and interact with your followers, and getting into a routine for writing, will help you to get more done in a shorter period of time. If you know you only have one hour to work on your blog on Tuesday afternoons, set a timer and walk away when your hour is up. It is so easy to fall into the trap of letting your blog take over your life, and that is a sure path to burn out.
If you want to make and reach long-term blogging goals, you need boundaries. They will help you to avoid burn out, and they will also help you to know which opportunities are a good fit.
Know what your time is worth, and set a rate for sponsored posts and social media shares that is acceptable for you where you are in blogging journey.
Know how much money you are willing to put into your blog in a month or in a year, and make decisions accordingly. Sometimes you do have to spend money to make money, but you want the money you spend to be used wisely.
Know when it is time to walk away. Hopefully not time to walk away from your blog completely (we don't want to see you go), but to walk away from the computer. You need time out in the real world to feed your writing, and you need to find the life/blogging balance that works well for you and your family.
Consistency is important, but don't be afraid to give yourself a vacation. Most traditional jobs offer you time away for a vacation each year. Don't be afraid to step away from your blog for a week. Let your readers know you are taking some time to rest. You can schedule posts to run while you are gone if you want, but don't let blog stress creep into your fun time. A little vacation can rejuvenate and inspire you. Build these breaks into your editorial calendar and you won't have to feel like you are falling behind or losing momentum.
5) Allow Room For Change
Don't become discouraged if things don't go exactly as planned. Sometimes a goal that seems like a good fit turns out to be exactly the opposite. If you find that your blog is moving in a different direction, or something that you thought would be awesome isn't really working for you, it is okay to make a new decision. Tweak your plans, and try something new.
Remember that along with all the smaller, more specific goals, you will always have a big picture goal to build and grow your blog. As long as you are working toward that, you aren't failing if you let go of something that is no longer a good fit for you and your blog.
What are your blogging goals?
Keep Reading
Are you looking for more ideas to help you grow your blog? Here are a few posts you'll find helpful: