This post may contain affiliate links which may give us a commission at no additional cost to you. As an Amazon Associate we earn from qualifying purchases.
Joining us today is Miranda from A Duck In Her Pond.  I started reading Miranda's blog years ago, and consider her to be one of my very first online friends.  One of the many reasons I've always enjoyed Miranda's site is for its fun and whimsical approach to blogging.  In addition, Miranda is a true blue writer, and always has several stories she is in the midst of publishing on her site.
Today, Miranda is tackling an issue close to her heart, that of body image and weight.  It is something that she has personally struggled with for years.  Because of her perspective, we asked her to respond to an e-mail we received recently on SITS…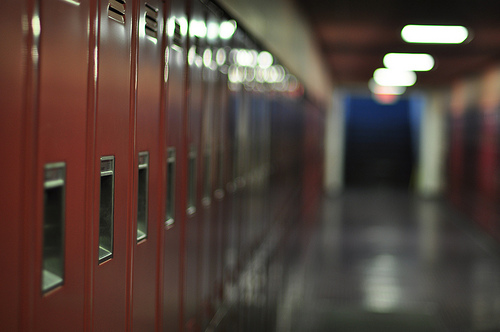 Dear SITS Girls,
I've been obsessed with my body and how I look since I was in high school. I can remember comparing myself to the "popular" girls and I was determined to do whatever it takes to become one of them. Now I am 33 years old and still trapped obsessing about my weight and body image. How do I turn off that switch?
Signed,
Stuck in 1996
The easiest thing in the world for me to say would be, "Love yourself!  You're beautiful!  Don't try to be other people–stand out!  Be yourself!"
It's easy for everyone else to tell you how wonderful you are, how beautiful you are.  The hardest thing is to believe it yourself.  It's hard to look in the mirror and see the acne scars, the stretch marks from puberty, the physical reminders of what you did or didn't do for yourself in the past and feel you're gorgeous.  When you grew up idolizing the cheerleader with the perfect blond hair, the dance team captain with the lush figure and perfect white teeth; your own hips and frizzy curls look like the before of a bad 80s teen movie.  Except you never got the makeover or football captain waiting for you in a limo at your graduation.
Instead, you hung onto those fears, those insecurities.  You hung on to the belief that you weren't good enough, pretty enough for decades.  It became a habit, a security blanket.  Because why should you go to the gym if you'll never look as good as them?  Why should you bother buying that dress if you'll never look like her?
And it comes down to the simple truth: because you can.
As hard as it is to hear, no one cares about your thighs.  No one has even noticed them–they're too worried about their own!  All the insecurities and jealousies you've been fighting for 20 years are a battle in your own mind.  The only way you can defeat those worries and imagined shortcomings is to get the one thing you really wanted from those high school girls–confidence.  And the best part is, there's a million ways to do it.  Write a novel.  Take a dance class.  Buy a bike and ride 50 miles.  Do something you've always dreamed of, something that makes you feel good about yourself.  And tell people about it, about how good you are.  It will feel awkward at first.  It'll be uncomfortable and cringe-inducing and make you want to crawl under a rock.  But day by day, it'll be easier.  Confidence is like anything.  It doesn't happen overnight.  It slowly seeps into you, becoming as common and familiar as the back of your hands.
Then the day will come that you look in the mirror, and you don't think about the weight or the scale or how wide your waist is.  You'll think about how pretty you are, about how good you look in that dress.
And those high school girls and body image worries will stay in the past, where they belong.  Because you're moving forward, like you always wanted to.
Now it's your turn.  Tell us about your experience with body image since highschool.  Are you satisfied with what you see in the mirror?  Do you think you will ever be?