This post may contain affiliate links which may give us a commission at no additional cost to you. As an Amazon Associate we earn from qualifying purchases.
Every morning I follow the same routine. With my first cup of coffee in hand, I sit down and check in on my Google Analytics. I run through some of the stats: page views, referrals, landing and exit pages, and just make sure that things are running like normal. If my site was a person, and I was a doctor, this would be the equivalent of taking its vitals. I don't really pay close attention to anything unless something abnormal pops up. Chances are you have a similar routine (and if you don't, you should think about starting one with these seven stats). But there is one thing analytics cannot track for us and it something that is so much more valuable than page views and CPMs — how our words are changing the world.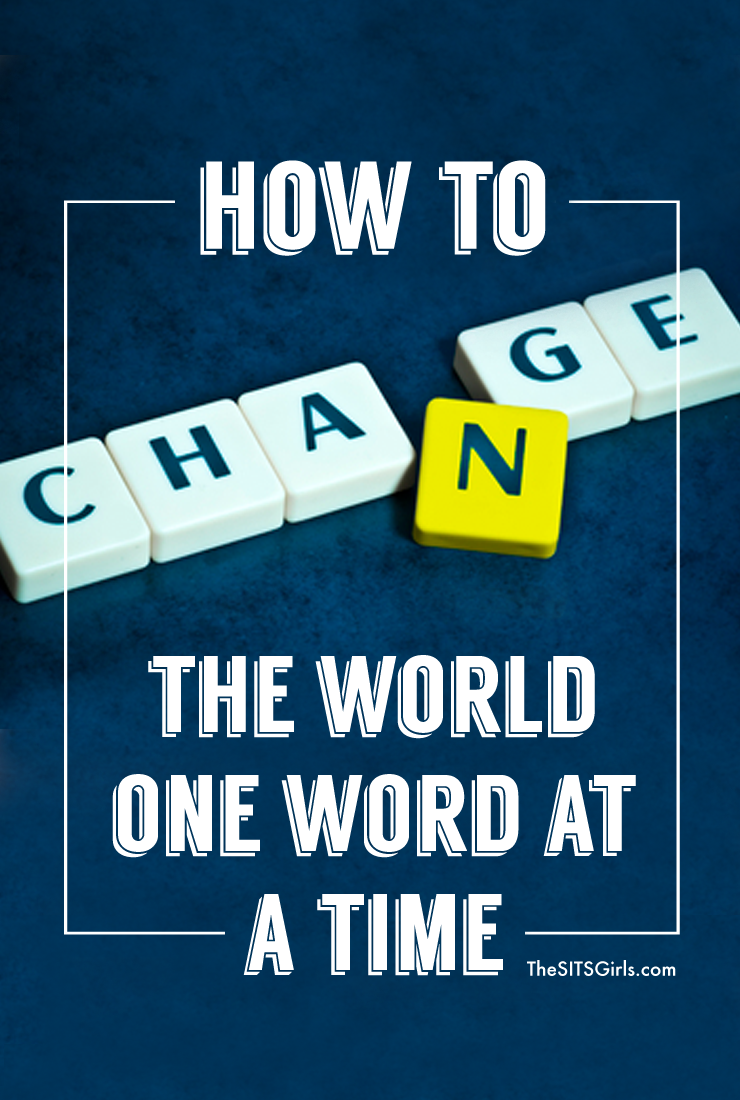 Changing the World, One Word at a Time
As bloggers, we have the power to change the world! It sounds kind of sentimental doesn't it? But that doesn't negate the fact that it's true. Every time we craft a post, every time we share our hopes, insights, aspirations, and, yes, our failures, we are sharing a piece of ourselves with the world and changing it bit by bit. You might not see it, but trust me, what you write is making more changes than you know. No matter what your niche may be, the information that you share with your readers has an impact on them.
You may not think that quick dinner recipe you shared last month did well, but what you don't know is that last week a really frazzled mom happened across it while in a desperate search for something quick and easy to make her kids. She was just getting ready to give in and blow her monthly budget on take-out when she saw your post. Thanks to you, she was able to make her kids a wholesome meal and not have to feel guilty about breaking the bank. It might seem small, but you just saved that Mom's whole night!
It might not seem like what we share is geared towards solving problems, but we never know who might stumble onto our site and what they might take away from it. We cannot always tell what kind of connection we're making with our readers. There is so much more value to the work we do than we can measure. We have the power to lift people up, to show them that they are not alone in their struggles.
Somewhere out there, there is someone who is in need of exactly what you offer. And not just the grand pillar content, or the in-depth comparison, or the step by step beautifully photographed craft tutorials. The simplest social media status has the power to change someone's world, even if just for a brief moment.
It's very easy to get lost in the numbers; in creating posts that will bring us traffic, making that new subscriber freebies, and finding the perfect thing to share on our social media outlets so we don't look too self-obsessed. It's very easy to forget the real human element that makes what we do worth doing. With that human element comes human thoughts and human feelings, and what we say matters to them. Maybe you don't have a million readers, maybe you don't even have one hundred, yet, but what you say matters to those who are reading. It matters to those who keep coming back.
Whether you're a fashion blogger, a business blogger, a mommy blogger, a humor blogger, a ministry blogger, a lifestyle blogger, or any other niche you may fall into, you are making a difference in this world with each post you share. With every post you offer hope, peace, clarity, resolution, inspiration, motivation, and/or education to those who come to read. Every single post you have ever shared has reached at least one person who needed exactly what you had to share in that moment.
As we move through this new year, keep in mind that you are changing the world through your words. Let this year be the year that you write what's in your heart and not worry about what numbers it will bring your way. Remember, there is one person who needs what you are sharing. I promise you they are out there.
We cannot measure the true value of the changes we are making, but trust that you are making those changes, even when you can't see it.
How can you change the world this year? Keep writing! 
Now it's your turn! Think about a post, whether on social media or a blog (or a video!), that had a positive impact on you, or helped you in some way. How did that feel? What was it about it that appealed to you? Let us know in the comments below and feel free to share a link to one of those posts that inspired you – we'd love to read it!
Keep Reading