This post may contain affiliate links which may give us a commission at no additional cost to you. As an Amazon Associate we earn from qualifying purchases.
For the past several years, it's been trendy to choose one word for the year. This may not be a new concept to you, as I am sure you've seen the term thrown around online, but picking one word out of all of the glorious, interesting, provoking, meaningful, wondrous, and reflective words out there can be downright intimidating! Let's work through a simple process to help you whittle down all those words to find your One Word today.
We are going to find one word that can be your focus, your mantra, the word that will guide you through the whole year. When you need a break – go to your word. When you are stressed – repeat your word. When you need strength or a lift, this word will be there for you!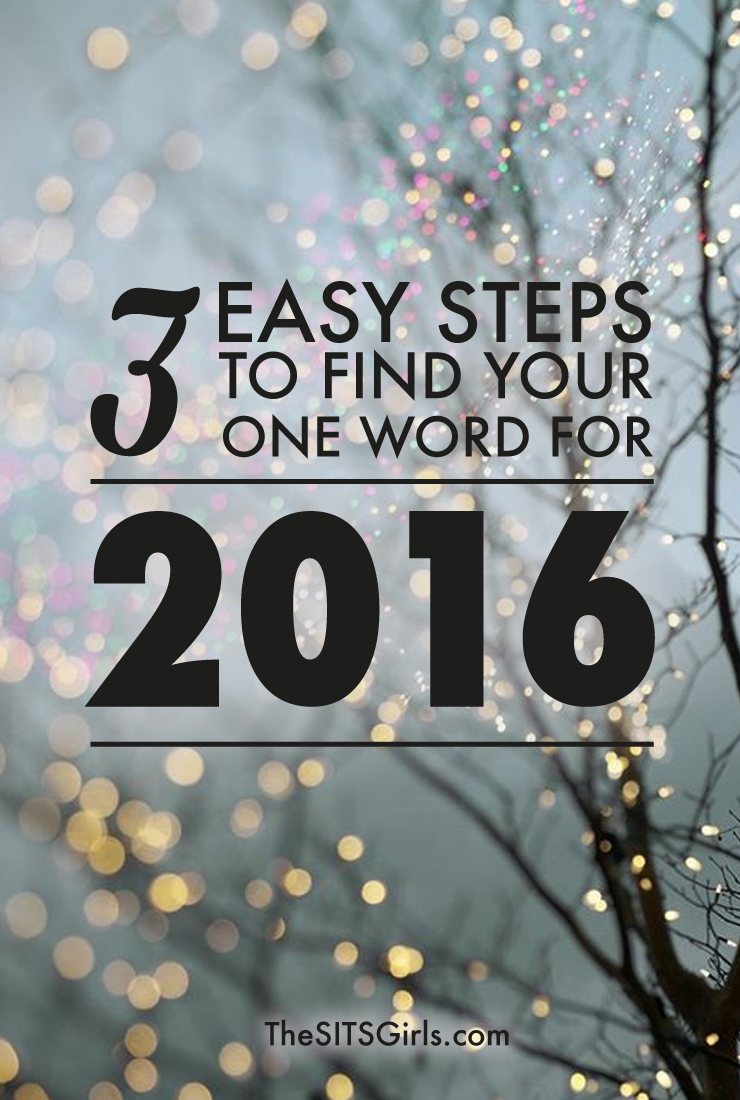 Three Easy Steps To Find Your One Word For 2016
To find your perfect One Word, let's take a little time to figure out what you want in your businesses this year. You can do this for health, family, or anything else, but we will be focusing on business for this example.
Step 1
Take a few minutes to sum up what you want in 1 Paragraph. That's 5 sentences total. Make it personal, specific, and important. It may sound something like, "This year, I will build my direct sales business by growing my Team. I will be sure to work my personal business at the level of the Leader I desire to be, even before I am officially promoted to that level. I will take responsibility for making sure the work needed to make this a reality gets done. 2016 will be the year when I accept no excuses or let any distractions get in the way of what I want. I will be proud of what I have accomplished at the end of everyday."
Did you do it? Don't cheat yourself by thinking you'll come back to this later.
Step 2
Now, take that paragraph and reduce it to 1 sentence that sums up what you want to achieve. Your one sentence should encompass the most important items in your paragraph. This can be tough because we really have to declutter our thinking and boil it down to the essentials. Using the example above, this one sentence may sound like: "2016 will be the year where I accept no excuses for making my dream of becoming a (Leadership Level) a reality, and I will make sure I am doing the tasks necessary on a daily basis to add team members and reach the sales level I need."
Make sure you write that sentence down before you read on!
Step 3
Finally, take a few minutes to look at your sentence and decide what your One Word will be for 2016. It doesn't have to be a word that is in that sentence, it can be one that sums it up. It could be a noun, or what you actually want. It could be a verb, or what you are going to do. Make it an adjective to describe how you want to feel. This word can be whatever you want it to be. Whatever you can hold on to and focus on when you need that extra push or guidance.
Some people are even finding their words on items and keeping them close at hand as a reminder of their focus. You could select a piece of jewelry with your word on it, clothing like a "Believe" T-shirt, or even motivational cell phone covers.
So, how did you do? Did you choose your One Word?
You can now put that word to use! Keep it where you can see it, and let it inspire you each and every one of the 365 days of the New Year!
I would love to hear what your One Word is; please share it in the comments.
Author Bio: Kim Denne
Kim Denne loves exploring all thing relating to food and happiness, and shares recipes, direct sales tips, and more at her blog, Food and Happiness. She has worked in the Direct Sales field for over 20 years. Connect on Twitter: @KimDenne.