This post may contain affiliate links which may give us a commission at no additional cost to you. As an Amazon Associate we earn from qualifying purchases.
New to SITS? Welcome!! Go read this to get started.
Welcome to the weekly blogging tip and Saturday Sharefest comment game! This week I'm talking about spring cleaning your blog.
Take a deep breath. Smell that warm, fresh, spring air? Now take a big sniff of your blog. Does it smell stale? Messy? Not so fresh? I've got a challenge for all the SITStas this week. It's time to Spring Clean your blog.
Here's what I'd like you to do this week (or at least this month):
Take a good look at your blog header. If you're using a boring default header, it's pretty simple and inexpensive to create a header that helps convey your blog's personality. There are tools and instructions here, here, here, and here. At the very least, be sure you have a catchy, concise blog title and tag line.
Go over your sidebar content with a fine-tooth comb. Clear off anything that is not current or useful to your readers. When it comes to sidebars, less is more. Let your post content do the talking and your blog will shine.
Review your post formatting. It's easiest on your readers' eyes when your font is in a consistent size and aligned to the left (or justified). When a post is created with many different size fonts, different colors, or centered text, it's tough to read and may make it less likely a visitor will return.
Make sure there is a prominent link or sidebar widget to your "About" page so your users can learn about you, follow you and contact you easily.
Now let's play a game! Here are the rules for the SITS Saturday Sharefest:
Leave a comment here with a link to one of your best blog posts (or just your main URL if you prefer).
After you leave your comment, visit the link of the person who commented BEFORE you.
Comment on their post and be sure to say "Happy SITS Saturday Sharefest" in your comment.
Now, go leave some comments! And please visit my blog, Mom Improvement.
We've started our own Blog Frog Community! Every person who joins in the month of April is entered to win a $100 Target gift card!
SITS Girls is coming to:
San Francisco, Philadelphia and Austin tickets are on sale now!
Want to get an email each time we post? Just click here.
And, as always, when you see this: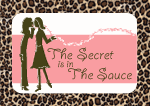 LEAVE A COMMENT.