This post may contain affiliate links which may give us a commission at no additional cost to you. As an Amazon Associate we earn from qualifying purchases.
Even entrepreneurs who are doing what they love for a living have days when they just don't feel like doing anything. They aren't motivated. At all.
Even the usually eager entrepreneur can feel not so, well, eager. The good news is, there are tasks you can do that require little effort or brain power that will still have you feeling as if you actually made progress today.
Here's a list of things you can add to (and then gleefully cross off) your to do list.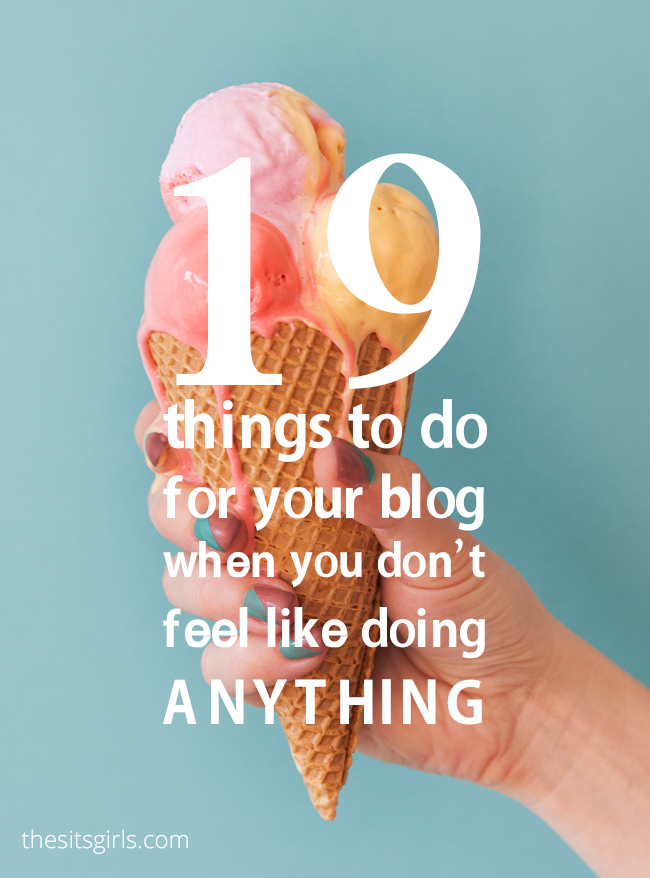 19 THINGS TO DO WHEN YOU DON'T FEEL LIKE DOING ANYTHING
1. Clean out your email inbox. Once you get started, you may decide to delete from other folders, too.
2. While you're at it, check out these other places you can clean out digital clutter.
3. Listen to a business related podcast. Two of my favorites are Ask Pat and The Lively Show.
4. Clean up your Pinterest boards. Are you really ever going to make that crazy glow in the dark cocktail?
5. Clear off your desk. It amazes me how quickly piles form on my desk.
6. Categorize all those uncategorized expenses in your financial software.
7. Delete old texts and old voicemails from your phone.
8. Remove apps you don't use from your phone.
9. Brainstorm a list for blog post ideas.
10. Wipe down your computer screen and keyboard. Don't forget the underside of the mouse, too.
11. Read a business related book. Here are 5 I highly recommend.
12. Schedule your social media posts ahead of time.
13. Refresh old blog posts with catchy titles and updates images.
14. Go somewhere. The coffee shop or library – just for a change of scenery.
15. Go supply shopping. Your business could always use some new pens, paper and post it notes.
16. Get rid of any online services you may be paying for, such as domains or monthly services, you don't use.
17. Take photos of your office and other items you can use for social media posts in the future. Start building your own stock library.
18. It's not just web surfing when it has a purpose – do some competitive research or get website design inspiration from around the internet.
19. When all else fails, take a nap.
Author Bio: Megan
Megan wants to live in a world where rainy days are for naps, wheat beer is not just for summer, and her dog always wants to snuggle. When she's not snapping iphone photos, you can find her creating beautiful websites for entrepreneurs and small business owners. Her latest project — Prepare Your Square — is currently booking clients to have their Squarespace websites created in one day. Learn how you can have a website designed for you without having to take out a loan or feeling like you want to throw your laptop.