This post may contain affiliate links which may give us a commission at no additional cost to you. As an Amazon Associate we earn from qualifying purchases.
When I first started blogging in 2009, I had no idea what I was doing, where this was going, or even what blogging was all about. In fact, I was a closet blogger for about one year before I told anyone I knew. I'm not sure how, but someone from a distant land would occasionally pop in and make a comment on something I had written. That actually hooked me, and gave me the confidence I needed to carry on. You might even say it empowered me as a woman.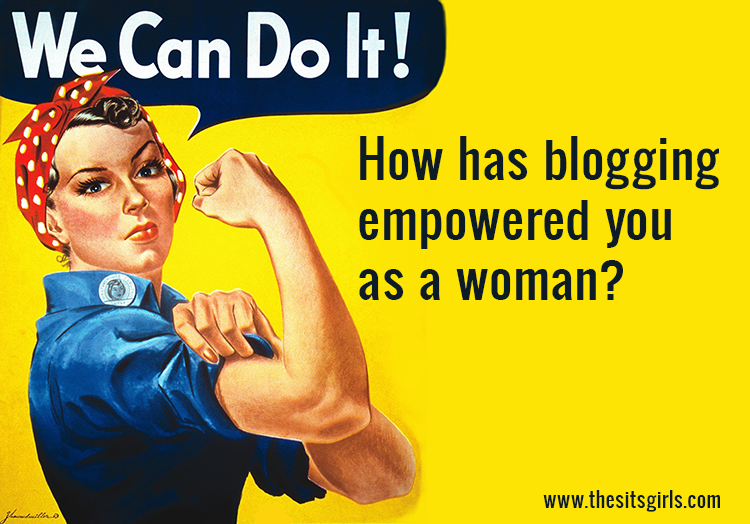 How Has Blogging Empowered You As A Woman?
Connecting with other bloggers has proven to be a point of enjoyment for me over the course of the years. It appears I'm not alone. Many bloggers have found a community, which in some magical way empowers us as women, connecting with other women in similar situations.
I was curious after musing on this topic, and decided to ask some of my blogger friends how blogging has empowered them. Lisa from The Golden Spoons answered in almost the very words I was thinking.
"Blogging has empowered me, because it has made me realize that I am not alone in my struggles – whatever they may be. I have made some wonderful friends who support me, encourage me, and love me."
I love that! Well said, Lisa.
Adrienne from The Mommy Mess also wrote some inspiring words:
"Blogging has empowered me by helping me find a voice I didn't know I had. It's been an amazing journey of support, friendship, and community. It's taught me to have courage to share honest stories about life because someone somewhere will find encouragement in knowing they are not alone and often times that someone is me."
I totally loved that last line. Oftentimes that someone we empower as we blog is ourselves. Blogging is a way of sharing the good as we hold on to the memories, and the not so good, purging it from our souls to make room for new things to come. This is very empowering for a woman, because something new always comes.
Another amazing blogger, Andrea from Good Girl Gone Redneck responded as well.
"Blogging has given me an opportunity to share my voice beyond my own 'circle' of connections. It has also given me an additional way to advocate for women with postpartum mood disorders and to connect with women who have been where I have been, creating our own network of strength that is often hard to find outside of the blogosphere. The support system I have because of the people I have met in the virtual world is phenomenal. People I have never even met, or met only once face-to-face, are some of my closest friends. I turn to them to talk about pretty much anything I need shared. It's amazing."
Wow! This is an amazing thing that Andrea wrote. What an empowering thing to experience.
I think this is a common bond among bloggers. Blogging helps us not to feel alone in our journey, whether it be our journey as a mother, as a wife, as a daughter, or as a friend. No matter what we are experiencing, there is someone we can connect with who has been there. It doesn't seem to matter that we will never meet these women in a face-to-face setting, they get where we are, and sometimes that is all that's really needed.
Blogging or cyberspace can never take the place of up close and personal relationships, don't get me wrong, we need that skin to skin contact. But it is nice to know that you are not alone, no matter what is happening, where you are, or who you are. To me, that is a very empowering thing indeed.
Keep Reading
Looking for more inspiration? Here are a few posts you'll find helpful: