This post may contain affiliate links which may give us a commission at no additional cost to you. As an Amazon Associate we earn from qualifying purchases.
I remember the exact moment things changed for me in the blogging world. I had joined SITS Girls about a week or two earlier at the request of a fellow blogger, and I was participating in my first SITS Sharefest on Twitter. I shared a photo of my six-month-old son wearing a moose snowsuit, and many fellow bloggers and tweeters oohed and ahhed over him. I realized that people were starting to get who I really am. I am a mother. I am a writer, and a professional photographer. I also love moose.
And my immediate thought was, "I didn't know it could feel this good. This connected."
And sometimes, it doesn't feel that good. It's normal to feel disconnected or frustrated or hurt or left out. It's normal to need breaks. It's normal to have writer's block, and it's normal to change your blogging style and your blogging goals.
You may even change them often. It's normal to want to change and to want to grow. It's normal to get a little lost in the shuffles of not only the rhythms of your blogging patterns, but also the rhythms of the blogging world as a whole. However, with a solid foundation of growing more connected to your blog, to other bloggers, and to the blogging world as a whole, you may find yourself not feeling lost, but found.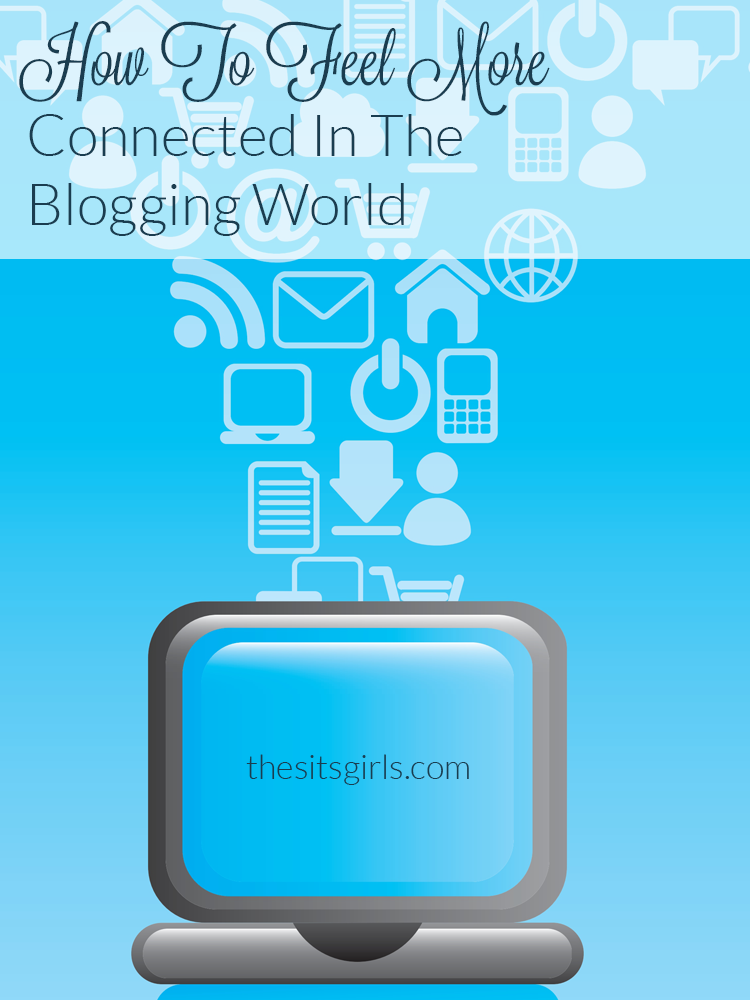 How To Feel More Connected In The Blogging World
Feel connected to your own blog
It took me awhile to secure the URL I wanted, and to also work on the design and atmosphere, with a professional designer in my case. Every so often, even those elements are subject to change. I wanted the overall feel of my blog to match my hopes and dreams for my space. I wanted it to feel a bit like what walking into my house might feel like. What would it look like? Sound like? What would we talk about if you came over for coffee and cookies? That was my goal.
In terms of design and content, be true to you. Write what's in your head and heart, and people will be able to see your passion. Another important tip is making yourself visible on your blog. Have a clear search box for old posts, have your email address somewhere on your landing page, and have social media icons for all of the social media platforms you are on. You should have an inviting "About Me" page too.
Feel connected to other bloggers
You may have heard this 1,000 times already, but please let me be your 1,001st time. You should reply to comments on your blog. You should comment on other blogs. It doesn't have to be overwhelming. It doesn't have to be 100 blogs. Start small and read blogs you're genuinely interested in reading. See what happens. See those connections grow.
Not only should you be reading other blogs and commenting, share other bloggers' content too. While you're at, connect with other bloggers on all social media platforms! Find their social media links on their homepage and click to follow. You can also connect on all social media platforms through link ups on the SITS Girls Facebook page. You can use or search for the #SITSBlogging hashtag and start a conversation on Twitter and Instagram.
Join or host link ups, blog shares and Twitter parties
Really, join any parties. Facebook and blogs have parties, too! I have met so many of my blogging connections through co-hosting Ladies Only Blog Share Link Party, as well as through my current position as host of Ask Away Friday. It's a fun way to have your say and put your name out there in the ring. If you don't have the time to host anything, you can add your appropriate links and meet the others doing the same.
Connect with other bloggers in person
Crazy thought, right? That's what I thought at first but I have since met dozens up my blogging friends in person. Blog conferences are a wonderful way to connect with not only other bloggers, but with blogging practices and lessons beyond just reading on the Internet. I don't know about you, but I take the classroom setting VERY seriously, even after all these post-schooling years, and attending BlogU in Baltimore in June was very beneficial to me. If blog conferences are out of your budget or geographical area, Meetup.com and Facebook groups and pages are great resources for finding others who get the whole blogging thing! I have arranged small meetups with other New England bloggers.
Find your tribe
Sometimes it takes a little searching to find your blogging people. For me, it was SITS Girls (can't you tell?) but I've also had a lot of luck on Triberr. You can join tribes with bloggers in your niche, if you have one, and you can also create mutually beneficial relationships with a good number of bloggers.
Say "yes"
Say "yes" every now and then, or say it often. Find your comfort level of saying "yes," and say it! I've met some of my best blogging friends by doing so. I have said "yes" to many things: hosting guest posts, writing guest posts, co-hosting link ups and parties, participating in birthday celebration giveaways, sharing content, sharing photos, taking photos, reading and reviewing books, writing IN books, and more.
People will have all sorts of requests and favors in the blogging world, and you will see the ones that work the best for you and your time, and you may get a lot out of it as well. When you need people to say "yes" to you, you will find them easily.
Just be there
Be there with your heart in it. Show up. Be open to new experiences. Write, and write  more. Connect, and connect more. It just may change your life.
Keep Reading
Looking for more blogging inspiration and advice? Here are a few posts you'll find helpful: