This post may contain affiliate links which may give us a commission at no additional cost to you. As an Amazon Associate we earn from qualifying purchases.
Do you struggle with topics for your blog? Brainstorming is a great way to come up with new writing ideas, but I have another approach for finding blog post topics, and making sure I'm keeping my readers happy, by using the information in my google analytics.
Chances are, you're learning more about blogging and your niche every day. Sharing these learning experiences with your readers and teaching them in your individual area of expertise will set you apart and gain you not just traffic, but also a good reputation. It might be more fruitful for you to think of post topics as ways you can help your readers and your niche's key communities. I don't know about you, but a big "what's in it for me" payoff is a key reason I go back to visit a blog time and time again. Being helpful will get you noticed and have people coming back to you frequently so they can learn more!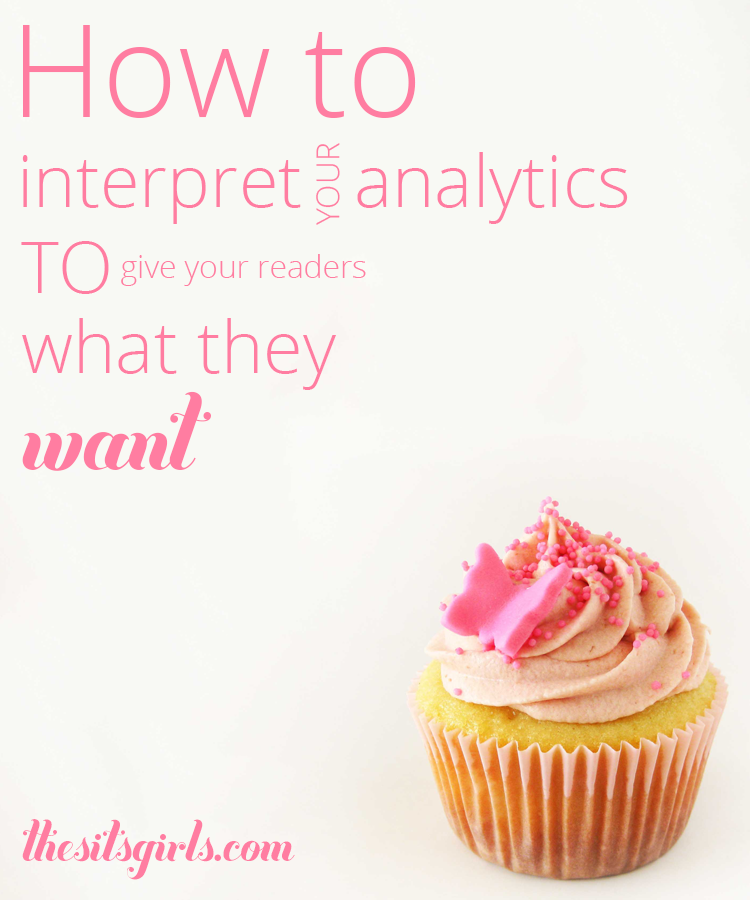 How To Find Blog Topics The Practical Way:
Here are some quick tips for coming up with helpful post topics:
Solve your own problems.
Ask readers for questions. Email a few readers, send out a tweet or write an entry asking for questions.
Look for problems on other sites. What's always being asked on the forums and blogs you frequent?
Ask your friends and family. What would they like to know about your area(s) of expertise?
There are also a couple of techie ways for you to monitor what is asked of you indirectly based on your reputation and content of your site. I'm talking about internal searches on your site and external searches coming into your site. Knowing what people are searching for has many uses, one of which is to see what your readers want to find on your site!
Analyze Internal Blog Searches With Google Analytics
Internal searches are those initiated within your site of your site's content. These are visitors who've come onto your site and liked what they read enough to want to ask a specific question to see what you have to say!
You should already have Google Analytics installed. It's free and easy to set up, even if it's kind of confusing to look at. Analytics makes it easy to track your internal site searches. Most blogs already have a search bar somewhere on it. If yours does, take a second to perform a test search. The URL you're redirected to should look something like this:
http://yourdomain.com/?s=test+term
If you see that question mark and equal sign in the URL returned, you're good to go and this set up is going to be easy as pie! You need to make note of your query string, which in this case is simply "s". You can skip ahead as this next part will help those who don't get a query string returned when they search.
If the URL you're taken to after you click on search does not yield a result with a question mark and equal sign (for example: http://yourdomain.com/#uds-search-results) then the process is much more complicated. The query string needs to be passed along to the page in order for Google Analytics to pick it up and track it.
Internal site search for Blogger blogs
Of course the Custom Search gadget provided by default for Blogger blogs does not utilize a query string and therefore is useless, as far as I can see, to track your internal searches. You're going to need to set up a separate site search. There are dozens of ways you can do this: I'm going to briefly cover only one.
Create a new Custom Search Engine for your blog using Google's tools.
When you get to the 3rd step, there's an option to click on a link for Look and Feel. Click that, then on the left-hand side directly under Look and Feel you'll see Get Code. If you get lost, you can go back to the Custom Search Engine link and select manage existing searches, then go to the control panel.
Under Get Code on the control panel menu, check the box to Include Google Analytics Site Search tracking code. Paste your Google Analytics ID and make note of your query string, which is "q" by default.
Copy the provided code in the text box and paste it into a new HTML/Javascript gadget if you're on Blogger, or elsewhere on your site if you use another blogging platform.
Setting up site search with Google Analytics
Good. Okay! So remember that query string and then follow these steps to activate Internal Site Search in Analytics:
Log into Google Analytics, then select your site profile.
Once you've selected your profile, click Edit (make sure you're not still at the first screen, as it also has an Edit link!)
At the top of the page you'll see, Main Website Profile Information and an option to Edit the information to the right of that box. Click to edit.
Under Site Search, select the option to track and indicate the query string you noted earlier.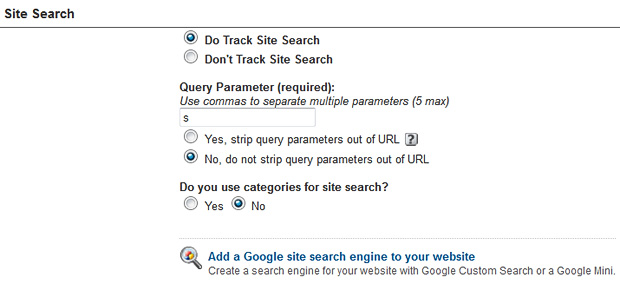 That's it! In a day or so you'll be able to navigate to Content > Site Search in your Analytics!
To learn how to read this information, check out these articles:
Analyzing External Searches
External searches are ones coming to you from search engine queries. Someone typed a keyword or phrase into Google and your page ranked high enough and looked interesting enough for them to click into it. This, by the way, is the reason people go gah-gah over SEO.
It's a lot easier to look at these results. No extra configuring is needed in Google Analytics!
From the left-hand menu, select Traffic Sources > Keywords. You'll see a page with a list of your most frequent search engine queries in the time period you have specified.
Using this as a tool to find out how people are finding your site can help you find out what to write about more and also topics you might want to stay away from. For example, I wrote an entry about an alcoholic beverage and now a big chuck of search results to my site are about that beverage!
Write A Post That Solves A Reader's Problem
Whether you gather questions the old fashioned way, or use analytics tools to decipher what your readers want to know, pick a topic you know something about and answer a key question about it.
Remember to use key words and terms that you would put into google if you were trying to find the answer to this question. That will help your post get more search traffic.
Keep Reading: 31 Days To Build A Better Blog
The 31 Days to Build a Better Blog Challenge is a program that Darren Rowse, aka Problogger, designed so that bloggers can improve their sites in about a month. Here are some of the topics we've covered: