This post may contain affiliate links which may give us a commission at no additional cost to you. As an Amazon Associate we earn from qualifying purchases.
How many of you are looking forward to summer? I know I am! We can't wait to shut the books and head to the beach. But, how many of you are wondering how in the world you will find time for blogging while the the kids are off for the summer?
As a homeschooling mom of two, I have the kids with me year round. Finding time to blog is something I have to be creative about. Blogging needs to be intentional and there has to be some time set aside for it in order to create regular quality content.
So, how can you juggle your kids being home and still maintain the needs of our blog?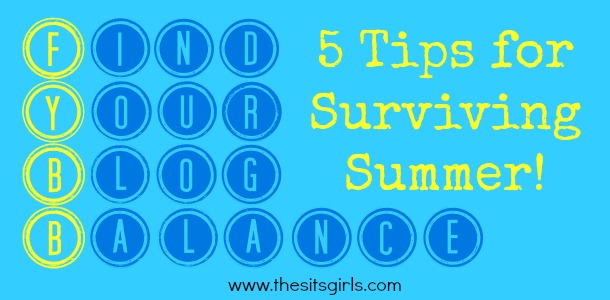 5 Tips for Surviving Summer
#1 Blog less and be OK with it!
Letting your blog take the backseat can be more useful than you realize. Taking a break from your blog helps to inspire new ideas, gain focus, and gives you time to examine your blog goals. Sometimes we just need to step away for a much needed break, and summer is without a doubt one of those times. Shut down the computer, focus on your family, and enjoy scheduled time away from your blog duties!
#2 Invite guest bloggers.
It's a great time to take the plunge and invite some guests bloggers over to your place. Plan a weekly feature and give your favorite bloggers the summer spotlight. Hosting a regular weekly feature takes the pressure of creating content out of your hands and frees you up once a week all summer long.
#3 Let the kids sleep late.
Take advantage of not having to rush out to the car line and let the kids sleep late. Plan to get up one hour before your children naturally wake up and  tackle some of the admin duties of blogging. Use the time to answer emails, reply to comments, and visit others. Do as much as you can in that ONE hour, but once the hour has passed move on to some summer fun!
#4 Share your Summer
What summer projects or activities do you have planned? Turn your already planned activities into your next blog post! Planning on finally tackling that master bath re-do this summer? Share your pics and DIY. Looking forward to soaking up the sun and relaxing with a good book? Post your must-read summer book list with your readers. Perhaps you have a family vacation planned. Share your family travel tips or road trip survival guide. Your everyday summer activities have a purpose at your blog!
#5 Involve the kids
Summer is a wonderful time to involve your kids with your blog. Get the kids in the kitchen and create your favorite summer recipes. Interview your kids and create a funny vlog with their answers. Instead of trying to keep up with blogging like you do throughout the year, embrace the crazy and write about that. Perhaps your kids in the kitchen looks like a big chaotic mess? Capture it in words and pictures and share the "recipe gone wrong". Your readers will love your honest and humorous approach to sharing your summer madness!
What are some ways you plan on juggling blogging and summer break?
Want some more summer inspiration? Keep reading!