This post may contain affiliate links which may give us a commission at no additional cost to you. As an Amazon Associate we earn from qualifying purchases.
With the stresses of today's fast paced society it's easy to get bogged down in responsibility.
Whether it's getting the kids off to school, tossing in that first load of laundry, typing up and submitting that article that's due tomorrow, or trying to beat the morning rush to the office, you're bound to find yourself on overload before you can blink.
It's easy – in the stresses of everyday life – to find yourself unhappy and struggling as you run from one task to another.
I'm here to offer you five simple changes that will change your life and give you happier days.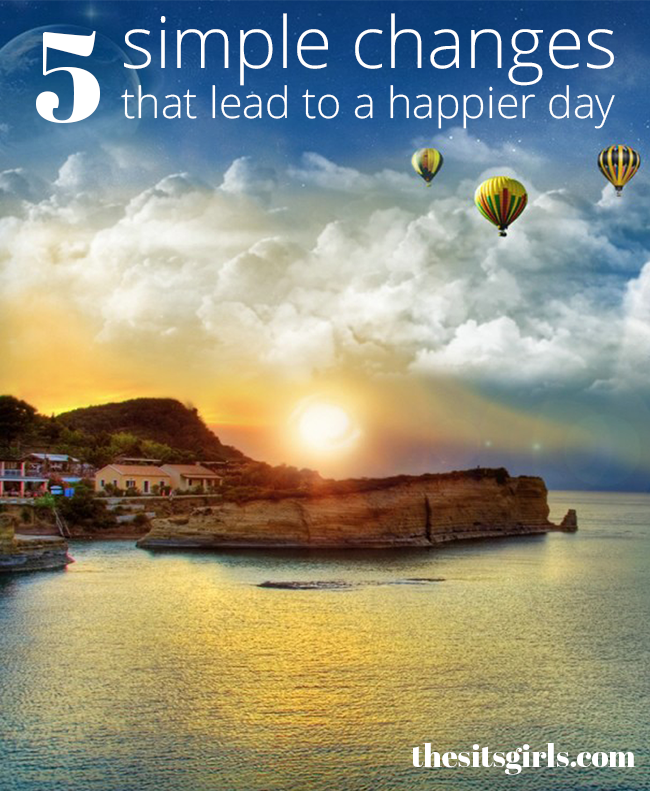 5 Simple Changes To A Happier Day
1. Turn on the music
Music is my background for everything. Whether I'm typing or cooking, I have something playing I can sing along to. And when the music is on my body instantly relaxes. It's an automatic stress relief. And who can't use that?
2. Exercise
Yeah, I know. Who has time for that? I don't think I do, either. And yet, I know that when I take even just fifteen minutes to take a walk around my neighborhood I'm going to clear my head. I'm going to feel better having worked up a bit of a sweat and knowing that I'm taking care of me for a few minutes every day. It counts. You matter. Don't forget it.
3. Leave your phone at home
Gasp! How could I even suggest such a thing? I know – it's ridiculous – your phone is your connection to the outside world. So, honestly, I'm not asking you to leave it home. But I'm asking you not to look at it every five seconds. Or minutes. Or however frequently you look at it. I know you do. You're home – you have a home phone – you're on the laptop and your phone is right next to you. Why? Can you find a way to focus on what you're doing right that second without worrying about who wants to reach you? I know you can. Let's do it!
4. Read
I shouldn't have to say anything beyond that – but I will. Read. Pick up a book. Dive into the story. Set aside about 20-30 minutes every day to read a newspaper, a book, a magazine. A cookbook, even. Just read. Let yourself escape the monotony of your daily routine by unplugging for a bit with a good book. You won't regret it. You might even find you start reading more! And at the very least you'll be setting a great example for the kids in your life.
5. Drop the guilt
We all want to do ALL THE THINGS. We all do. But we can't. Things are going to slip by us. They just will. And it's okay. Let go of the guilt. You didn't mean to make a mistake. You didn't intentionally forget whatever it is you forgot. But you did it. It happens. Let yourself move past it. Move on. You're only human. It's okay.
So, there you have it. Five things I recommend to make your days a little bit happier. Even if you scatter them throughout your week you'll find that you're more upbeat and in a better mood because of them. If I were a gambler, I'd bet on it!
Care to share what works for you? Let us know in the comments what you do to keep your happiness meter levels high!