This post may contain affiliate links which may give us a commission at no additional cost to you. As an Amazon Associate we earn from qualifying purchases.
When it comes to homemade gifts, what could be more fun than a ruffle cake hand towel? There are plenty of homemade gift ideas on the Internet, but trust us when we say that nothing is as original and utterly darling as this! Just think, you can use this for homemade Mothers Day gifts to birthdays to everything in between!
Homemade Gifts Rule
This year for my sister's birthday, I really wanted to make her a cake. But, since she lives almost 600 miles away – I knew that would be impossible. (I am always looking for an excuse to bake a cake, you see…) So, while I was roaming the sewing notions at the craft store about a week before her special day, I was hit with a stroke of genius! Why not just make her a ruffle cake hand towel instead? It never spoils, it's not fattening, it's cheerful, and it's easy to ship!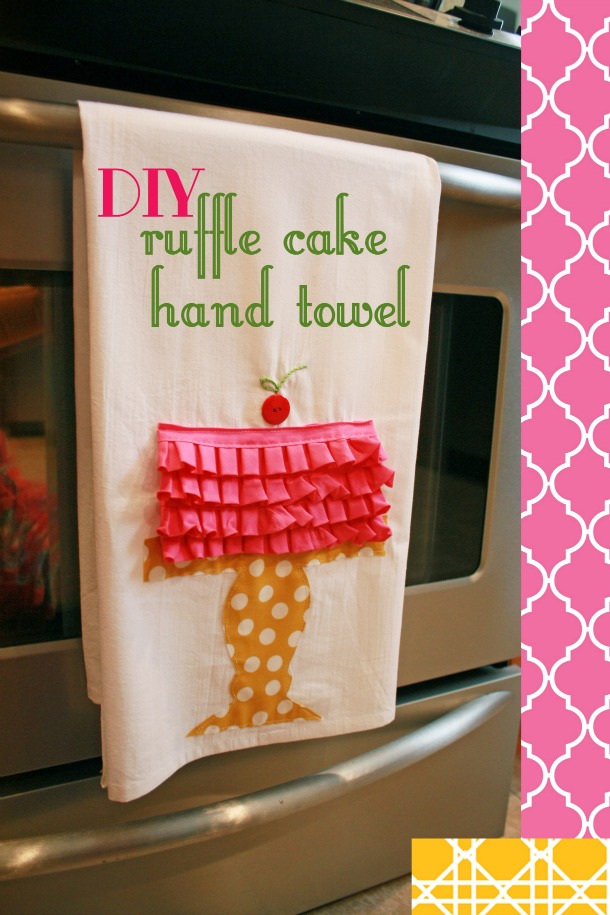 DIY Ruffle Cake Towel
I could just picture a ruffle cake hand towel sitting so pretty, dressing up her little kitchen. It wouldn't be quite the same as baking, but it could come pretty close. Choosing fabric and supplies can be just like choosing ingredients!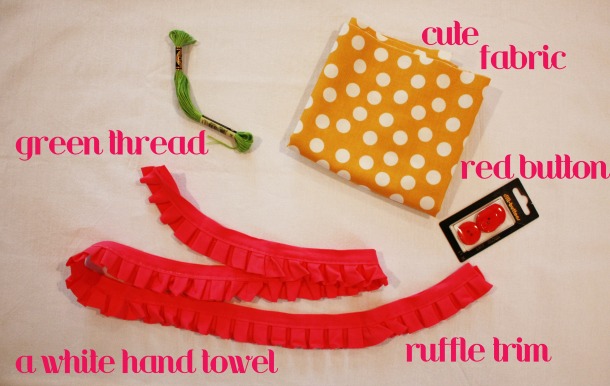 Supplies for Your Homemade Gifts
The ingredients for this project include a pretty fabric to fashion a fancy cake plate, a ruffle trim (with the frosting color of your choice), cherry buttons and a bit of green thread for the stem, and a white hand towel.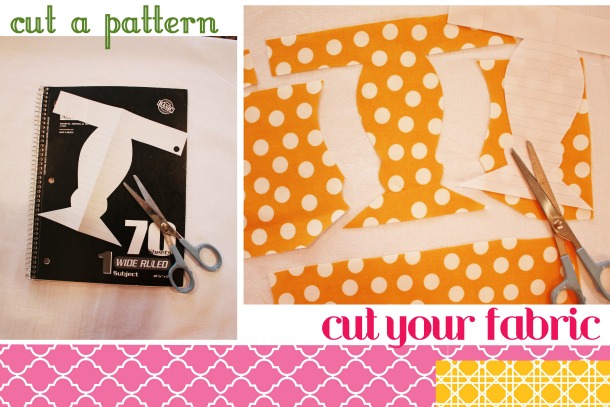 To begin, you must first cut a pattern for your cake plate or pedestal. There is no rhyme or reason to this! I folded a piece of paper in half and cut a design. You could make yours any shape or size. Don't worry if it takes you a few tries to get a shape you like. After cutting your pattern, use it as a guide on your fabric. You can trace it, or pin it to your fabric to make it easier.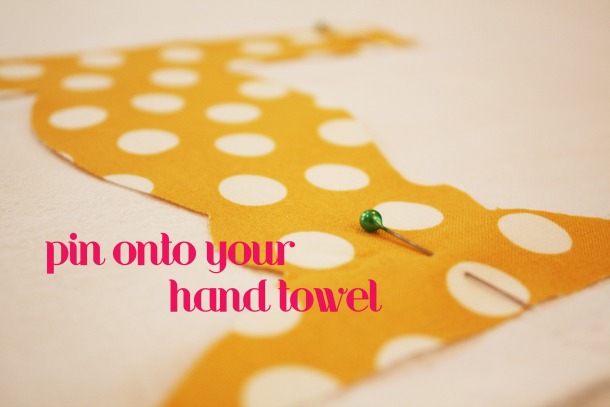 After cutting my pedestal, I pinned it to my hand towel in the perfect spot.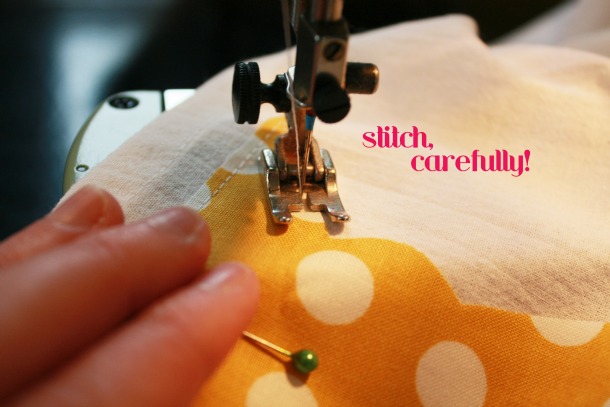 Carefully use your sewing machine to stitch around the perimeter of the pedestal. Take your time with this, especially if you have lots of curves to do.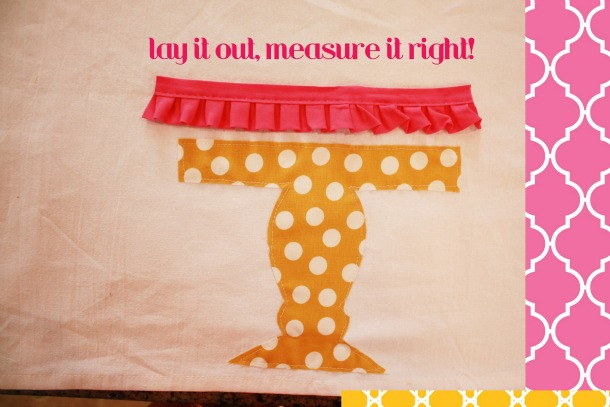 After sewing your pedestal, measure out a piece of your ruffle trim and cut to size. You want it long enough to tuck under the edges, and to reach the ends of your pedestal.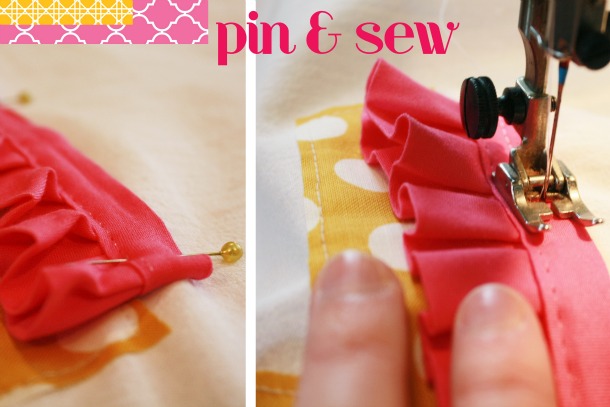 Pin your ruffle into your pedestal (it should be touching the pedestal so it looks like it is sitting on top) and sew it straight across.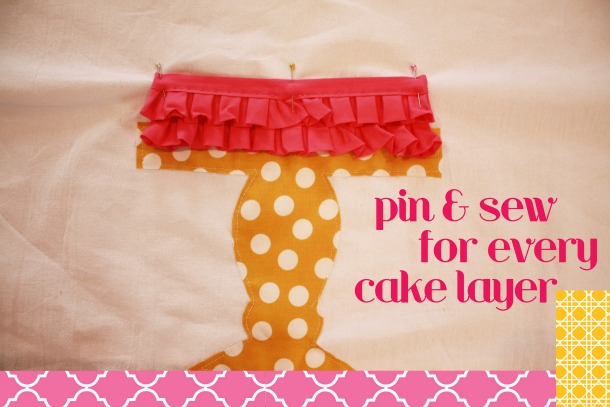 Repeat this step for as many cake layers as you want. I did it 4 times. (A yard of ruffle trim made just over 4 ruffles for me.)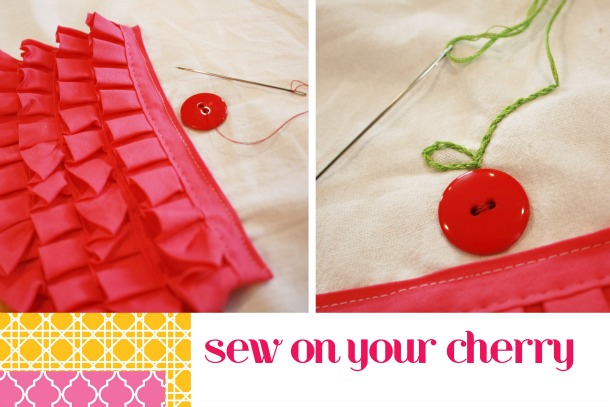 After you have your ruffles sewn on, top your cake with a button cherry! Don't forget to stitch a stem and leaf!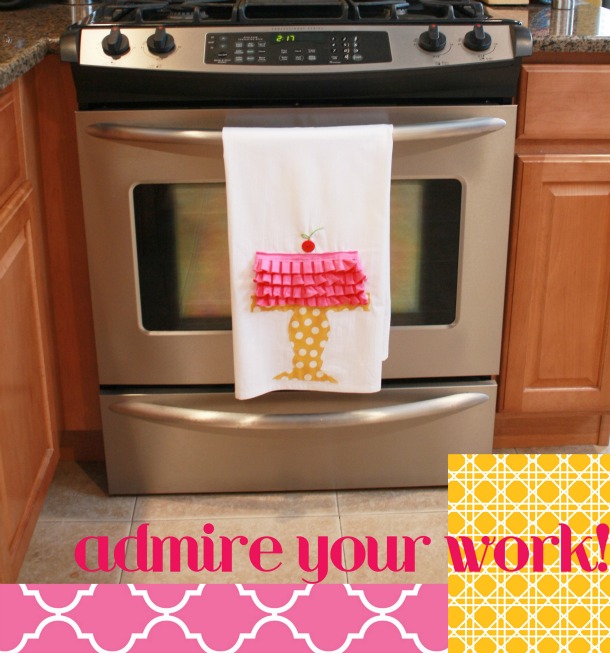 A ruffle cake hand towel really is one of the best homemade gifts around. Use it as the perfect birthday gift for a friend, a cheerful accessory for a kitchen, and a fun way to spend an hour or two creating something charming. I had so much fun coming up with my homemade gift ideas that I had to whip a ruffled cake towel up for myself (in chocolate!) as well!
More Homemade Gifts To Inspire You