This post may contain affiliate links which may give us a commission at no additional cost to you. As an Amazon Associate we earn from qualifying purchases.
I'm going to make a few assumptions about you in this post about bullet journaling. I will assume that you spend quite a bit of time at the end of every calendar year looking at journals, planners, diaries, and calendars. You read every post you can get your hands on about which planner will work for you. You sign up for all the usual suspects — Erin Condren, The Simplified Planner, The Passion Planner, Inkwell, and Day Designer — weighing their special discount codes against your must haves in order to make a decision that will best fit your needs. Deep down, you know that none of them fit you exactly. But you keep trying to make it work.
No one size fits all planner will fit you to a tee, no matter how many colors, inserts and stickers come optional. How do I know this? Because I went through this every.single.year. Until now. January 6, 2016 to be exact (it's the Epiphany – how apropos). In this post, I am going to attempt to answer some questions and provide resources for further exploration, but mostly, I am going to convince you to use a Bullet Journal! It really has changed my life.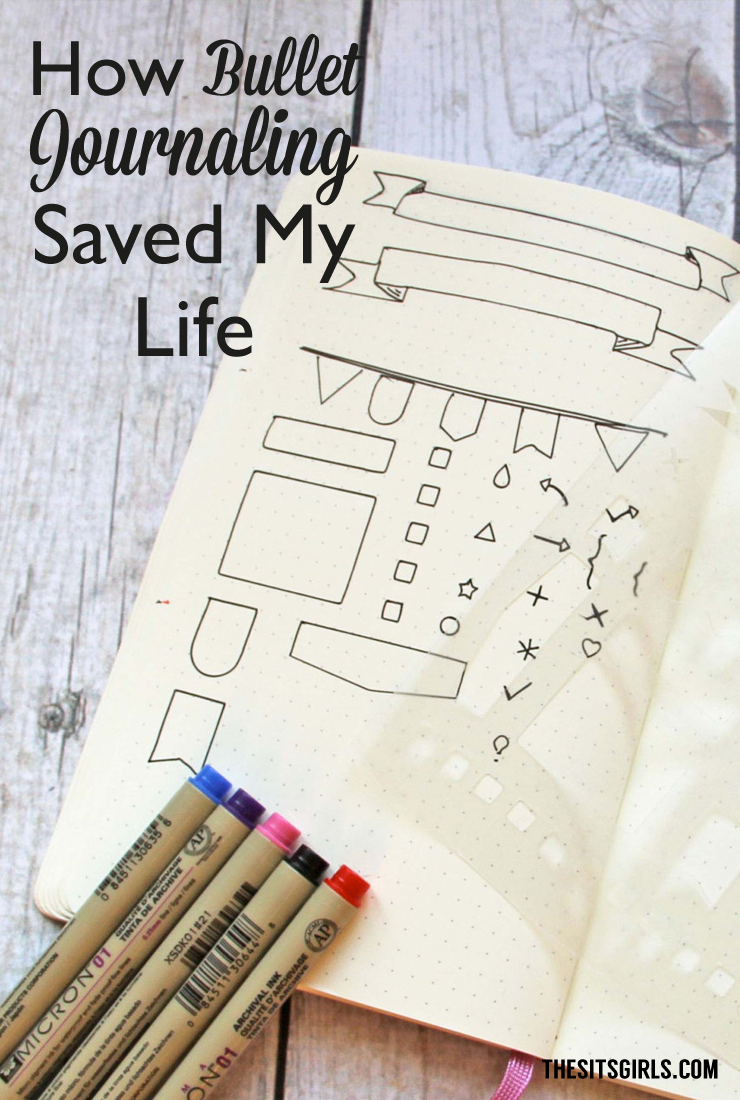 What exactly is a Bullet Journal?
That's a great question! According to the Bullet Journal website:
The Bullet Journal is a customizable and forgiving organization system. It can be your to-do list, sketchbook, notebook, and diary, but most likely, it will be all of the above. It will teach you to do more with less.
What's inside a Bullet Journal?
To simplify, the Bullet Journal is comprised of an index, a key, spreads, and your collections.
Bullet Journal Index
The Index is like a Table of Contents. Each page of your journal needs to be numbered. In the very front of your journal, you have your collections and their corresponding pages right beside it. The index helps to keep track of your collections by page number. Think of it as the m&m trail behind your Bullet Journal journey.
Bullet Journal Key
The key, is just what you would think it is, little symbols that correspond to the tasks on your list.
Here are ones that I use often:
Event •
Task x
Completed Task *
Important –
Note: Keep your key right next to your Index. You'll find that at first you'll refer to the Key, but after a while, you won't need it because the symbols and their meaning will become second nature to you.
Bullet Journal Spreads
Aside from the Index, Collections, and Key there are the weekly / monthly / daily spreads. You can choose any of them or all of them. I use the weekly and monthly spreads. I tried using a daily spread but found that I needed a macro view of my life and all of its moving parts. If there's a spread you try that you don't like, it's as simple as turning the page and starting a new spread on the next page.
Here's my monthly spread with goals: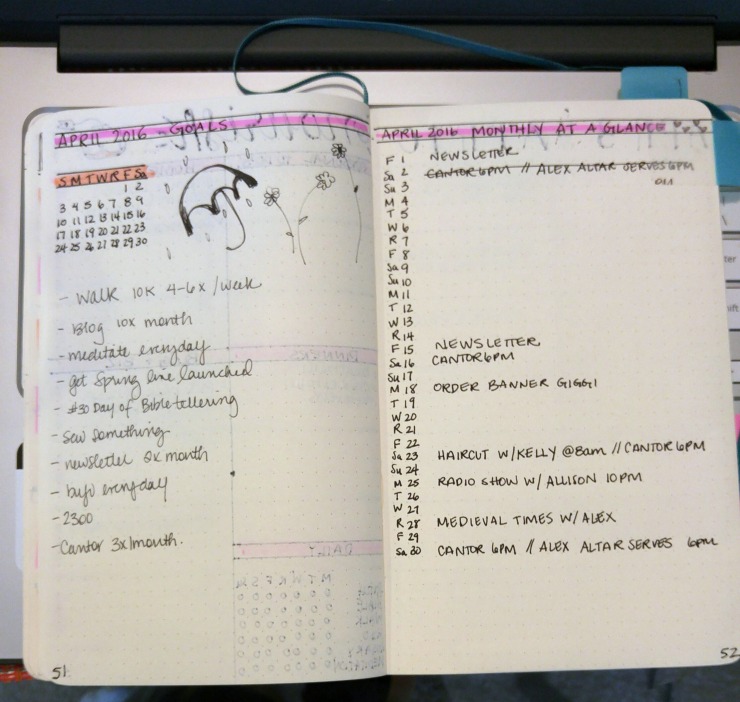 For more monthly spread ideas, head here.
And here's what my current weekly spread looks like (taken from BohoBerry):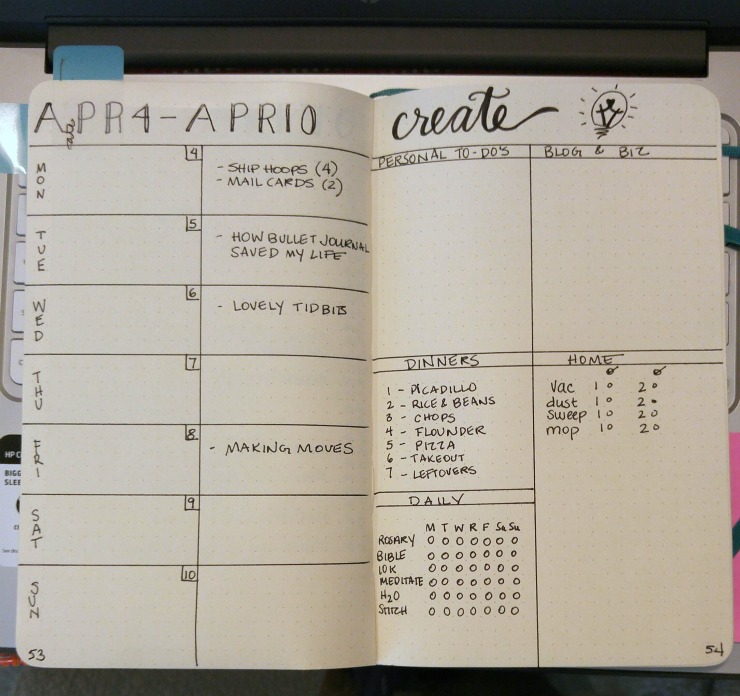 I have meals noted for the week to feed my family, a spot for my blog and business tasks, home tasks, and personal tasks on the right page. On the left page, is a snapshot of my week.
I refer to the monthly spread that I have filled in after reflecting back on the entire month (pushing uncompleted tasks forward, or updating my daily section to include different goals, for example). I include any posts coming up on the right hand side of the left page, the left hand side of the left page will include any time sensitive appointments (think doctor, or coffee dates, hair appointments, etc). I still have to fill those out.
What I love about the bullet journaling system is I am in a constant state of self reflection. I have to look back to move forward. Nothing gets lost or overlooked, and everything is picked up and reviewed. It's kind of KonMari-esque. If the task or idea doesn't spark joy, I don't move it forward. In case you didn't notice, it doesn't matter if it's perfect, if the pen bleeds through, if you make a mistake or if your umbrella looks weird. This is your journal and it's as perfect as you are. You can find a million different spreads that will suit your needs. I'll have some resources for you to peruse in just a little bit!
Bullet Journal Collections
Collections are pages corresponding to topics and ideas you want to keep. For example, with my Bullet Journal, I have the following collections:
Prayer lists
Books I want to read
Blog post ideas
Embroidery hoop ideas
Interview List for my Making Moves blog series
Theme & branding for my blog
Newsletter notes
Whenever I have to write a post for The SITS Girls, I look at my index, head over to page 22-23, and see what I have coming up to brainstorm the topic. If I am working on a graphic for my blog, I head to page 39-40 to see what the hex codes are to be sure my branding is cohesive and reflective of the theme and colors on my blog. There are no standard collections you should have and there are many collections you could have — it all depends on what you want to capture.
What do you need to start bullet journaling?
You can purchase an official Bullet Journal from the website. Or you can choose from other popular options, like the Leuchtturm1917, Moleskine Journal, or Midori Travel Journal. I use and prefer a Moleskine, soft cover, dotted journal. My 11 year old son, uses a ruled spiral notebook.
See? This is why I love this system. Anyone can use it and adapt it to fit their needs.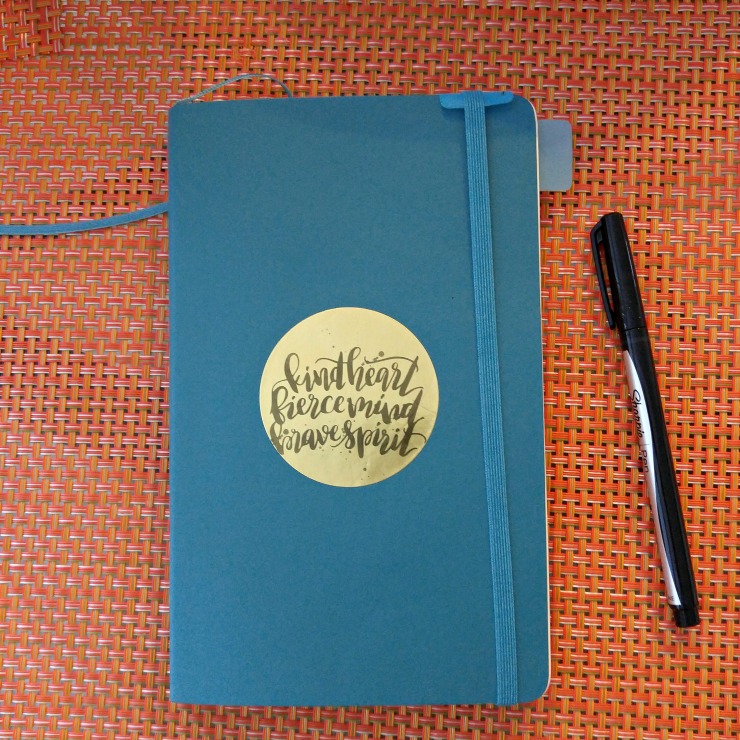 Bullet Journaling combines my love of paper, planning, writing, tracking and organizing in a perfect bow. It's flexible and easily tweaked to meet and change with my daily, weekly and monthly needs.
You'll also want a small ruler and a pen.
I use Sharpie fine tip pens, pencils, and a ruler I borrowed from my 8 year old!
What makes bullet journaling revolutionary?
In my opinion, the Index is what makes the Bullet Journal stand out. When you are looking for a particular collection, or want to reflect back on a particular week, you need only look to your index to find the page it's on to add or refer to it. Genius.
You're probably wondering what happens when I fill up pages 22-23 with blog topics and need more room, but I've already got another unrelated collection on page 24. With the Bullet Journal, it doesn't matter that your collections aren't together. That's why you have the index. Flip to the next clean page, add your page number at the bottom, and continue. Always remember to add the page number/s to your index so you can find your collections.
Where can you find more inspiration (but always proceed with caution because you can easily get overwhelmed)?
As promised, here are some resources for you to find more inspiration. I will give you a slight warning though. Please don't get lost in the Bullet Journal rabbit hole. You can get overwhelmed, feel like you need everything to be perfect and never start. It's best if you get a general idea for what you need and then look at a few options. You won't really know what works unless you try it. After a few weeks, search a little more and see if there is something else that will work better than what you've already tried. Trust me.
BohoBerry (a great starting point) // The Bulletjournalist // Bullet Journal Do's and Dont's // WTF Is a Bullet Journal and Will It Save My Life // How I Use My Bullet Journal // Bullet Journal My March Setup // Five Finds for Budding Bullet Journal Junkies
And notice, I haven't even mentioned Pinterest. Talk about a rabbit hole!
Are there other Bullet Journal users out there?
Of course there are! There's a Facebook group called Bullet Journal Junkies, and I run my own group for Catholic Bullet Journaling (we focus on prayer collections, bible journaling, etc).
Head over to Instagram and search the following hashtags #bujo #bujojunkies #bulletjournal #bulletjournaling. You can also check out @boho.berry and @tinyrayofsunshine on Instagram for more inspiration.
I host a Bullet Journal inspired link up every Wednesday called Lovely Tidbits. This is inspired, so it's more of a snapshot of your week, with an image. It's a great way to digitize your analog Bullet Journal!
I haven't a clue on how I happened upon bullet journaling. I can't remember if it was on Instagram, Pinterest, or Facebook. I do know that I am completely hooked and my life has changed — and I am not exaggerating.
Implementing the Bullet Journal system into my life has made each aspect of my life clearer, and with that, brought about an ability to drive all aspects of my family life, personal well being, business, blogging and spirituality, forward. This pushing forward is all I ever wanted out of a planner. This is why the one size fits most approach doesn't work for me. I needed to create something that had more me in it's making. The Bullet Journal system has literally saved my life. I don't forget packing the kids' lunch, sending out an embroidery hoop, making reservations for date night, my daily meditation, reaching out to another maker to ask for that interview, or to finish my antibiotic (I always forget to finish those). I endeavored to condense all that I've learned since my epiphany on January 6th into one blog post. Whew! That was a lot of information.
Do you think you'll try bullet journaling? Have I convinced you? Let me know in the comments!