This post may contain affiliate links which may give us a commission at no additional cost to you. As an Amazon Associate we earn from qualifying purchases.
Leadership skills for bloggers? Blogging is all about sharing your story, knowledge, skills, and experiences. You may be wondering what leadership skills have to do with blogging. Without realizing it, every blogger uses some leadership skills every day. These skills are important to running your blogging business and producing quality content.
As a blogger, you are the leader of your audience. They come to you for advice and tips, information and instructions, humor and inspiration. As a blogger, you are the captain of your blog and your job is to guide your audience. If you are monetizing your blog, you are the leader of your business. With that leadership comes responsibilities to sponsors, clients, and readers.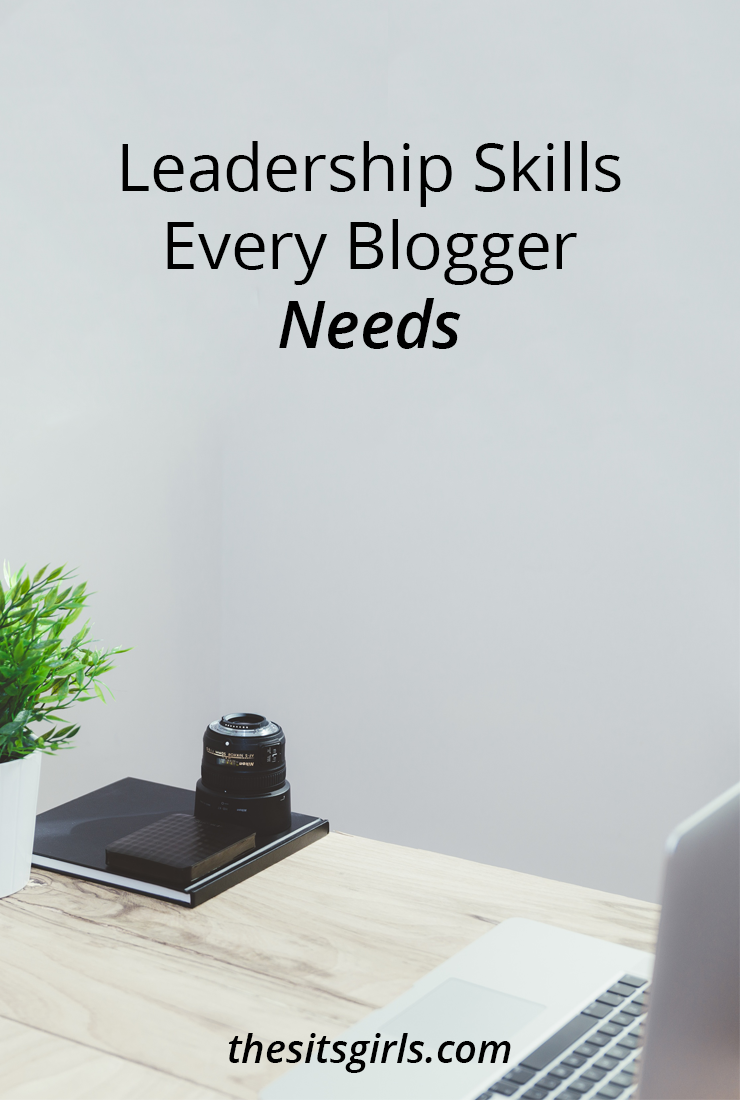 Leadership Skills Every Blogger Needs
1. Helping Others
Leaders are tuned into the needs of others and how best to help them. If an employee or colleague needs an extra boost, encouragement, or tool, a good leader sees to it. Blogging, in its essence, is about helping others. If you are a food blogger you share amazing recipes, cooking tips, or food education. Lifestyle bloggers help others by sharing ideas and tips to create a desired life. Write about humor? You're helping people laugh which is an invaluable gift.
When blogging, think about how you are helping others. Try to incorporate that into your posts. Think about the reader's needs and try to meet them.
2. Be Real
Don't hold your personality back. Be real and authentic with your audience. Share your victories and failures. Most bloggers do this naturally, because it adds to the story and helps the reader (see #1). Let's face it, none of us live a Pinterest life and people want to see what really happens. They want honesty. Take this opportunity to teach your audience based on your mistakes. They will love you forever!
3. Communication
When is communication an important skill? Always! Communicate well with your audience and sponsors. Say it once, say it twice, say it three times if you must. Make sure you communicate well and often.
Running a business requires good communication. Make your voicemails clear and succinct, make bullet points in your emails, make your disclaimer policy clear and visibly posted, write clear instructions for your readers, etc. Communicate often and well.
4. Back It Up!
Don't just tell your audience to do something — show them by doing it yourself. Promise to do something for a sponsor (a post, ad, social media posts)? Then do it. Don't be all talk and no action. People trust and respect leaders how back up their words with action. Be that leader.
5. Delegate, Delegate, Delegate
Whenever possible, allow others to do the tasks you don't need to do. In other words, delegate as often as you can. In doing so, you are freeing up your time to work on your business and giving your audience and sponsors the best quality content possible. Delegation also demonstrates your trust and faith in others to get a job done. Nothing is more awesome than a leader who trusts you to do a good job!
6. Be A Good Listener
Similar to good communication, listening is an important leadership and life skill. Your audience, sponsors, blogging colleagues, mentors, and family all have good things to share with you. Listen to what they have to say. Use their feedback to learn and improve. Respect their thoughts and input.
7. Follow Up
This is critical to your credibility. Follow up on requests, orders, contracts, etc. A leader is always monitoring their team. Just making requests and not following up is essentially making a suggestion. It also signals that what you requested is not important or high priority. For example, if you request your child's progress report and don't follow up, the teacher may think it wasn't important or has been forgotten. A gentle reminder is all it takes to follow up.
8. Self-Improvement
Finally, take care of yourself. Spend time with your kids, read, go to art shows, take a walk; whatever it is you enjoy, do it! You will tap into your motivation, inspiration, and sense of well-being. Each of these is important for a leader. You readers, assistants, sponsors, and family all benefit. Just as important, you benefit!
Be the best person you can, and you will become the best leader possible.