This post may contain affiliate links which may give us a commission at no additional cost to you. As an Amazon Associate we earn from qualifying purchases.
When I first started blogging I had no idea what I was doing, I admit it. I started my blog on a whim. I was out of work, feeling defeated, and most of all, I was bored. I didn't really even know what a blog was, but I knew it was something I wanted to do. Very soon, I realized it was much harder than it looks. I was in a funk, I had 20 views on a good day and not even one comment yet (except for my trusty mother, thanks Mom!). I had a bad case of the "newbie blogger blues" and I was ready to quit! Almost two years later, here I am going strong. I've made it my career, and I'm so glad I didn't quit! Today I am going to share with you some tips on how I stayed motivated and overcame the newbie blogger blues!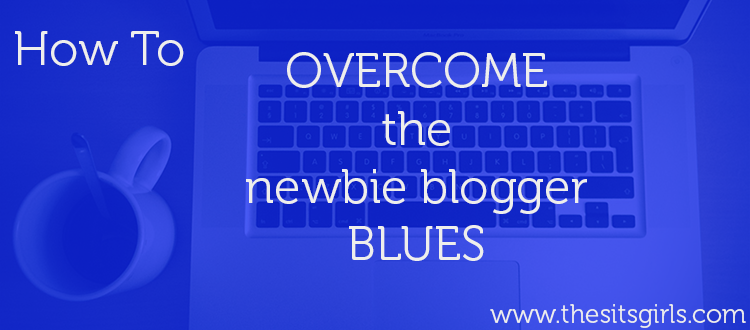 Overcome The Newbie Blogger Blues And Stay Motivated
Hopefully these tips will help you overcome the blogger blues, and find your motivation, because blogging is awesome.
My number one tip is just don't give up.
You stared your blog for a reason; to share your creativity or thoughts with the world. It doesn't matter if you are doing it for yourself to look back on or hoping to make it a career. Keep at it. You will be so glad you did. An example where I gave up on an aspect of my blog was with ads. I put them up when I started getting a little more than 20 views a day. I didn't know what to expect, and basically I was making nothing, so I took them down. Big mistake. I waited until I had a decent amount of traffic to put them back up, and now I'll never know how much revenue I missed out on.
Don't compare yourself to other bloggers.
Don't do it. Yes you can have favorite blogs to look up to and strive to be like one day, but never just dwell over how you will never be as "good" as them. You are unique. You have a special, different voice. That's what makes "bigger blogs" so successful, they have found a way to connect with their readers that you can't find somewhere else. Now that's your job, to grab our attention so we keep coming back for more!
Only blog about things that really excite you.
I think this is very important. Only blog about topics, crafts, and dishes that you truly love. Your excitement for your post will come out in your words, and get us excited with you. Don't be afraid to be quirky or use slang. Don't try to be perfect. Being real is essential to your success. Your authenticity is captivating and pretty soon I'll want to read anything you write.
Keep your material flowing.
Here is something critical. You have to keep posting. Period. Be it once a week to 5 times a week, keep it coming. Got writers block? The easiest way for me to keep spewing out ideas is to write them down. Every time I get a new idea for a dish, I write it down in a spreadsheet. I have it organized per holidays and seasons so I will always have something to go to if I'm in a rut. I also keep a notebook on hand at all times to jot down new ideas, then input them into my spreadsheet when I get home.
Give your readers what they want.
Have you noticed how some of your posts do better than others? Was it a certain topic you covered that was on a high? Keep doing that. When I started I used to blog about everything. Everything. Dinner dates. Book reviews. Outfit of the days. Kitchen basics. But, not everything was getting views. I finally had to suck it up and just stop posting about a lot of those topics even though I still love them. It was getting me down that my readers didn't enjoy them as much as I did and got me back in a funk. Now I just do what works and I don't waste my time on posts that go no where.
Network with other bloggers.
This is the number one thing that got me out of the newbie blogger blues. I befriended a couple of other bloggers and talk with them daily still. Being able to share struggles and successes with others in the same boat really helps. You are not alone. Now, I don't just consider them my "blogger friends" they are genuine friends that I share everything with, and it's such a great feeling.
I hope you will benefit from my tips to overcoming the newbie blogger blues and staying motivated.
Do you have any additional tips to share?
Keep Reading
Looking for more motivation? Here are a few posts you'll find helpful: