This post may contain affiliate links which may give us a commission at no additional cost to you. As an Amazon Associate we earn from qualifying purchases.
At some point within the last decade or so, since social media first launched itself into our lives, I realized I was someone who enjoys promoting positivity. I enjoy spreading joy and good news.
There was never a conscious decision to be this way. There was never an article I read, a social media class I took, or a lecture I was given. It's just in my nature and in my instincts to be upbeat, happy, and positive, and that shows in my social media posts. Sometimes I am told I have made someone's day better with a funny or uplifting tweet or Facebook post. And if I do complain or express a negative opinion, people act surprised that I do so!
Now I assure you I have my grumpy moods (often) and even share my non-positive thoughts (even more often). I do speak my truths and I do confess my imperfect, messy and anxious sides – maybe even too much. I'm sloppy at best, and I sometimes get irritated with my spouse and my kids. Even my pets! I firmly believe in venting, airing your grievances, and above all – being yourself. There's a way you can do so while still being mostly positive.
It's not a case-by-case thing. How you project yourself to the social media world is subject to change, always. It's never too late to start fresh. You are also allowed off posts or days or weeks. We ALL have them.
I have noticed that if I post a full-on rant, it will get only a few likes. If I post a cute photo of my cat, it can get over 100 likes! If I'm having a bad day and I post about it, I will often share a silver lining about the bad day, or a learning experience I got from it. If all else fails, I'll ask my friends to vent with me and we'll have fun in solidarity.
Sometimes, that gets as many likes as full-out positive post. Sometimes it spurs others to post about bright spots in their days, or learning experiences they have gleaned from an experience that may have even been negative.
Positivity breeds positivity. Once you've been blogging for some time, or just sharing from one or more social media accounts for awhile and measuring the who, what, where, when, why and how's of posting, there's a whole other layer behind social media posting. It's a big one. And that's the emotion behind the social media update.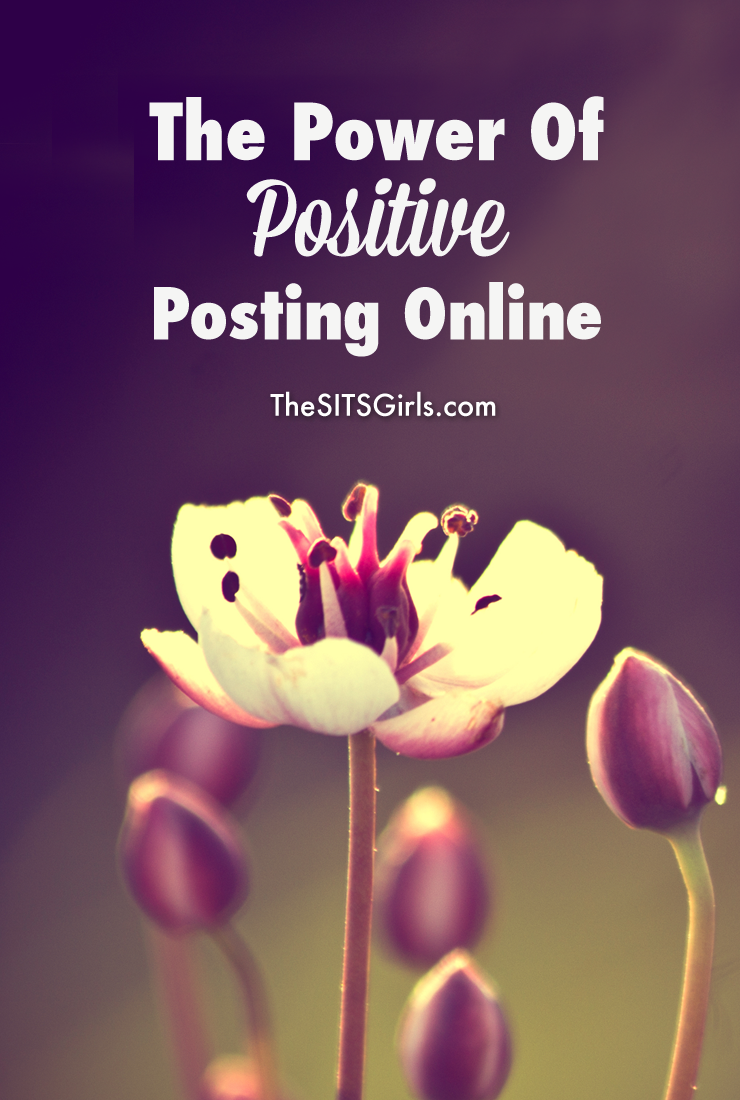 The Power Of Positive Posting Online
What feelings are you feeling when you're putting yourself out there to the Internet? How might someone feel when he or she reads your updates? As multiple studies have shown, positivity in social media interactions is a clear winner. Positive actions breed other positive actions. It goes to show that positive posting would breed positive feelings, and then more positive posting. Positive posting will get you more followers. Everyone wins!
Here are ways you can build a community of positive people around your blog and social media channels:
Use exclamation points. I know this seems silly, but it's amazing how much this can make a post look more upbeat. That doesn't mean you need to use a ton of them, but they really help here and there.
Use positive language and positive words. I'm a wordy writer, so I use words like definitely, absolutely, and fantastic all the time. That doesn't mean you need to go as crazy as I do. Adding more positive language to your writing will help posts make an impact.
Use Facebook to connect. I know that should seem obvious, but so often, we find ourselves scrolling mindlessly in the middle of or at the end of a busy day. Often I have to remind myself – even through Post-It notes and my editorial calendar – to make time to engage with my Facebook friends. This means more likes, comments, questions, and messages.
Photography, of course. This one is easy for me as a photographer, but there are plenty of ways you can share positivity through photos – with bright and cheerful images.
Avoid negative emotions. Sometimes, I don't realize they're happening. It's tough to be positive all of the time, but if you can, avoid negative emotions like aggression, morbidity and cynicism.
Smile. Strange one, right? When I was just getting to know my husband and we only knew each other by email, I sent him photos that a photographer had taken of me. These photos were moody and contemplative. My husband then asked me for smiling photos so I sent those and he said, "Aha. Now I get it. Now I get to see the real you." The same goes for social media. Do you have an "About Me" page on your blog? Consider adding a smiling photo of yourself to your social media channels.
Leave the negative commenters alone. Don't engage! I know it's hard, but you can address them with grace and always come out ahead.
Help others. This is as true on social media as it is in person. Focus some of your energy on helping others. Donate your time, your talents, your wisdom, your money, or whatever it is that makes you feel happy and alive. It will feel great always. You can find your own way of how to best do this.
Share gratitude. Being grateful improves your chances of being more happy and content. Being thankful for what you have, and sharing it with others, helps create a contagious and positive community.
Surround yourself with positive people. I know that's the whole goal here in general, but it's also a tip to creating a positive community within your social media community, and ultimately, your whole life.
I wrote this list for myself, too, so I could still connect with my readers and followers, even when feeling disconnected.
How do you build positivity in your online spaces?