This post may contain affiliate links which may give us a commission at no additional cost to you. As an Amazon Associate we earn from qualifying purchases.
It's November now. We're done with the back to school bustle. Halloween costumes have been put away and candy trading is still going on. Do you feel it? No, not the cool crisp air. No, not the sweet sensation that comes with end of the year vacations. But that thing that happens between right now and the very end of the year…. Holiday Stress. It's building for some of you already. But here's the thing — it doesn't have to be a stressful holiday season. It only has to be stressful if you choose for it to be. These 12 tips to reduce holiday stress will be easy to implement and help you enjoy the rest of your year.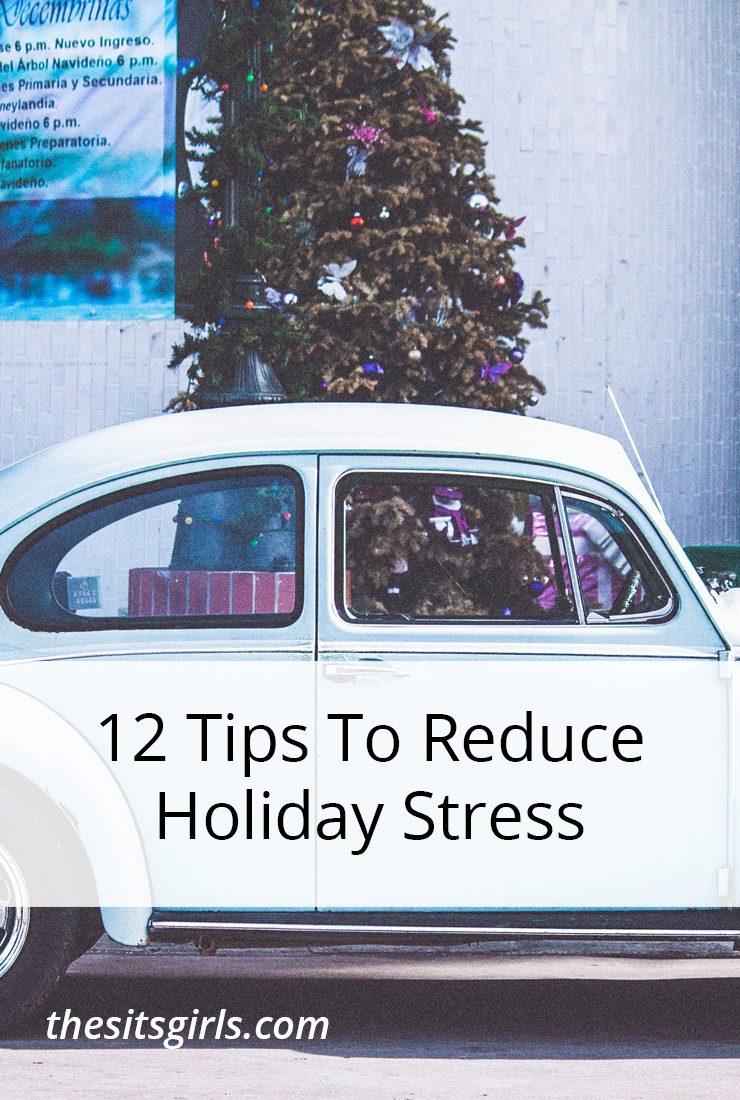 12 Tips To Reduce Holiday Stress
1. Get outside. We tend to be indoors more during the fall and winter months which doesn't help our stress levels. Meanwhile some of our co-workers and friends are walking around singing holiday tunes. I'll bet these people are getting outside and soaking up what sunshine they can, breathing in fresh air, and maybe even walking away their stress. I like to say "20 minutes outside a day is what keeps our stress at bay."
2. Say NO. This may not make you popular, but it will empower you, and give you more time to enjoy the holiday activities you choose to participate in. Those closest to you will benefit because you made more time for them. And you don't run the risk of being a Scrooge while doing something you didn't want to do in the first place.
3. Make a list. Maybe two. One for all the things you want to do this holiday season and one for all the things you have to do. Hopefully some of your "have to do" items are things you want to do also. Making these lists will help you identify what to say NO to.
4. Employ the divide and conquer mentality. Even the best of planners can over commit themselves during the holidays. As the kids get older the commitments increase around the holidays. Not everyone has to be at every function. And truth be told, not everyone wants to be at every function. So if your daughter's Girl Scout troop is going to look at Christmas lights and it's on the same night your book club is having the annual holiday cookie exchange, chances are you both can participate in your respective events, just not together.
5. Communicate! This one's a biggie. If you don't have a family calendar yet, may I suggest employing one now? The family calendar is how everyone will know who, what, where, and when. Want to visit the grandparents this holiday season? Well, hopefully you've told them and have started working out your schedules. Family holiday feuds may center on something as simple as who is hosting the big dinner. Talking about it in advance will save everyone a lot of grief.
6. Block out me time on your calendar. During the holidays a minimum of once a week of "me time" will help you to not lose yourself and re-prioritize anything you may have over extended yourself on. You need a clear mind and open heart to gracefully decline an invitation, and one of the ways to achieve that is having that dedicated time in your week to get your nails done, visit the bookstore, or just take a bubble bath.
7. Give from the heart. Instead of worrying about a gift not coming close to the $50 limit that was agreed upon in a gift exchange, focus on what the recipient enjoys doing and come up with something creative and fun or an experience gift that cannot be duplicated.
8. Give the gift of time. When you volunteer at a retirement home or food bank it really puts everything into perspective. We can remove anything that feels like a burden much more easily because we suddenly realize what the holidays are about, people. This isn't just about volunteering to put things into perspective. One of my favorite parenting quotes is "Your children need your presence more than your presents."
9. Shop early and avoid shopping malls. We are a culture of procrastinators. And procrastination only compounds stress. Well, that stress wouldn't even be there if we simply plan ahead, and that means planning our budget and our calendar early in the season. The most unique gifts are not at the mall anyways. You'll avoid problems finding parking, overspending, and the Scrooges that tend to be doing last minute shopping there.
10. Have your holiday meal catered. There's no shame in deciding you don't want to be driving all over town trying to find an obscure ingredient in order to bake Aunt Emma's famous pie. Plenty of restaurants put together incredible holiday dinner packages that are affordable, heck many of them are even cheaper than what you might spend on shopping for everything yourself. If you have any guilt around not making anything for your holiday feast, select one or two dishes that are family favorites to make. I can guarantee if you are in the kitchen preparing only a couple of holiday favorites there will be a lot less stress.
11. Agree to do a holiday gift exchange with extended family. Not only does this mean less stress in trying to find the perfect gift for everyone on your list, it is going to save you money. You'll be everyone's hero for suggesting it and help reduce everyone's stress. It's so much more fun to put a little more time and thought into choosing a heartfelt gift for one person than having to shop for 10 people. Chances are the recipient will appreciate that one gift much more, too.
12. Go with tried and true instead of something new. This might mean you stop looking for the "perfect" sausage cranberry cornbread stuffing recipe on Pinterest and just go with your mom's stuffing recipe. Or maybe you were thinking of doing something different than the standard Starbucks holiday gift basket for the teachers this year, but time got away from you. Hey, guess what? They'll either be LOVE receiving the tried and true Starbucks gift basket or they'll LOVE re-gifting it.
We would love to hear your ideas – how do you reduce holiday stress? 
Keep Reading
You love both the holidays and your blog, but when the busy season hits, it is easy to feel like your blog is just one more thing you need to fit into an already packed day. Check out our posts on what bloggers need to do to plan ahead for the holidays and learn how the holidays can be great for your blog. Plus, we have five more ideas to help you reduce holiday stress.