This post may contain affiliate links which may give us a commission at no additional cost to you. As an Amazon Associate we earn from qualifying purchases.
My husband's biggest response when someone brings up Facebook is, "I hate Facebook!" He feels the same about other social media outlets – he has no patience for them. He truly cannot understand how anyone can spend so much of their waking hours scanning social media feeds or posting about themselves, and although he has a Facebook account, he rarely looks at it.
Conversely, there is his wife (me).
I admit I am online with social media daily. Some days more and some less, but I am pretty sure not a day goes by that I am not directly or indirectly involved on social media in some way.
Being a writer, blogger, and website designer, pretty much sealed my fate with being socially involved online.
In this so-called information age, social media is a way of life.
Let's face it, new information can most definitely be a good thing, but sometimes it is anything but.
For those times where it might hamper your emotional health and well being, I have compiled a few tips to help you practice self-care in the social media space.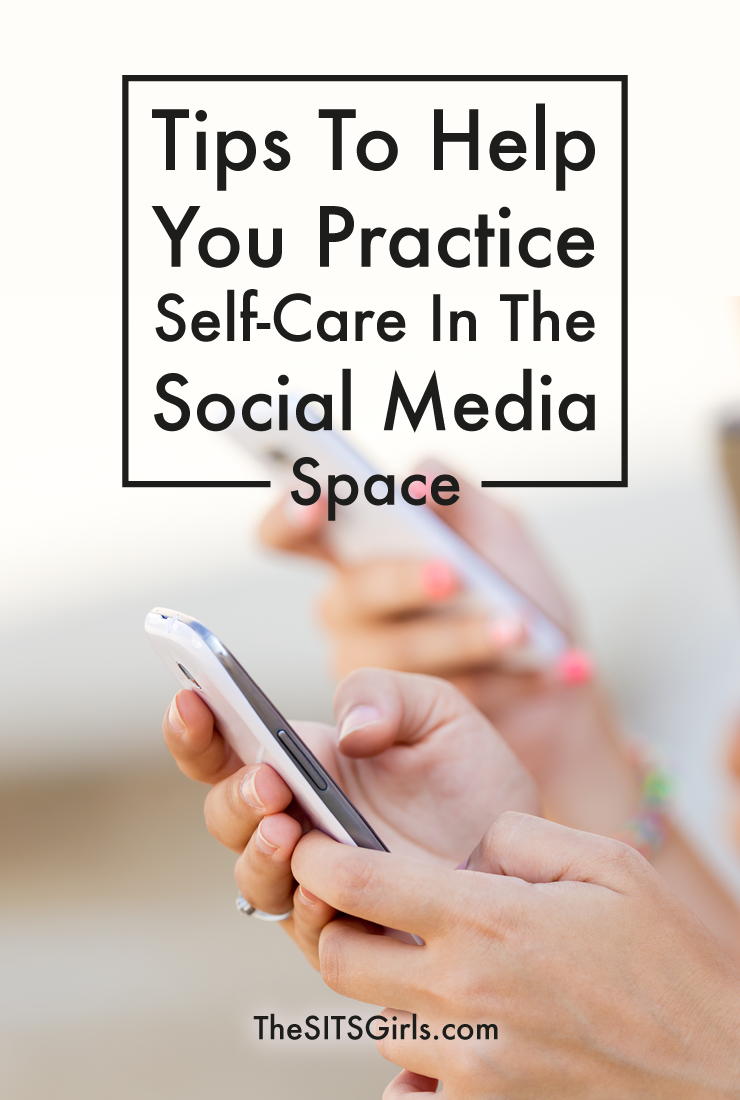 How To Practice Self-Care In The Social Media World
Set daily/weekly limits to curb the habit: This one is a biggie. Most people (other than my dear husband) will not stay off social media and will regularly engage socially online, if not daily, then at least a few times a week. This is especially true if you are a blogger. Try to have a set time of the day you will go online and stick to this. Because social media has a way of being a time suck for many (myself included), setting goals for how long you will stay on and what times of the day can help you from being sucked in for prolonged periods that take away from other areas of your life.
Clean out your social accounts: You may have contacts socially who you no longer associate with or those who you would rather not deal with anymore. Put some time aside to go through your social accounts and take a look at the people you are following. If you no longer want to keep in contact with someone, remove them and move on. If there are people on Facebook you would like to disconnect from, but unfriending them would cause you a lot of real world drama, you can hide them from your feed so you don't have to see their negative or drama-laden posts.
Stop reading if emotions run deep: Let's face it, we all have differing opinions and quite often these strong thoughts may clash in the online world (especially when things get political). If you begin to read something and you strongly disagree, just stop reading altogether, move on. Don't bait the person who posted. Too many times it is this baiting that causes friction and in-turn makes for uncomfortable social media conversations. Don't bring yourself to this level or upset yourself over social media. It's truly not worth your time, energy or emotions.
If you must read, then do so: OK, sometimes it is like a train wreck that you just can't take your eyes off of, and we all know you are going to keep reading. Still, you need to practice self-control here and try not get involved or invested emotionally. If you must look, do, but then move on and don't let the comments get under your skin.
Take a break when needed: I know I have said it is hard to stay offline with social media for long, but sometimes you may need to do it for holidays, vacations, or your own personal downtime. Allow yourself this time and don't worry about social media. Trust me, it will still be there when you return. It isn't going anywhere anytime soon. And you can always schedule social media updates ahead of time for anything blog-related that needs to go out while you are taking your break.
Now that you have some valuable self-care and helpful advice on how to deal with social media, hopefully you will be able to practice this more in the upcoming months.
How will you deal with social media influences in a positive way this upcoming year?