This post may contain affiliate links which may give us a commission at no additional cost to you. As an Amazon Associate we earn from qualifying purchases.
This is such a magical time of year. The air is alive with the merriment and joy of the holidays. This year is coming to a close. The new year is right around the corner and with it comes the beginning of new possibilities. One of my favorite things to do in the last week of the year is to spend that quiet lull between holidays looking forward to the new year and setting goals I want to reach. As bloggers, we have so many irons in the fire that taking the time to set clear goals is a must if we want to make the new year a successful one for ourselves. And who doesn't want that?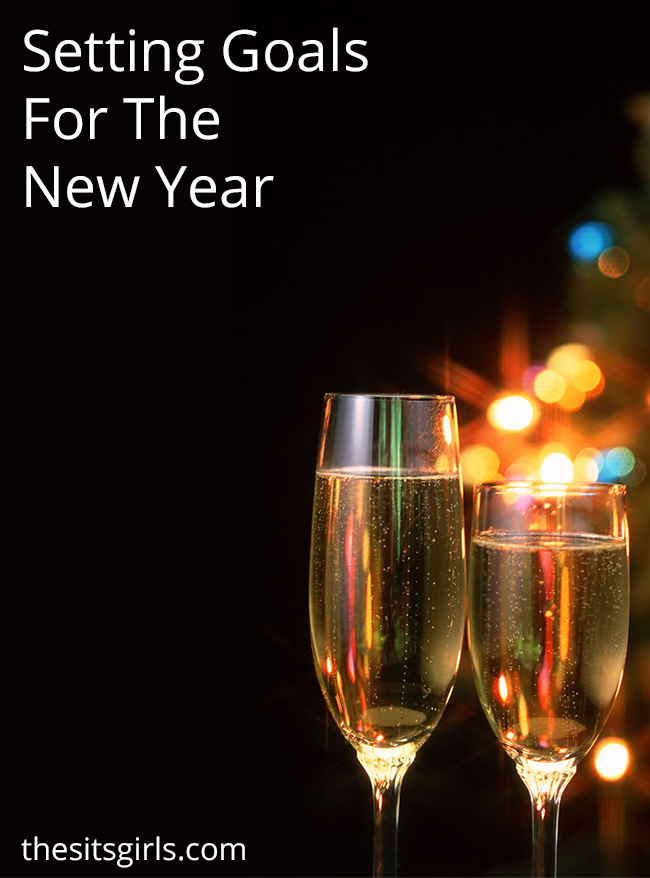 Setting Goals for the New Year
Setting goals for the new year can be a little tricky. We have 365 untouched days waiting for us to decide what we're going to do with them. It's easy to feel overwhelmed trying to decide what we should be reaching for, and often it is easy to plan too much. It is important to remember that goal setting is not about where we want to end up; it is planning how we're going to get there. To set ourselves up for a successful year, we need to be picky with our destination, so that we have enough time to get there.
Choose Your Goals With Intention and Care
Don't fall into the trap of setting too many goals right away. It may seem as though there is so much time to get to them all but take a moment to reflect back on this past year. Did the months seem to fly by? Did you have enough time to do everything you thought you could at the beginning?
At the beginning of a year, it is so easy to forget how fast twelve months can pass. Taking time to carefully craft our goals is the first step to successful goal setting for the new year. Think about all the things you want to do this year. Write them down. Get those ideas out of your head and onto paper where you can examine them. Pick two or three that are your highest priority. The ones that mean the most, or the ones you really need or want to accomplish in the coming year. Don't follow a trend, or jump on board with what everyone else is focusing on. Choose no more than three to start the year off with.
By being intentional and careful in choosing your goals, you're not only setting up yourself up for success, but you are ensuring that you put your time and energy into something that matters to you. You're also leaving room in your schedule for all the things you already do and have to keep doing. Those blog posts aren't going to write themselves after all. Once you've chosen a couple of goals to start the year off with, take a few moments to flesh out those goals and your intention in choosing them.
Why is this goal important to you?
How is accomplishing it going to help you?
How much time do you need to complete it?
Will you need to set aside time every day? Every week? Every month?
How much time will you need to set aside?
How will you feel once you reach it?
And remember, if you reach these goals early, you can always go back to your list and pick another one to focus on. Your goals for the new year don't have to take you the whole year to reach.
Plan It Now
Now that you have chosen your first couple of goals for the year it's time to plan them. There is not time like the present to figure out exactly what you need to reach that goal. To start with grab a piece of paper or open up a new document on your computer, phone or tablet, and just start writing down everything you think you need to do to accomplish this goal. Anything that comes to you, no matter how small, write it down.
Do you need to do some research?
Are you going to need to take a course or find a webinar?
What tools do you need to complete it?
What steps are you going to need to take?
What do you need to do to complete each step?
Break your goal down as far as you can. Don't worry if the list looks really long and overwhelming, because the next thing you're going to do is go through that list and start grouping some of those items together. Decide what you need to do first, and find all the items that you wrote down that goes with that, then choose the next step and repeat until all those items are in categories. What you've just done is break your goal down into the smallest steps you need to take to accomplish it. Some of those tasks might be something that can be done quickly, like registering for a course, and others might take a little more time like actually taking the course. The difference is that now you don't have to think or wonder about what you need to do from one step to the other. You have your map right in front of you.
Pick One Focus at a Time
Who here is guilty of multitasking? I know I am, despite knowing that it's not really an effective way to get things done. Sure it has a time and a place (like folding the laundry while catching up on your favorite show on Netflix), but working on your goals is neither the time nor the place for multi-tasking.
If you took the time to answer the questions above, then you already have a good idea of how often you need to set aside time to work on each goal, and how much time you think you're going to need each time. Set that time aside. Block it out on your calendar or in your planner, and make sure it is a time where you can focus only on what you need to reach that goal. Now this is going to look different for each goal and for every blogger.
Maybe one of your goals for the year is to start using Instagram more for your blog. You could set aside time each week to learn more about Instagram and how you're going to use it. Then maybe you start scheduling a time to take a bunch of photos all at one time so you have them to share later. Once you have the number you wanted, set aside time each day to post to Instagram and then to come back and interact with those who comment, or to take a few minutes to like and comment on other people's posts to help build your community. During your Instagram time, you need to be able to focus just on that. Don't check Facebook or email. Turn off notifications on your phone. If you don't want to turn off notifications, put your phone in Do Not Disturb or silent mode so you're not distracted.
Set boundaries early for your goal time and stick to them. By giving yourself the time to focus on each goal and only that goal as you're working on it, you're allowing yourself to give 100% to completing that goal. And you deserve to give yourself that 100%.
Remember That You've Already Come So Far
Take a look back on this past year and all you've accomplished. You have some amazing successes behind you, and you have even more amazing successes waiting for you ahead. If you start to feel discouraged, remind yourself of how far you've come. Celebrate your wins! Don't try to measure them or compare them to anyone else's. Once the new year starts, if you find yourself in need of a boost, pull out these memories and let them be the inspiration that moves onward and upward. Let them remind you that you can do it. And if you need a little extra push, hop on over to the SITS Girls Facebook group, the ladies in that group are amazing.
I am a big believer in dreaming big. Choosing our goal with intention, making a plan, and setting aside time to work on them uninterrupted is a sure-fire way to reach the goals we set. This next year is almost here, let's make it an amazing one.
Now it's your turn. I'd love to hear about what wins you've had this year, and what you've got planned for the new one. Drop me a line in the comments and let's chat a bit.
Keep Reading
Want more inspiration for the new year? Check out these posts!