This post may contain affiliate links which may give us a commission at no additional cost to you. As an Amazon Associate we earn from qualifying purchases.
Want to simplify your life? Start At Home
If you want to declutter and simplify your life, you need inspiration and motivation. You additionally have to learn the art of "letting go."
Simplicity brings life balance, freedom, happiness and emotional wellness.
It is easy to simplify your life if you have the right tools to do so. You can make your life less complicated and distraction free, enabling you to focus on the more important stuff. Who doesn't want to live a happier life?
I will give you the tools, and you take action. Today.
No need to procrastinate; apply these techniques and enjoy the lifestyle change, free of chaos and overwhelm.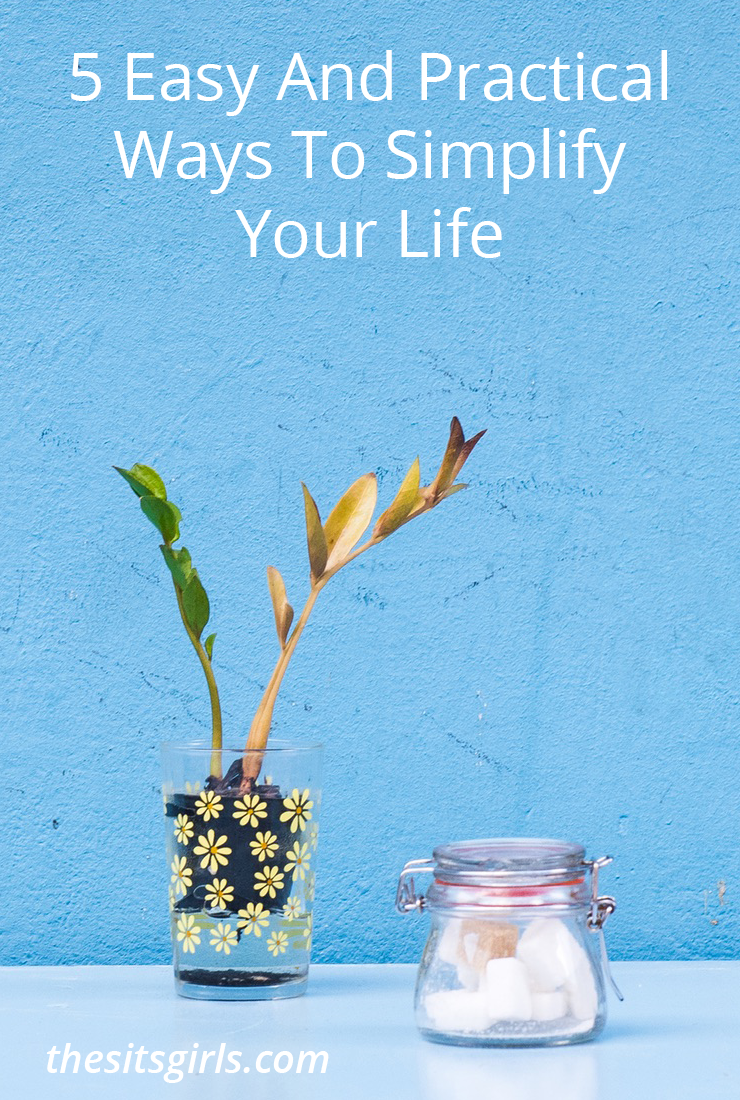 5 Easy And Practical Steps To Simplify Your Life
Here are five easy things you can do today to simplify your life.
Action #1: Practice Gratitude Always
When you focus on the positive and happy things happening in your life, you are happier, healthier, and more fulfilled. Speaking positive affirmations to yourself on a daily basis is vital to your emotional wellness and taking action to simplify your life. Take time daily to reflect upon the things you're grateful for.
Make gratitude a habit so you can:
Improve your emotional wellness
Cope better with stress
Increase your happiness
Improve your health
Improve motivation
It is important to focus on what you are grateful for, the things that make you feel thankful. In order to simplify your life, focus on the good things that are happening, not on the things that are not going your way.
Write down all the things you are grateful for and put them on post-its, on the refrigerator, or on a bulletin board in your office. Wherever you will see them often enough to be reminded of them.
Action #2: Declutter Your Home
Decluttering the rooms in your home can be such a freeing experience.
Do you have rooms in your home with piles of clothing on the floor, stacks of bills on the table, and piles of "stuff" thrown into a basket you're not sure where to put? Then it's time to declutter.
Start in the living room and kitchen as those as the two spaces you use the most in your home.
The less stuff you have, the less time to make it look neat and keeping it neat. Consistency is key, so you have to declutter. Do one room at a time.
Turn on some nice, fun, upbeat music and get started. You won't believe how much faster you can get stuff done when you can sing and dance a little while doing so.
Plus – it helps burn calories! This is a win-win situation.
Finish the room you are working on completely before moving on to the next. Doing several rooms at the same time will leave you feeling overwhelmed, and with a home full of junk everywhere and more chaos than when you began.
You don't want to end up frustrated by the process. Once you learn to manage clutter, you will feel more in control.
Make it fun by using the 12-12-12 technique.Find 12 items to throw away, 12 items to donate, and 12 items to be returned to their proper place. This is an easy way to organize 36 things in your home.
"The more your own things, the more they own you" – unknown
Action #3: Create An "Outbox"
An outbox is a place for you to keep everything that needs to go out of the house. From bills that need to be paid and letters for the post office (if you are still mailing letters), to forms that need to be turned in to the school.
Ideally, this would be placed in the entryway/hallway, so you can take it with you on the way out the door. This is an easy way to simplify your life because you will declutter every day.
It is important for you to remember to use it, and not just use it as a place to toss papers and forget about them.
Action #4: Prepare For Tomorrow
In order to have a less stressful morning, I like preparing certain things the night before. I hate nothing more than waking up in the morning, going into the kitchen and finding it in a messy state. It just makes my skin crawl.
Aside from that, I don't like to rush in the morning.
Here are some of the things I like to do before I go to bed:
Make sure all dishes are clean and put away, or at least in the dishwasher. Out of sight.
Kitchen counters wiped down and clean.
Table is set for breakfast.
Clothes to wear to work the next day have been picked out. I like to have two options because I can be very indecisive. If you have kids, lay out their clothes as well.
Pack all bags. Yours and the kid's school bags. This will prevent you forgetting any essentials that need to be taken with you.
Simplify your life by preparing ahead of time. These are things that are easy to do, won't take you more than 10 – 15 minutes the night before, but will save you a lot of time in the morning.
You will find that your mornings are less stressful, and you can leave the house feeling more relaxed.
Action #5: Go Green! Plants, Plants, Plants!
Do you know that plants help to detoxify the air inside your home? Plants help to increase oxygen levels, and our bodies appreciate that.
It is great to have indoor plants that purify the air and rapidly removes formaldehyde,  which can pose a significant danger to our health. Such plants help to decrease illness as they boost healing and clean the air in our homes.
The Top 10 plants for removing indoor pollutants are:
Peace Lily (Spathiphyllum wallisii)
Golden Pothos (Scindapsus aures)
English Ivy (Hedera helix)
Chrysanthemum (Chrysantheium morifolium)
Gerbera Daisy (Gerbera jamesonii)
Mother-In-Law's Tongue (Sansevieria trifasciata 'Laurentii')
Bamboo Palm (Chamaedorea sefritzii)
Azalea (Rhododendron simsii)
Red-Edge Dracaena (Dracaena marginata)
Spider Plant (Chlorophytum comosum)
Don't move your plants around too much. Plants need time to get used to their new environment. You will notice quickly whether or not a plant is happy where you have placed it.
Water your plants regularly (watering needs will differ from one season to the next) and make sure you clean the leaves of your plants, too.
Once you get into the habit of decluttering your home and simplifying your life, you will find yourself becoming more intentional with what you buy and the items you bring into your home.
Before You Buy Something, Consider The Following
-> Usability – How much are you going to use it? Do I have something at home that does the same job?
->Longevity – How long will it last for? Short term or long term? Is the quality worth the purchase?
Try not to hang on to things "just in case" you might use it sometime in the future.
If an item is just collecting dust, or if you have not used it, worn it, or touched it in six months to a year, then get rid of it. Donate it, sell it, or give it away.
Someone else may be in higher need of whatever items it is you decide to give away. When you simplify your life, you won't waste time having to search for things, reorganize shelves, drawers, and closets, or search through stacks of papers all over the house to find important paperwork.
The feeling of having more room to breathe, and living in a cleaner more organized space, will leave you feeling happier and more productive.
What steps have you taken to simplify your life?
Have you made changes that have saved you time, decluttered your home, or increased your productivity? Share them with me in the comments section below.
Author Bio: Sheri
Sheri, from A Busy Bee's Life, loves discovering new ways to improve herself and her life. She writes for like-minded people who want to learn, grow, and share experiences. Sheri can show you how to grow from inner chaos to inner strength. You are unique – embrace life!