This post may contain affiliate links which may give us a commission at no additional cost to you. As an Amazon Associate we earn from qualifying purchases.
Many people in the blogosphere have dreams of success – ideas of financial compensation, recognition, a book deal! – things like these that make us strive. Help us aim higher. Shoot for the brass ring. Incredible goals. The ones we don't like to say out loud, for fear of jinxing them, or maybe worse, looking and feeling like a failure.
Those are incredible dreams. Wonderful reasons behind why you write. Why you submit your work and hope to find yourself published. I would imagine that any one of us would accept an opportunity to write a book at the drop of a hat, even if we had no idea what we'd write about!
But there are just as many people out there blogging who struggle with thoughts on why they bother. I've been that person. I've been the person who started writing a blog and kept it private because I feared that nobody would read it. Wasn't that quite counterintuitive? If I wasn't publishing them to the public how would anyone read it? Exactly. They wouldn't.
But I wrote and wrote and something changed. I suddenly realized that what I had to say matters. And the sooner you realize that, the better. And the sooner you'll set new goals for yourself and reach them.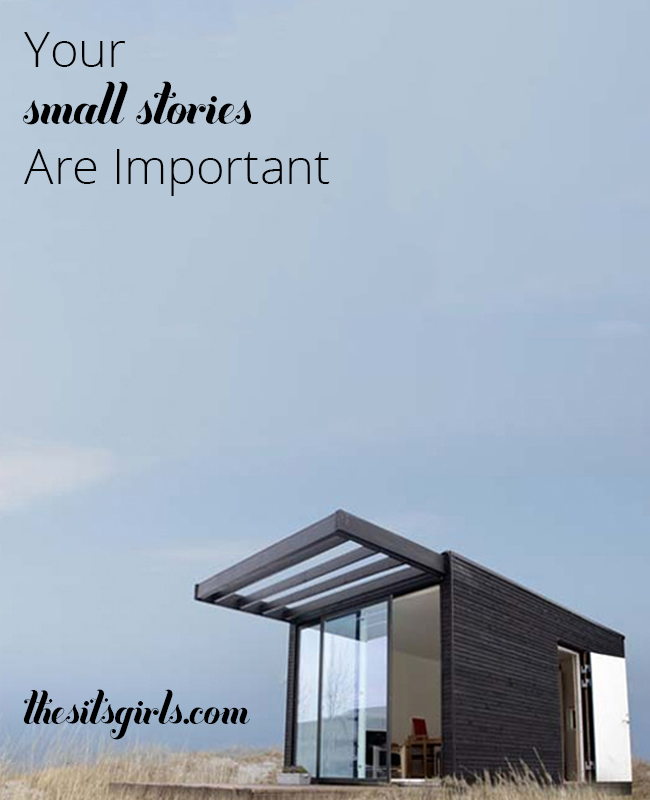 Your Small Stories Are Important
Because your stories DO matter. Small stories. Anecdotes of motherhood. Family dynamics. Relationship advice. Dating horror stories. Memories of meeting your significant other. All of these matter.
I can't truly tell you all of the reasons why they do. I can just tell you that they do.
And I can tell you that the mom out there who is at the end of her rope and needs to know she's not the only one wrangling three kids to the grocery store and about to order pizza for dinner anyway. And that the dad watching his daughter graduate from high school wants to know how it felt for you when she left for college. And that someone else out there wants to hear about your Pinterest fails and laugh with you. Or read the tribute you've written to your unborn child. Small stories.
Small stories help us share small moments. And big ones.
Small stories are what help us relate to one another as people.
Small stories remind me that you're human, too. And remind you that I am, as well.
So share them. Even if they feel unpolished. Completely off-track from what you usually write about.
Share them because they matter. They matter to your readers. Those you know and those you don't yet know.
And they matter to you.