This post may contain affiliate links which may give us a commission at no additional cost to you. As an Amazon Associate we earn from qualifying purchases.
When working with clients, whether it's a client looking to lose weight or to gain confidence to build their dream biz, it's pretty evident that one things that hold's them back is some sort of fear!
And when probing a little deeper, most often I hear them say: "I want xyz [insert outcome here] because I just want to be happy!"
When It Comes To Finding Happiness!
Happiness is not something you get as a gift, token, or reward for accomplishing something, like losing 10 pounds or hitting your first milestone in your biz!
Looking at happiness this way, it literally becomes something you chase, like a treasure hunt. The only problem is, with this type of approach, you won't actually ever be able to "catch" happiness — which means you will eventually give up along your journey, because happiness is not a prize you deserve "one day!"
Happiness doesn't happen one day, it happens everyday!
But you have to make a conscious decision to chose to be happy!
If you ever met me in person, you'll know that I'm pretty much happy every day. Of course I have moments where not everything is lining up or even catch myself at times choosing an un-resourceful feeling. Thankfully I've learned a lot about myself personally over the past few years. I have learned to tune into my intuition if I'm not feeling as perky and vibrant as usual, and if I'm still resisting, the universe usually has a way of sending me its message. But that's a whole different topic!
Let's get back to happiness and how you can make sure that you adopt a new attitude towards life.
You can be happy today and continue to strive for your goals giving them a whole different energy!
Imagine already being happy as chosen state and then on top of it, you could be setting your intentions for the day. Backed up by taking action, no matter how big or small, can you see how you can turn things around swiftly?
I'd like to believe that if you did that, even as an experiment for the next 30 days, you'd be surprised not only how different you feel as a human being but also how much epic stuff you get done in that period of time!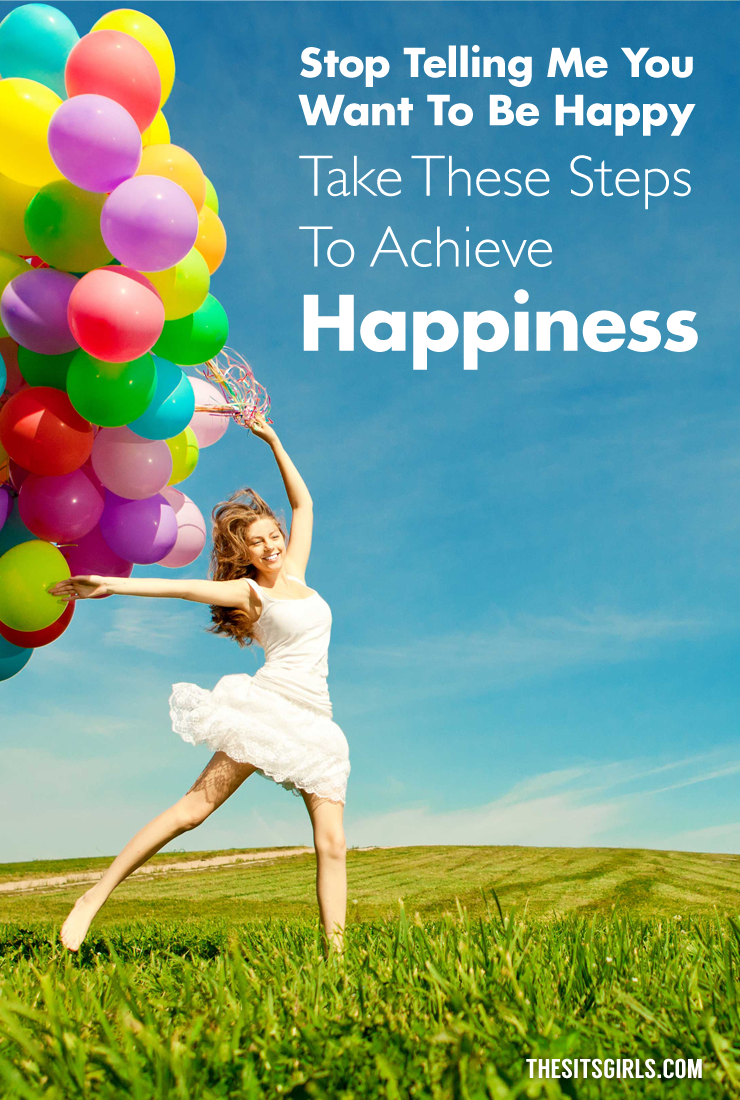 How Do I Chose Happiness?
If you happen to be a "half empty glass" type of person, you might find it a little trickier to get things started, but trust me everything new will feel unfamiliar at first. Have the courage to keep going, no matter what!
1) Start your day with making a conscious choice to focus on the things that make you happy (therefore it would help if you actually live your life according to this mantra). Start with a gratitude exercise, counting everything and everyone you're grateful for right now in this moment. Again it could be as small or as big you'd like it to be! Usually doing this type of gratitude exercise will help you get in a more positive state.
2) Set an intention for your day! What are your current goals? Learn to get in a habit of re-writing your goals everyday! What's your intention for the day? What do you wish to accomplish today? How is this going to feel when you follow through today?
3) Ready. Set. Go! Make a list of things you know will make you happy if you accomplish them and be able to tick them of your list! If you're new to this exercise, start small and chose things you can definitely can get done today! Then work your way up to reach for bigger "challenging" things as you will have built up confidence over time!
Do What Makes You Happy!
Simple and to the point!
If you want to be happy and chose to be happy now and everyday, it will help you if you spend your time, energy and money doing things that actually make you happy!
Maybe this could be a great time to take a good look at how you spend your time and analyze what makes you happy (aka gives you energy) and what doesn't make you happy (aka leaves you feeling everything but happy)!
If you need help with this exercise, shoot me a message or pm me and let's brainstorm together!
I dare you…. Be it all! Fiercely authentic!
Sabrina
Author Bio: Sabrina Muller
I'm a author, speaker and #locationfreehustler who is passionate about helping you be(come) crazy sexy confident by being completely comfortable with who you are as a woman! Check out my Free Food Sobriety Challenge. I'm here to create a revolution of women who are ready to feel the fear and do it anyway, who are ready to claim their spot at the top and become crazy sexy confident when it comes to creating success on their terms!